Miller Theatre "Live From Columbia" Streams JACK Quartet Next Month
Performing works by Helmut Lachenmann, streaming February 16 at 7pm.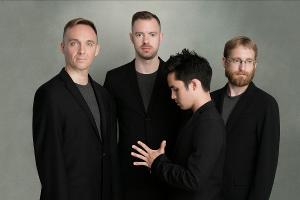 Miller Theatre at Columbia University School of the Arts concludes its series LIVE FROM COLUMBIA: Pop-Ups in the Lantern with JACK QUARTET.
Performing works by Helmut Lachenmann, streaming February 16 at 7pm
Concerts in the Live from Columbia series are filmed live and premiered throughout the season at 7pm, with on-demand streaming available immediately after.
Learn more at millertheatre.com/live-from-columbia.
The very first public performance by the acclaimed JACK Quartet featured German composer Helmut Lachenmann's string quartet Grido, and it has been a constant for them ever since. The mastering of this technically demanding piece shows their incredible talent, but their expressive interpretation reveals their brilliance as an ensemble. Hear them perform this work, alongside two other solo pieces by Lachenmann, which explore nontraditional techniques and sounds.
This event marks the fourth and final concert in Miller Theatre's Live from Columbia series. The series is a continuation of Miller's popular Pop-Up Concerts series, offering audiences a virtual front-row seat to performances filmed live in the Lantern-a stunning venue on Columbia's Manhattanville campus.
PROGRAM:
Helmut Lachenmann: String Quartet No. 3 "Grido" (2001-02)
Lachenmann: Toccatina (1986)
Lachenmann: Pression (1969)
Featured BroadwayWorld Events
Check out these concerts...
Related Articles
More Hot Stories For You
Final Lineup Announced For SAVE BIRDLAND: A Celebration Of Music, History, And Community
The fundraising campaign for Birdland Jazz Club will conclude on January 24th with a free streaming concert titled Save Birdland: A Celebration of Mus...

NYTW Gala To Celebrate 25th Anniversary Of RENT Featuring Original Cast Members Anthony Rapp, Adam Pascal, Idina Menzel, and More!
Today marks the 25th Anniversary of RENT's first performance at New York Theatre Workshop. The NYTW has announced that its 2021 Annual Gala will celeb...

VIDEO: On This Day, January 24- Happy Birthday, Daveed Diggs!
For his performance in Hamilton, Daveed won the 2016 Tony Award for Best Featured Actor in a Musical, as well as a 2016 Grammy Award for the cast albu...

VIDEO: Get a Sneak Peek at Jeremy Jordan in Hallmark's MIX UP IN THE MEDITERRANEAN
Jeremy Jordan is returning to your screens with the all new Hallmark movie, Mix Up in the Mediterranean....

VIDEO: Celebrate Chita Rivera's Birthday on Stars in the House- Live at 8pm!
Stars in the House continues tonight (8pm) with Chita Rivera's birthday celebration! An accomplished and versatile actress/singer/dancer, Chita Riv...

VIDEO: J. Harrison Ghee, Hannah Cruz, and More Perform 'My Strongest Suit' From AIDA
Brian Martin gathered some of his Broadway friends to put together a performance of My Strongest Suit from Aida! The performance is led by J. Harrison...