Magic and Politics Collide in MAGIC THE PLAY at Theatre Row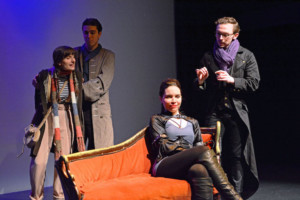 Presented by Yaakov Bressler, Christopher Erlendson, and Kelly Catlin. Co-written by Yaakov Bressler and Christopher Erlendson, incidental music and music direction by Kelly Catlin, and directed by Christopher Erlendson. Magic the Play will be presented as a showcase performance, for 7 performances, running February 20 - 25, 2018 at the Studio Theatre at Theatre Row, 410 W 42 St.
The cast of Magic the Play includes Chelsea Davis as Prime Minister, Isabel Kruse as Thornely, Jennifer Paldino as Isidora, Brian Knoebel as Professor Schwartz, Anthony Lofaso as Bartley Woods and Ensemble, Justine Magnusson, Lukas Max and Emily Samuelson as Understudy and Ensemble.
Magic the Play tells the story of a magical kingdom of Alterria where chaos ensues when spells, potions, and pendants begin to lose their powers. When the government of Alterria fails to fix magic, its cunning Prime Minister sinisterly blames the issue on two traveling charlatan-magicians as scapegoats. It's up to these misfits to stand up against the immense power of Alterria's Prime Minister. Cheerful and fun, Magic the Play tackles the question of what citizens should do when their government fails to represent them.
The creative team for Magic the Play includes set designs by TzuChing Cheng, costumes by Antonio Consuegra, lighting by Chris Thielking, projection design by Lisa Renkel, props by Girshel Topuria, Press Consultant Mike Griffiths, Stage Manager Jane Silverstein, Associate Producers Julian Sky and Yasmin Schancer. Rehearsals at The Artist Co-Op.
Magic the Play will perform at the Studio Theatre at Theatre Row (410 42nd ST) on the following schedule:
Tuesday February 20 at 7:30PM.
Wednesday February 21 at 7:30PM
Thursday February 22 at 7:30PM
Friday February 23 at 7:30PM
Saturday February 24 at 2:00PM
Saturday February 24 at 7:30PM
Sunday February 25 at 2:00PM .
Run time is 95 minutes with no intermission. Tickets for Magic the Place are $24.50, now on sale online at http://www.theatrerow.org and via telephone through Telecharge, 212-239-6200.
Twitter: @magictheplay
Facebook: Magic the Play
Instagram: @magictheplay
The creators and producers of the work have interesting and diverse backgrounds. Yaakov Bressler is a former medical researcher at Columbia University Medical Center. Christopher Erlendson is an engineer at the environmentally friendly fashion company Rent the Runway, and is a graduate of the Fu Foundation School of Engineering at Columbia University. Kelly Catlin is an orchestral flutist and composer finishing her masters degree at Manhattan School of Music.
Related Articles
More Hot Stories For You