MEAN GIRLS Will Celebrate 'Mean Girls Day' on October 3 With Free Fan Performance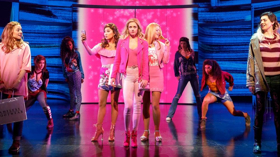 How fetch! Mean Girls will celebrate "Mean Girls Day" on October 3, which this year falls on a "pink" Wednesday, with a free fan performance! The show will take place at 7:00pm at the August Wilson Theatre (245 West 52nd Street), featuring special appearances by members of the Mean Girls creative team. Tickets to the fan performance can be won by entering a special digital lottery, which is now open at www.MeanGirlsonBroadway.com/Oct3.
The digital lottery closes at 11:59pm EST on Tuesday, August 7. Winners will be notified of their status beginning Wednesday, August 8 and must claim their tickets online within 24 hours; detailed ticket pick-up information will be sent to all winners via email. All entrants will be notified of their status by Friday, August 10. Tickets are limited to one entry per person and two tickets per winner. For more information, please visit www.MeanGirlsonBroadway.com/Oct3.
More details about activities at the theater, in New York City, and across the country in celebration of "Mean Girls Day" will be announced soon.
Mean Girls has played to sold-out houses at the August Wilson Theatre since beginning previews in March. The show had its world premiere at The National Theatre in Washington D.C., playing a sold-out run October 31 to December 3, 2017. Mean Girls will launch a National Tour in the fall of 2019.
Mean Girls features a book by nine-time Emmy Award winner Tina Fey, based on her screenplay for the film, music by three-time Emmy Award winner Jeff Richmond, and lyrics by two-time Tony Award nominee Nell Benjamin. Tony Award winner Casey Nicholaw directs and choreographs.
Cady Heron may have grown up on an African savanna, but nothing prepared her for the wild and vicious ways of her strange new home: suburban Illinois. How will this naïve newbie rise to the top of the popularity pecking order? By taking on The Plastics, a trio of lionized frenemies led by the charming but ruthless Regina George. But when Cady devises a plan to end Regina's reign, she learns the hard way that you can't cross a Queen Bee without getting stung.
The cast is led by Erika Henningsen as Cady Heron, Taylor Louderman as Regina George, Ashley Park as Gretchen Wieners, Kate Rockwell as Karen Smith, Barrett Wilbert Weed as Janis Sarkisian, Grey Henson as Damian Hubbard, Kerry Butler as Mrs. Heron / Ms. Norbury / Mrs. George, Kyle Selig as Aaron Samuels, Cheech Manohar as Kevin Gnapoor, Rick Younger as Mr. Duvall. The cast also includes Stephanie Lynn Bissonnette, Tee Boyich, Collins Conley, Ben Cook, DeMarius R. Copes, Kevin Csolak, Ashley de la Rosa, Devon Hadsell, Curtis Holland, Myles McHale, Chris Medlin, Brittany Nicholas, Becca Petersen, Nikhil Saboo, Jonalyn Saxer, Brendon Stimson, Riza Takahashi, Kamille Upshaw, Zurin Villanueva, Gianna Yanelli, and Iain Young.
The creative team includes Scott Pask (Set Design), Gregg Barnes (Costume Design), Kenneth Posner (Lighting Design), Brian Ronan (Sound Design), Finn Ross & Adam Young (Video Design), Josh Marquette (Hair Design), Milagros Medina-Cerdeira (Make-Up Design), Mary-Mitchell Campbell (Music Director), John Clancy (Orchestrations), Glen Kelly (Dance and Incidental Music Arrangements), Mary-Mitchell Campbell, Jeff Richmond, and Natalie Tenenbaum (Vocal Arrangements), Howard Joines (Music Coordinator), and Telsey + Co / Bethany Knox, CSA (Casting).
Mean Girls is produced by Lorne Michaels, Stuart Thompson, Sonia Friedman, Paramount Pictures, Marisa Sechrest, Ars Nova Entertainment, Berlind Productions, Steve Burke, Scott M. Delman, Roy Furman, Robert Greenblatt, Ruth Hendel, JAM Theatricals, The John Gore Organization, The Lowy Salpeter Company, James L. Nederlander, Christine Schwarzman, and Universal Theatrical Group.