Janet Ulrich Brooks Crowned Queen for Chicago Premiere of THE AUDIENCE, Begining Tonight at TimeLine Theatre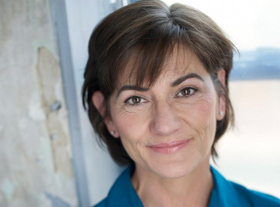 TimeLine Theatre Company presents the first production of its 2017-2018 season-the Chicago premiere of THE AUDIENCE by Peter Morgan, directed by TimeLine Associate Artistic Director Nick Bowling, and featuring TimeLine Company Member Janet Ulrich Brooks in the central role of Queen Elizabeth II, August 24 - November 12, 2017 (previews tonight, August 16, through August 23) at TimeLine Theatre, 615 W. Wellington Ave., Chicago. Press Night is Wednesday, August 23 at 7:30 p.m.
TimeLine brings Chicago its first view of Peter Morgan's Broadway and West End hit. Known as the author of FROST/NIXON (another TimeLine hit, in 2010) and the Academy Award-nominated screenplay for THE QUEEN, Morgan also created the highly rated Netflix series THE CROWN, inspired by THE AUDIENCE and streaming now.
Every Tuesday afternoon for more than 60 years, Queen Elizabeth II has met with her Prime Ministers in a private audience, a gesture of unity between government and Crown. Through moments of tension, negotiation, war, and unrest, these conversations with political leaders from Winston Churchill to Harold Wilson to Margaret Thatcher have remained a constant across the years. Playwright Peter Morgan re-imagines these meetings, giving us a glimpse at the queen's role in guiding the circumstances that have shaped Great Britain, and a window into the mystery, compassion and humor of the woman behind the iconic crown.
Cumulatively, THE AUDIENCE cast members have been nominated 25 times in acting categories at the Joseph Jefferson Awards, and have received eight awards. Leading the cast will be TimeLine Company Member Janet Ulrich Brooks as Queen Elizabeth II. A six-time Jeff Award nominee for roles at TimeLine, including 33 VARIATIONS, A WALK IN THE WOODS and ALL MY SONS, her other recent credits include VANYA & SONIA & MASHA & SPIKE (Jeff Award nomination) at the Goodman Theatre, WOMEN LAUGHING ALONE WITH SALAD (Helen Hayes Award nomination) at Woolly Mammoth Theatre in Washington, D.C., and BAKERSFIELD MIST at TimeLine.
Surrounding Brooks will be a spectacular Chicago ensemble cast all making their TimeLine debuts: Matt DeCaro (Winston Churchill / Harold Wilson / Tony Blair), David Lively (Equerry), Carmen Roman (Margaret Thatcher), and Mark Ulrich (John Major / Gordon Brown / Anthony Eden / David Cameron), with Sophie Ackerman and Audrey Edwardssharing the role of Young Elizabeth.
The production team for THE AUDIENCE includes Jeff Kmiec (Scenic Designer), Theresa Ham (Costume Designer), TimeLine Associate Artist Keith Parham (Lighting Designer), TimeLine Associate Artist Andrew Hansen (Sound Designer), Amy Peter (Properties Designer), Katie Cordts (Wig Designer), Elise Kauzlaric (Dialect Coach), Jared Bellot(Dramaturg), Carol Ann Tan (Assistant Dramaturg), Helen Young (Associate Director),Brennan T. Jones (Assistant Director) and Luci Kersting (Stage Manager).
DISCUSSION & ACCESSIBILITY EVENTS:
- Post-Show Discussions: A brief, informal post-show discussion hosted by a TimeLine Company Member and featuring the production dramaturg and members of the cast onWednesday 8/30, Thursday 9/7, Sunday 9/10, Thursday 9/28, Sunday 10/8, and Wednesday 10/11.
- Pre-Show Discussions: Starting one hour before these performances, a 30-minute introductory conversation hosted by a TimeLine Company Member and the production dramaturg with members of the production team on Sunday 9/17 and Wednesday 9/20.
- Captioned Performance: An open-captioned performance with a text display of words and sounds heard during the performance on Saturday 9/16 at 4 p.m. Partial support of open captioning is provided by Theatre Development Fund.
- Company Member Discussion: A post-show discussion with the collaborative team of artists who choose TimeLine's programming and guide the company's mission on Sunday 9/24.
- Sunday Scholars Panel Discussion: A one-hour post-show discussion featuring experts on the themes and issues of the play on Sunday 10/1.
All discussions are free and open to the public. For further details about all planned discussions and events, visit timelinetheatre.com.
Single ticket prices are $40 (Wednesday through Friday), $49 (Saturday evenings) and $54 (Saturday and Sunday matinees). Preview tickets are $25. Student discount is 35% off regular price with valid ID. TimeLine is also a member of TCG's Blue Star Theatre Program and is offering $25 tickets to U.S. military personnel, veterans, first responders, and their spouses and family.
Discounted rates for groups of 10 or more are available. Ticket buyers age 18-35 may join TimeLine's free MyLine program to obtain access to discounted tickets, special events and more. Visit timelinetheatre.com/discounts for more about Blue Star, MyLine and other available discounts.
Advance purchase is recommended as performances may sell out. For tickets and information, visit timelinetheatre.com or call the Box Office at (773) 281-8463 x6.
THE AUDIENCE will take place at TimeLine Theatre, 615 W. Wellington Ave., Chicago. TimeLine Theatre is located near the corner of Wellington and Broadway, inside the Wellington Avenue United Church of Christ building, in Chicago's Lakeview East neighborhood.
The location is served by multiple CTA trains and buses. TimeLine offers discounted parking at the Standard Parking garages at Broadway Center ($8 with validation; 2846 N. Broadway, at Surf) or the Century Mall ($9 with validation; 2836 N. Clark), with other paid parking options nearby, plus limited free and metered street parking.
TimeLine Theatre is accessible to people with disabilities. Two wheelchair lifts provide access from street level to the theatre space and to lower-level restrooms. Audience members using wheelchairs or who need to avoid stairs, and others with special seating or accessibility needs should contact the TimeLine Box Office in advance to confirm arrangements. See DISCUSSION & ACCESSIBILITY EVENTS above for information about the open-captioned performance for patrons who are deaf or hard of hearing.
ABOUT THE ARTISTS:
Peter Morgan (Playwright) is an award-winning British film and television screenwriter and playwright. Morgan is best known for writing historical films and plays, including THE QUEEN, FROST/NIXON, THE DAMNED UNITED and RUSH, and is the creator of Netflix's currently running drama series THE CROWN. Other film work includes THE OTHER BOLEYN GIRL; HEREAFTER; 360; MARTHA, MEET FRANK, DANIEL AND LAURENCE; and THE LAST KING OF SCOTLAND.
Nick Bowling (Director) was the founding Artistic Director and is now Associate Artistic Director and a Company Member of TimeLine Theatre. He is the recipient of seven Jeff Awards for Outstanding Direction (THE HISTORY BOYS, THE NORMAL HEART, FIORELLO!, THIS HAPPY BREED and THE CRUCIBLE at TimeLine, SONDHEIM ON SONDHEIM at Porchlight Music Theatre, and ANOTHER PART OF THE FOREST at Eclipse Theatre) and also received Jeff Award nominations for BLOOD AND GIFTS, THE FARNSWORTH INVENTION, HAUPTMANN and THE LION IN WINTER at TimeLine; CLOSER THAN EVER at Porchlight Music Theatre; CITY OF ANGELS, THE KING AND I and MAN OF LA MANCHA at Marriott Theatre. Other recent credits at TimeLine include A DISAPPEARING NUMBER, THE LAST WIFE, DANNY CASOLARO DIED FOR YOU and JUNO. Other Chicago credits include Marriott's THE BRIDGES OF MADISON COUNTY, Paramount's A CHRISTMAS STORY, Northwestern University's CABARET, Porchlight's A CATERED AFFAIR, Writers Theatre's BACH AT LEIPZIG and Shattered Globe Theatre's TIME OF THE CUCKOO and FROZEN ASSETS.
Janet Ulrich Brooks (Queen Elizabeth II) is a TimeLine Company Member, where she has appeared in more than 10 productions, most recently BAKERSFIELD MIST, with Mike Nussbaum. She has received Jeff Award nominations for her work at TimeLine in 33 VARIATIONS, A WALK IN THE WOODS, ALL MY SONS, NOT ENOUGH AIR, WHEN SHE DANCED and WEEKEND. Other recent credits include The Goodman Theatre's 2666 and VANYA & SONIA & MASHA & SPIKE (Equity Jeff Award nomination, Actress in a Principal role - Play), and WOMEN LAUGHING ALONE WITH SALAD (Helen Hayes Award nomination, Outstanding Lead Actress in a Play; Woolly Mammoth Theatre, Washington, DC). Other theatre credits include the remount of TimeLine's TO MASTER THE ART (Chicago Commercial Collective and Broadway in Chicago at the Broadway Playhouse); A TRUE HISTORY OF THE Johnstown Flood, TEDDY FERRARA, and THE SEAGULL (Goodman); NATIVE GARDENS and FAILURE: A LOVE STORY (Victory Gardens); SOUTH OF SETTLING (Steppenwolf); TEN CHIMNEYS (Northlight); and portraying Golda Meir in GOLDA'S BALCONY (Pegasus Players, Non-Equity Jeff Award, Outstanding Solo Performance). Brooks' television credits include the Netflix series SENSE8, CHICAGO FIRE, BOSS, UNDEREMPLOYED, and THE PLAYBOY CLUB. Film credits include DIVERGENT, CONVICTION, POLISHBAR, ONE SMALL HITCH, THE MIDDLE DISTANCE, I HEART SHAKEY, and Recursive Pictures' short film FOR A GOOD TIME. Brooks was the first recipient of the Ed See Outstanding Theatre Alumnus Award from the University of Central Missouri. She is a proud member of AEA and SAG/AFTRA and is represented by Gray Talent Group.
TimeLine Theatre Company, recipient of the prestigious 2016 MacArthur Award for Creative and Effective Institutions, was founded in April 1997 with a mission to present stories inspired by history that connect with today's social and political issues. To date over 20 seasons, TimeLine has presented 71 productions, including nine world premieres and 31 Chicago premieres, and launched the Living History Education Program, now in its 11th year of bringing the company's mission to life for students in Chicago Public Schools. Recipient of the Alford-Axelson Award for Nonprofit Managerial Excellence and the Richard Goodman Strategic Planning Award from the Association for Strategic Planning, TimeLine has received 53 Jeff Awards, including an award for Outstanding Production 11 times.
Related Articles
More Hot Stories For You