Click Here for More Articles on DEAR EVAN HANSEN
Inside Broadway To Offer A Behind-the-Scenes Look At DEAR EVAN HANSEN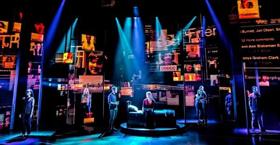 Leading NYC arts education nonprofit Inside Broadway (Executive Director, Michael Presser) and the hit, Tony Award-winning Broadway production of Dear Evan Hansen will bring over 1,800 NYC public school students to the Music Box Theatre (239 W. 45th Street) on Thursday, February 8 as Inside Broadway presents its free & popular Creating the Magic program featuring the Dear Evan Hansen Broadway cast & production crew.
These exclusive 75-minute programs will be offered at the Music Box Theatre on Thursday, February 8 at 11:00am and 1:45pm.
Since 1982, Inside Broadway has impacted the lives of nearly one million New York City public school students with its one-of-a-kind theatre arts and education programs that enrich, educate and foster new generations of theatergoers.
Providing a truly unique experience, on February 8, Inside Broadway's Creating the Magic program will be presented to over 1,800 New York City public school students who will get a behind-the-scenes look at the inner world of Broadway and learn about career opportunities in the theater. From exciting set, lighting and sound demonstrations, musical performances from the cast and a Q&A session, all attendees will have a special behind-the-scenes look at a Broadway show featuring members of Dear Evan Hansen cast and production crew.
"l don't think there is a more important show for today's young people. We hope to explain some of those important themes in this program and also show some of the important jobs and careers in the Broadway theatre" says Inside Broadway's Executive Director Michael Presser.
A letter that was never meant to be seen, a lie that was never meant to be told, a life he never dreamed he could have. Evan Hansen is about to get the one thing he's always wanted: A chance to finally fit in. Both deeply personal and profoundly contemporary, Dear Evan Hansen is the new American musical about life and the way we live it. Dear Evan Hansen has struck a remarkable chord with audiences and critics everywhere. The New York Times calls it "a gorgeous new musical for anyone with a beating heart." And NBC Nightly News calls this bold new musical "an anthem resonating on Broadway and beyond."
Inside Broadway was established in 1982 by Michael Presser. Today, it reaches over 70,000 New York City students in over 100 public schools each year and develops and produces Equity musical productions that tour to schools as well as a wide range of educational programs that allow participants to interact with professionals in the field and experience theatre hands-on in the classroom. Programs of Inside Broadway are funded by the New York City Department of Cultural Affairs, New York City Council, New York City Department of Education, and numerous foundations and individuals. For more information on Inside Broadway, please visit www.InsideBroadway.org.
Related Articles
More Hot Stories For You