How to Watch the 2022 Macy's Thanksgiving Day Parade - Your Complete Guide!
This year's parade will feature performances from the casts of A Beautiful Noise, Some Like It Hot and more!
Let's have a parade! The Macy's Thanksgiving Day Parade, one of the nation's most cherished holiday traditions, is getting ready to hit the streets of New York City.
"Since its first march in 1924 and through the decades, Macy's Thanksgiving Day Parade has served to bring joy to the millions who gather nationwide each year to experience it with friends and family," said Will Coss, Executive Producer of Macy's Thanksgiving Day Parade. "This November, as we once again set the stage for the start of the holiday season, we are thrilled to showcase another spectacle full of magic and wonder that will help create everlasting memories with loved ones during this special time of year."
Whether you plan to enjoy the festivities from the hustle and bustle of the sidewalks or the cozy comfort of your couch, we've got the full scoop on what to watch for, when to look for it, and how!
---
WHAT IS THE MACY'S THANKSGIVING DAY PARADE?
For more than nine decades, the magic of the holiday season has kicked off with the Macy's Thanksgiving Day Parade. This year, the parade passes by for the 96th time, featuring its signature mix of whimsical elements and dazzling performances.
Established in 1924, the parade has been canceled only three times (1942, 1943 and 1944) since its inception. The event draws roughly 3.5 million spectators on the streets of New York City and over 50 million more who tune in nationwide. For so many Americans, watching the parade, from near or far, is just as much a Thanksgiving tradition as turkey and mashed potatoes.
---
WHAT IS THE PARADE ROUTE?
The official parade route runs 2.5 miles, from 77th & Central Park West south to 34th Street-Herald Square.
For spectators in New York or those traveling to the city to see it live, the procession begins by marching down Central Park West to Columbus Circle, then turns onto Central Park South, then proceeds down 6th Avenue/Avenue of the Americas. At 34th Street, the parade makes its final turn west and end at 7th Avenue in front of Macy's Herald Square.
Note: Avoid watching on 6th Avenue between West 34th & West 38th Streets & on West 34th Street between 6th & 7th Avenues. The national television broadcast limits viewing here.
---
WHAT ARE THE SAFETY MEASURES FOR THE PARADE IN 2022?
The Macy's Parade will impliment a Health and Safety plan in response to the COVID-19 pandemic in line with current New York City protocols. In order to take part in the festivities, parade performers are required to take a COVID-19 test within 24 hours of travel to New York.
---
WHO WILL PERFORM AT THE PARADE?
Joining the festivities for 2022 will be Paula Abdul; Big Time Rush; Blanco Brown; Cam; Jordan Davis; Blue's Clues & You! host Josh Dela Cruz; Gloria, Sasha and Emily Estefan; Jimmy Fallon & The Roots; Fitz and the Tantrums; Kirk Franklin; Mario Lopez and family; Ziggy Marley; Miss America 2022 Emma Broyles; the cast and Muppets of Sesame Street®; Sean Paul; the cast of Peacock's Pitch Perfect: Bumper in Berlin (Adam Devine, Sarah Hyland and Flula Borg); Joss Stone; Trombone Shorty & Orleans Avenue; Jordin Sparks; Dionne Warwick; Betty Who; and Santa Claus.
Broadway's best shows will also perform including an opening number from Lea Michele and the cast of Broadway's Funny Girl, with additional Broadway performances from showstoppers A Beautiful Noise, Some Like It Hot, and in celebration of its 25th anniversary Disney's The Lion King. Rounding out the theatrics will be the iconic Radio City Rockettes.
The CBS Broadcast will feature performances from the casts of Six and Moulin Rouge!.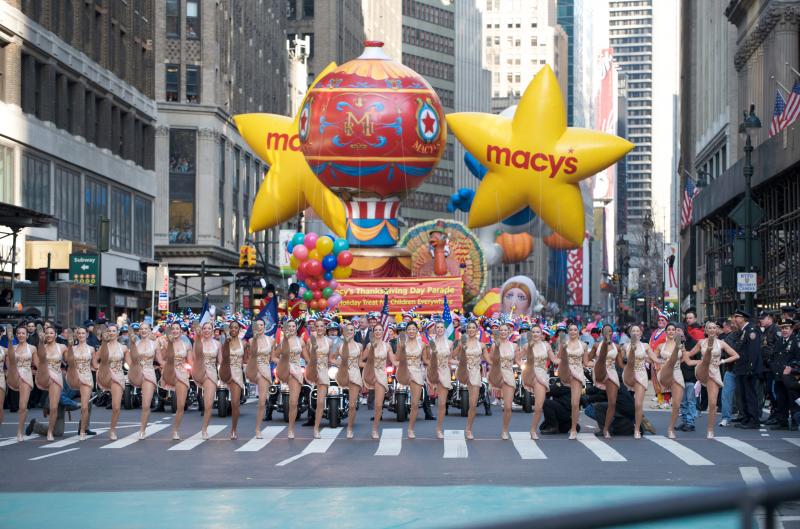 ---
WHEN IS THE PARADE?
The parade officially begins its march on November 24 at 9am and will conclude on at 12pm in all timezones on NBC. On CBS, broadcasts will air 9am-12pm ET/1-4pm PT.
---
HOW CAN YOU WATCH THE PARADE?
For those who won't be able to make it to the streets of New York City to watch in person, both NBC and CBS will bring the spectacle to your television.
Viewers nationwide can catch all the action via the special broadcasts on NBC and Peacock, hosted by The TODAY Show's Savannah Guthrie, Hoda Kotb and Al Roker.
Entertainment Tonight's Kevin Frazier and Keltie Knight will anchor on the CBS Television Network, which can also be streamed live on Paramount+.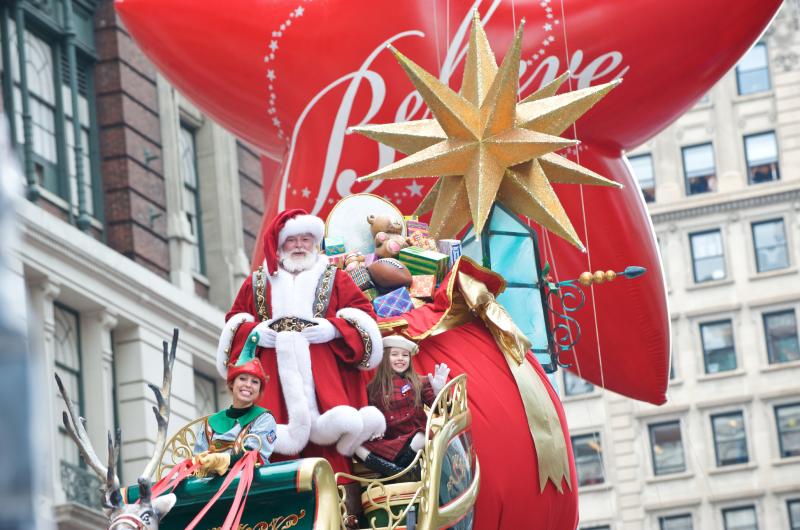 CAN YOU WATCH AS THE PARADE BALLOONS ARE INFLATED?
Macy's signature giant character balloons will be prepared for their Thanksgiving Day flights on Wednesday, November 23, on the Upper West Side near the Museum of Natural History. The Macy's Balloon Inflation Celebration will be open to public viewing from 12- 6pm.
Photos courtesy of Macy's