Honens Prize Laureate Nicolas Namoradze Makes Carnegie Hall Debut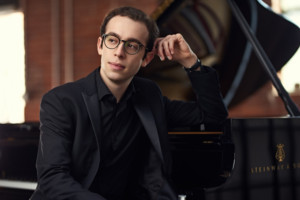 Fast-rising concert pianist and 2018 Honens Prize Laureate, Nicolas Namoradze makes his Carnegie Hall debut on February 10 at 7:30 pm in Zankel Hall. Namoradze has quickly built a reputation as a "pianist's pianist" (Calgary Herald) with a unique artistic voice. Also an accomplished composer, Namoradze performs works by Bach, Schumann, and Scriabin, alongside his own Etudes and the world premiere of his Arabesque. John Corigliano describes Namoradze's Etudes as, "some of the most innovative and dynamic works of this century."
With teachers including legendary concert pianist Emanuel Ax, Namoradze hails from impressive musical lineage. Ax describes Nicolas as, "an extraordinary artist," and "set to become one of the truly important artists of his generation." After completing his undergraduate studies in Budapest, Vienna, and Florence, Nicolas moved to New York for his master's at Juilliard. He now pursues his Doctorate at the CUNY Graduate Center holding the Graduate Center Fellowship and serves on the faculty of Queens College.
The Honens International Piano Competition takes place every three years in Calgary, Canada, and is considered one of the world's most prestigious events of its kind. With an initial $5 million bequest from music-lover Esther Honens in 1991, the Competition started with the mission to provide a platform for exceptional pianists and to discover the next "Complete Artist." By this definition, competitors undergo solo, chamber, concerto, and interview rounds. The Honens Prize Laureate is awarded $100,000 (CAD) and Honens' half-million dollar Artist Development Program, which provides artistic and career guidance and support, including worldwide representation for three years, debut recitals in major career-building markets, residencies at Banff Centre for Arts and Creativity, production of a professional recording released globally on the Hyperion and Steinway labels, as well as valuable coaching and mentorship opportunities. In addition to the competition, Honens holds an annual festival, which is one of Canada's premier classical music events.
As part of the 2018 Laureate Prize, Honens presents Namoradze in the world's most remarkable classical music venues: Carnegie Hall, Berlin's Konzerthaus, and London's Wigmore Hall. These recitals are presented with the generous support of the Azrieli Foundation. Honens President and CEO Neil Edwards comments, "The debut series fills an important part of the Honens mission to offer exceptional opportunities to springboard the winning laureate's career. Mr. Namoradze is a fine musician, and we are honored to share this outstanding talent with Carnegie Hall and indeed the world."
Tickets for this event are available online at CarnegieHall.org, by phone at 212-247-7800, or in person at the Carnegie Hall Box Office.
Related Articles
More Hot Stories For You