HAIRSPRAY's Nikki Blonsky Joins Lisa Lampanelli's STUFFED Off-Broadway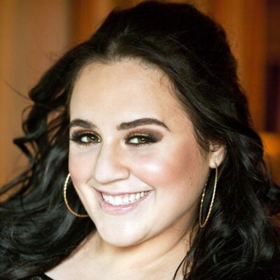 Comedian Lisa Lampanelli and producer Rachel Karpf announced today that Golden Globe Nominee Nikki Blonksy (New Line Cinema's Hairspray) will join the cast of Lampanelli's new play, Stuffed, opening Off-Broadway this fall in a new production at the Westside Theatre (Downstairs, 407 West 43rd Street), following a limited NYC run last fall at WP Theater.
Directed by Jackson Gay (These Paper Bullets!), Stuffed begins previews Thursday, October 5 and will officially open on October 19. Additional material was contributed to the play by Ashley Austin Morris.
Nikki Blonsky is best known for her Golden Globe nominated performance as Tracy Turnblad in the big screen adaptation of the hit musical Hairspray. Her most recent films include Geography Club and Dog Years, opposite Burt Reynolds and Ariel Winter, which premiered at this year's Tribeca Film Festival. A native New Yorker, Blonsky's television credits include NBC'S Smash, Huge on ABC FAMILY, and Ugly Betty, as well as the digital series Valemont.
"Now I know how it feels to be the luckiest gal in the world," Lampanelli said. "Nikki Blonsky is a dream 'Marty' and one of the very few in our industry who drives home such a positive message about body image and self-acceptance. She has amazing comic timing and acting chops, embodies the play's message of self-love, and I couldn't be more thrilled to have her in the cast."
"Being a part of Stuffed is fulfilling a lifelong dream of mine to do theater in my home city of New York. I'm so excited and the little theater-loving girl inside me is beside herself," said Blonsky. "I would like to thank the brilliant Lisa Lampanelli for writing such a brilliantly funny and real play that strikes me to the core. I cannot wait to work with her and bring this story to everyone who comes to see it."
The four characters in Stuffed are a lifelong dieter, a bulimic, a confident overweight gal, and a permanent size-zero. The play features Lampanelli's famously irreverent voice, signature wit, and an extra-large scoop of razor-sharp insight into the crazy-making world of our relationships with food. With Lisa onstage, alongside a talented cast, Stuffed doesn't shy away from tough questions like: Is eating an ice cream sandwich in the shower as emotionally fulfilling as it sounds? When it comes to jeans, what's better -- muffin top or camel toe? And, if Oprah, the most powerful person in the world, can't conquer her food issues, what can the rest of us do but laugh as we try?
The New York premiere of Stuffed was produced in 2016 by WP Theater, formerly known as Women's Project Theater (Lisa McNulty, Producing Artistic Director, Maureen Moynihan, Managing Director) and directed by Jackson Gay.