Gary Ferrar's NOTHING HERE IS REAL Begins Second Year Of Open-Ended Residency At The Oxbow Tavern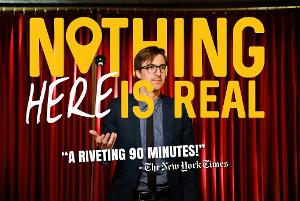 After a nearly sold-out run in 2019, magician and mentalist Gary Ferrar returns to The Oxbow Tavern on the Upper West Side, with his unique and intimate magic show, NOTHING HERE IS REAL.
Ferrar is one of the country's most sought after magicians/mentalists. He has performed at over 800 venues in the last decade and made several national TV appearances (NBC & Fox News). His clients include celebrities as well as prestigious companies such as Facebook, Google and Spotify.
NOTHING HERE IS REAL is a mesmerizing parlor show that takes place in a secret room below Tom Valenti's Oxbow Tavern. Part speakeasy, part nostalgic cocktail lounge lined with velvet curtains, plush couches and an old fashion bar, the space is transformed into a place of endless possibilities. With a mixture of humor, charm, and unexplainable magic, what takes place over a thoroughly entertaining 90 minutes is a one-of-a-kind experience that cannot exist elsewhere. Be prepared to be mystified by Ferrar and leave wondering how he did it and if any of it was real.
The open-ended run is directed by longtime collaborator and magician Harrison Kramer. NOTHING HERE IS REAL is produced by Mike Jacobson (Comedy Central), Teagan Brown serves as a consultant and also performs in the show.
Performances take place at the Oxbow Tavern's cocktail lounge, 240 Columbus Avenue (corner of West 71st Street), New York, NY 10023. Subways: 1/2/3/A/B/C to 72nd Street.
Tickets are $49 and available at www.ahrealmagic.com/tickets. All tickets include two complimentary beverages (beer, wine, cocktails, soda). Running time: 90 minutes. Recommended for adults and children 10 and up.
Upcoming Performance Dates:
Sunday, February 23 @ 7 pm
Sunday, March 29 @ 7 pm
Sunday, April 26 @ 7 pm
Gary Ferrar (Creator/Performer) draws on his love for theater and improvisation in more than 300 performances each year, from live national TV appearances on Fox News, to performing for Howard Stern, Sharon Osbourne, and Howie Mandel on Season 7 of "America's Got Talent." Clients like Google, Facebook, and Spotify have all called on Gary to produce entertainment that is both theatrical and mind-blowing for corporate events, product launches, and digital marketing campaigns, such as Buzzfeed's "Drunk Magic" video, which has been viewed over one million times. Gary has served as a magic consultant for television commercials for Samsung and as a publicity consultant for Lionsgate's Now You See Me franchise. In addition to performing, Gary has lectured for the oldest magic society in the U.S. and provides private lessons on magic theory for celebrities and influencers such as Ivanka Trump and Ralph Lauren. www.garyferrar.com
Harrison Kramer (Director) is a professional magician and humanitarian living in Manhattan. His unique skills have inspired audiences across the globe and of every walk of life. You can find him performing stage shows and strolling magic for corporations and private events as well as running enrichment programs in refugee camps and pediatric ICUs abroad. Harrison is also the owner of "After School Magic," which provides educational institutions with performances and skill-building workshops that expand critical thinking, hand-eye coordination, and presentation skills. www.harrisonkramer.com
Related Articles
More Hot Stories For You
Andrew Lloyd Webber Musicals Will Stream Online Free; Catch JOSEPH... This Friday, April 3
Andrew Lloyd Webber's musicals will be streamed online for free!... (read more)

BroadwayHD April Lineup Includes PIPPIN, FAME, BILLY ELLIOT, and More!
BroadwayHD has announced its lineup for April.... (read more)

VIDEO: Lin-Manuel Miranda Sings 'New York' by St. Vincent
Lin-Manuel Miranda took to Twitter to post a video of himself playing 'New York' by St. Vincent.... (read more)

Aaron Tveit Talks About His COVID-19 Symptoms, Shares if MOULIN ROUGE! Will Be Returning to Broadway and More
In an interview with Variety, Aaron Tveit shared his experience dealing with COVID-19. discussed what he knew about Moulin Rouge! returning to the sta... (read more)

Watch Live: Lea Salonga Performs an Online Concert
Lea Salonga is currently on Facebook Live, as part of Bayanihan Musikahan's free Facebook live concert series!... (read more)

Photo Flash: See Patti LuPone, Darren Criss, Holland Taylor, & More in a First Look at HOLLYWOOD
Netflix has shared the first look images for its upcoming limited series, HOLLYWOOD!... (read more)