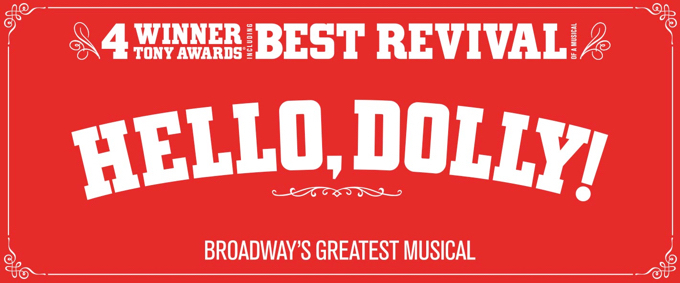 Click Here for More Articles on HELLO, DOLLY!
From John Lithgow to Kevin Kline- Fans Chime in on the Ideal Horace for HELLO, DOLLY!
As announced on BroadwayWorld, The Divine Miss D will returning to Broadway next season in the guise of The Divine Miss M, as Bette Midler struts down the staircase of Harmonia Gardens in a brand-spanking new revival of HELLO, DOLLY!
As is the case when any beloved old musical is plucked for a revival, the guessing game now begins where theatre fans pick their dream casts to fill out the show's supporting roles. What makes the game a little more interesting this time is that a high-profile star like Bette Midler may attract bigger names into the casting pool.
When director Gower Champion and producer David Merrick cast the wildly eccentric GENTLEMEN PREFER BLONDES star Carol Channing as matchmaker Dolly Gallagher Levi in the original 1964 production, they knew they needed to gather equally unique personalities to play the supporting roles.
That's why the daffy clown Charles Nelson Reilly, a recent Tony-winner for HOW TO SUCCEED IN BUSINESS WITHOUT REALLY TRYING, was cast in the romantic role of Cornelius Hackl opposite an Irene Molloy essayed by Eileen Brennan, the off-beat star of Off-Broadway's LITTLE MARY SUNSHINE.
As for the surly Horace Vandergelder, the well-known half-a-millionaire from Yonkers, Champion and Merrick nabbed David Burns, who had won Tonys for playing the blowhard mayor in THE MUSIC MAN and the spineless husband in A FUNNY THING HAPPENED ON THE WAY TO THE FORUM.
Earlier today, we made some casting suggestions and asked you for some of your own. Here's how you responded on Facebook...
---
Daniel McDonald: John Lithgow or Victor Garber either of these gentlemen would be the exact "foil" and have the gravitas to play opposite Miss Midler.
Stephen Thompson: I think he has to be a romantic lead without knowing he is the romantic lead. Hugh Jackman could pull it off or Gerard Butler
Joseph Barcia: Mandy Patinkin would be great. Boyd Gaines would be an interesting choice, too. Nathan Lane is great, but not in this role.
Brendon Slater: NATHAN LANE! Since they've already worked together.
Alex Tiscareno: John Schneider, Tom Wopat, Patrick Page or even Steven Colbert....
Nathan Bottorff-Gaik: Nathan Lane! They had such great chemistry together in "Isn't She Great"!
Roy George: Michael ball, Billy Crystal, Danny burstein
Greg Dorsey: John Lithgow or Danny Burstein. And I agree, this is not the role for Nathan Lane at all.
Kathleen Mullins: Tringale Peter Gallagher, Norm Lewis or Michael Ball. Those are my top three.
John Lewis: I think Nathan Lane or Danny Devito.
Richard Pahl: I was impressed by James Caan in FOR THE BOYS.
Mike Shulman: Nathan Lane would be perfect better than the late Walter Matthau.
Patricia Turner: Michael Crawford. Doubt it would happen but he was in the movie as Cornelius.
Kim Sloan: Steve Carell or Harrison Ford, it would be hilarious.
Marie Baker: Fred Applegate or Michael Rupert
Frank James: Kevin Kline
Katie Iannello: Danny Burstein!!
Sylvester Smith: Jonathan Groff as Cornelius!!!!!
Janet Landry: John LaRouquette
Paula Gentry: Victor garber
Joe Minnich: Patrick Stewart
Phil Harrison: Kelsey grammer would be good
John B. DeHaas: Jeff McCarthy
Richard Bernstein: PETER GALLAGHER
Deborah R Weston: Richard Gere?
Hayley Goldstein: Kevin Kline.
Isabel Pearce: Danny Burstein but he's in Fiddler
Mindy Lopkin: Nathan Lane!
Robin Howell Burt: Harry Connick, Jr
Neil Feigeles: Me.... Mandy Patinkin
Mario Mon: Nathan lane
Anthony Pisano: Peter Gallagher.
Nancy Garcia: Michael Ball.
Related Articles
More Hot Stories For You
Times Square New Year's Eve Celebration Goes Virtual for 2021; Live Elements Still to be Determined
With January 1, 2021 now 100 days away, the organizers of the New Year's Eve celebration in Times Square provided a preliminary teaser of how the even...

Tommy DeVito, One of the Founding Members of The Four Seasons, Passes Away From COVID-19
Tommy DeVito, one of the founding members of The Four Seasons has died from COVID-19 at 92 years old. ...

Marc Kudisch and More Will Lead SOMETHING'S COMING, New Play on the Making of WEST SIDE STORY, Kicking Off The New Works Virtual Festival
The New Works Virtual Festival, now scheduled to take place from Sunday October 25th to Saturday the 31st, will stream video readings of 20 new script...

VIDEO: Original Tour Cast of SOMETHING ROTTEN! Reunites for Reimagined 'To Thine Own Self Be True'
The Something Rotten! 1st National Tour cast has reunited for a performance of the reimagined song, 'To Thine Own Self Be True'. The song was rewritte...

THE SHOWS MUST GO ON Returns With FAME THE MUSICAL - 30TH ANNIVERSARY TOUR
Friday 25 September, THE SHOWS MUST GO ON YouTube Channel returns with the FAME THE MUSICAL - 30TH ANNIVERSARY TOUR as part of new season: 'THE GREATS...

VIDEO: Josh Gad Recaps AVENGERS: ENDGAME as Olaf
After promising his followers to recap the latest Avenger film as Olaf once 1500 registered to vote or verify their registration, Josh Gad has deliver...