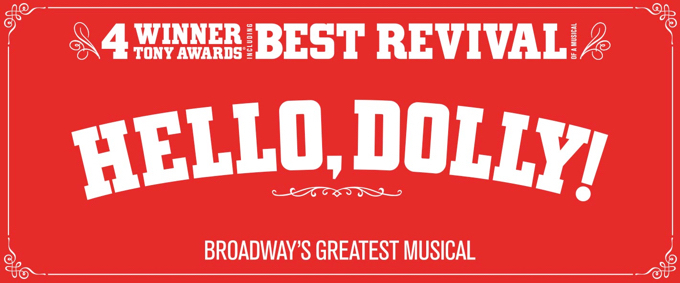 Click Here for More Articles on HELLO, DOLLY!
It's Official: Bette Midler is Headed Back to Broadway in HELLO, DOLLY! in Spring of 2017; and We've Got the Dates, Creative Team & More!
Long rumored, and first reported last night by BroadwayWorld after the star teased the news on Twitter, it's now Official! Producer Scott Rudin announced this morning that Bette Midler will indeed return to Broadway in one of the most cherished shows in musical theater history when she takes on the role of Dolly Gallagher Levi in Michael Stewart's (book) and Jerry Herman's (music and lyrics) masterpiece, Hello, Dolly!. Directed by four-time Tony Award® winner Jerry Zaks, Hello, Dolly! will begin performances on Broadway on March 13, 2017, with an official opening night of April 20, 2017. Rehearsals begin one year from today.
"Many times through the years I've been asked about bringing back Hello, Dolly! - and it has always been, 'Who would be my dream Dolly?' - and though I've had literally dozens of names tossed at me, I knew that we needed more than just a wonderful singer or a wonderful actor, so I held on to the hope that she would also be a distinctly original persona," said Jerry Herman. "Who is out there that has the necessary stature, warmth, the incredible talent and ability, and especially the singular, outsized personality that I was looking for in a 21st Century Dolly? Only one person: Bette Midler. Only Bette could bring Dolly brilliantly back to 'the lights of 14th Street!'"
"I am looking forward to portraying one of the most beloved characters in all of American Musical Comedy, Dolly Levi, born Gallagher, in Hello, Dolly!" said Ms. Midler. "I know I'm going to have the time of my life, and I am so glad to be under the wings of Scott Rudin as Producer and Jerry Zaks as Director. See you next year!"
In a legendary career spanning five unbroken decades of matchless cultural relevance, Bette Midler is a performer who thrillingly continues to defy categorization. She is a recording artist who has sold more than 35 million albums and won four Grammy Awards. She is a stage performer who has, year after year and in show after show, sold out the largest venues around the globe across more than a dozen tours. She is a Tony Award, three-time Emmy, three-time Golden Globe-winning and twice Academy Award-nominated actress who made her Broadway debut in the original Broadway production of Fiddler on the Roof in 1967, and went on to star in dozens of blockbuster films, creating some of the most iconic screen performances in cinematic history. Throughout the 1970's, she brought to Broadway three well-loved concert events: Bette Midler (in 1973, and for which she received a special Tony Award), Bette Midler's Clams on the Half Shell Revue (in 1975), and Bette! Divine Madness (in 1979). In 2013, Midler returned to the Broadway stage, after a nearly 40-year absence, to star in the one-woman play I'll Eat You Last: A Chat with Sue Mengers in which she played the legendary Hollywood agent, wowing critics and selling out performance after performance in a run that broke the house record at the Booth Theatre. In addition to being one of the best-loved, most versatile, and instantly recognizable entertainers in the world, Midler is also a great and abiding New Yorker and one of its most generous and tireless citizens. In 1994, she started the New York Restoration Project, a non-profit organization devoted to bringing abandoned and neglected parks, gardens and open spaces in all five boroughs back to abundant life.
This new production of Hello, Dolly!, the first new production of this classic musical to appear on Broadway since it opened more than fifty years ago, will have at its helm Jerry Zaks as its director, and will feature choreography by Tony Award-winner Warren Carlyle. The new Dolly! will pay tribute to the original work of legendary director/choreographer Gower Champion, which has been hailed both then and now as one of the greatest stagings in musical theater history.
"Shortly after I decided to give up my life as a pre-med student to try making a go for it in the world of the theater, I paid my hard-earned money to stand at the back of the St. James Theatre and watch the only show anyone was talking about: Hello, Dolly!," Mr. Zaks explained. "I fell in love with everything about it: the music, the dancing, the comedy, the style - the sheer power of it. I went back four more times. Ever since then I've regarded Gower Champion as the quintessential master of the seamless blending of music, movement, and dialogue. He was as good a storyteller as there has ever been on the Broadway stage. To be able to bring the work of Gower, Jerry Herman, and Michael Stewart to life again, with the great genius that is Bette Midler, is as good as it gets for me."
"I'm so inspired by the Golden Age of American musical theater. It couldn't possibly get any better thanHello, Dolly!," Mr. Carlyle enthused. "I am honored and humbled to pay homage to the groundbreaking, innovative vision of Gower Champion. To have the opportunity to work with the legendary talent Bette Midler, as she takes her rightful place alongside the jaw-dropping list of women who have played this role, is nothing short of awe-inspiring."
Based on Thornton Wilder's farce The Matchmaker, Hello, Dolly! caused an instant sensation when it premiered on Broadway in 1964, starring Carol Channing in the title role. It went on to win a record-shattering ten Tony Awards, including those for Best Musical, Best Book of a Musical, Best Original Score, Best Performance by a Leading Actress in a Musical, Best Direction of a Musical, Best Producer of a Musical, Best Choreography, Best Scenic Design, and Best Costume Design. It was also named Best Musical by the New York Drama Critics' Circle. Its original Broadway cast recording hit the top of the Billboard album chart, and years later was inducted into the Grammy Hall of Fame. It also marked the greatest producing triumph of legendary impresario David Merrick, running for 2,844 performances over seven years and breaking the record for the longest running show in Broadway history. In addition to Ms. Channing, an astonishing list of Broadway and Hollywood luminaries have inhabited the role of Dolly Gallagher Levi, including Pearl Bailey, Phyllis Diller, Betty Grable, Martha Raye, Ginger Rogers, Ethel Merman (in her last appearance on Broadway), and Mary Martin, who led the West End company.
Related Articles
More Hot Stories For You
Everything We Know So Far About the 2020 Tony Awards
The lights of Broadway will remain dark for the rest of 2020, but the year will not pass without a celebration of all that happened before the shutdow...

Set Designer Ming Cho Lee Dies at Age 90
BroadwayWorld is saddened to report that set designer Ming Cho Lee has died at age 90....

VIDEO: Lea Salonga and Jeremy Jordan Team Up for A FOOTLOOSE Duet!
Tony Award-winner Lea Salonga and pal Tony-nominee, Jeremy Jordan, have blessed us with a virtual duet! Check out the duo below teaming up on 'Almost ...

DEAR EVAN HANSEN, & JULIET, FIDDLER ON THE ROOF, and More Take Home 2020 Olivier Awards - Full List!
Tonight, the Olivier Awards will be announced in a special online broadcast. We'll be updating the list of nominees LIVE throughout the evening....

WATCH: BROADWAY SINGS FOR BIDEN Livestream Concert with Tamika Lawrence, Jessica Vosk, Kate Rockwell, and More - Live Now!
As BroadwayWorld previously announced, Broadway Sings for Biden, the concert-documentary center around voting activism, premieres tonight on our site ...

Meet Our NEXT ON STAGE: SEASON 2 College Top 10!
You voted, here they are! In no particular order, meet our top 10 in the college category....