Emmy Award Nominee Jackie Hoffman Takes Over Folksbiene Instagram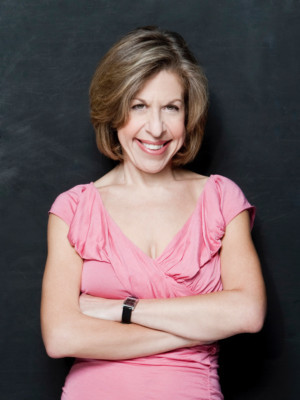 If you've been ROFL at every one of Jackie Hoffman's tweets during her run in National Yiddish Theatre Folksbiene's (NYTF) production of Fiddler on the Roof in Yiddish, then head to @folksbiene on Instagram this Sunday: the Emmy Award nominee is taking over Instagram.
"This will be the first Instagram takeover by someone who doesn't even know what an Instagram takeover is," Jackie Hoffman said.
Jackie Hoffman has been entertaining audiences in the iconic role of Yente the matchmaker since Fiddler on the Roof opened in previews at the Museum of Jewish Heritage on July 4, chronicling her role and her life through a flurry of tweets (@JackieHoffman16), such as:
· "Yiddish Fiddler extended again till Dec. 30th. You really want to be around the Yiddish theatre on Christmas. It's magical."
· "Old friends of the family after matinee: were those your own clothes? Me: no, they give us costumes."
· "Tonight marks my return to Yiddish fiddler following my hip surgery. I will enter like Norma Desmond singing Everything's as if we never said goodbye. In Yiddish."
Jackie Hoffman has performed on stage in Charlie And the Chocolate Factory, The Addams Family, Hairspray, Xanadu, and has a long list of film and television credits, including Difficult People, Feud, and Curb Your Enthusiasm.
"You can never know what to expect; her social media posts are hilarious!" says Christopher Massimine, NYTF Chief Executive Officer and two-time Tony Award-nominated producer. "I am sure Jackie will provide an insightful, colorful voice throughout the day - including backstage during the show (though we encourage audience members not to check their smartphones until intermission!)."
Jackie - who isn't even on Instagram (YET!) - is the latest cast member to take over NYTF's @folksbiene Instagram during the run of the critically acclaimed Yiddish language production - which was recently extended for the fourth time until December 30 due to sold out sales. So far, more than 40,000 people have seen the show, playing at the Museum of Jewish Heritage (MJH) in Battery Park.
Directed by Academy Award-and-Tony Award winner Joel Grey, the Yiddish Fiddler on the Roof has received universal positive praise from critics, including landing a place as a New York Times' Critic's Pick. Cindy Adams of the New York Post wrote the Yiddish Fiddler was "Marvelous. Magical. Magnificent" and "Joel Grey deserves another Tony for directing this history of the shtetl of Anatevka in the shadow of Miss Liberty." Edward Rothstein of The Wall Street Journal called it "thrilling," and Tim Teeman of The Daily Beast declared the production "a moving triumph" and "piercing delight." "'Fiddler' in Yiddish unfolds with majestic simplicity," Barbara Schuler said in Newsday. Ted Merwin wrote in Jewish Week, "Anatevka crackles with a new, more authentic energy." And, Time Out NY's Raven Snook wrote, "Here's hoping that Yiddish Fiddler becomes a new tradition."
The Yiddish language Fiddler on the Roof is based on the Tevye the Dairyman vignettes by Sholem Aleichem and is translated by Shraga Friedman. Tony Award-winning Fiddler lyricist Sheldon Harnick and producer/director Harold Prince have been consulting with NYTF on the production.
In addition to Grey, Massimine, and Mlotek, the creative team features choreography and musical staging by Sta? Kmie?, casting by Jamibeth Margolis, CSA, and an all-star design team of Tony Award winners and nominees, including set design by Beowulf Boritt, costume design by Ann Hould-Ward, sound design by Dan Moses Schreier, lighting design by Peter Kaczorowski, wig and hair design by Tom Watson, and props by Addison Heeren.
Playing the iconic roles of Yente, Tevye, and Golde are, respectively, comedian and Emmy Award nominee Jackie Hoffman (Charlie And the Chocolate Factory, The Addams Family, Hairspray, Xanadu), and Broadway veterans Steven Skybell (Fiddler on the Roof, Wicked, The Full Monty), and Jennifer Babiak (Fiddler on the Roof, West Side Story, Grease, Evita).
The cast is rounded out with: Joanne Borts as Sheyndl/Understudy for Yente, Fruma-Sarah, Grandma Tzeitel; Doug Chitel as Understudy for Mendel, Avrom, Nokhum, Mordkhe, The Rabbi and The Constable; Michael Einav as Ensemble/Understudy for Motel Kamzoil, Perchik, Fyedka and The Rabbi; Jessica Rose Futran as Ensemble/Understudy for Tzeitel, Hodel, and Chava; Kirk Geritano as Avrom; John Giesige as Sasha/Dancer/Ensemble; Lydia Gladstone as Grandma Tzeitel/Understudy for Golde and Sheyndl; Abby Goldfarb as Female Swing - covers: Grandma Tzeitel, Fruma-Sarah, Ensemble; Maya Jacobson as Bielke; Cameron Johnson as Fyedka; Josh Kohane as Male Swing - covers: Sasha, Yussel, Ensemble, Dancer; Ben Liebert as Motel Kamzoil; Moshe Lobel as Nokhum/Mordkhe; Stephanie Lynne Mason as Hodel; Rosie Jo Neddy as Chava/Dance Captain; Raquel Nobile as Shprintze; Jonathan Quigley as Dancer/Ensemble/Understudy for The Fiddler; Nick Raynor as Yussel/Dancer/Ensemble; Bruce Sabath as Lazar-Wolf; Drew Seigla as Perchik; Adam B. Shapiro as The Rabbi/Ensemble/Understudy for Tevye and Lazar-Wolf; Jodi Snyder as Fruma-Sarah/Ensemble/Understudy for Bielke and Shprintze; James Monroe Števko as Mendel/Dancer/Ensemble; Lauren Jeanne Thomas as The Fiddler; Bobby Underwood as The Constable/Ensemble; and, Rachel Zatcoff as Tzeitel.
The Yiddish language Fiddler on the Roof plays Off Broadway at the Museum of Jewish Heritage, Edmond J. Safra Plaza, 36 Battery Place, now through December 30. Tickets start at $75 and can be purchased by calling (866) 811-4111 or visiting www.nytf.org.
The 104-year-old Tony Award-nominated and Drama Desk Award-winning National Yiddish Theatre Folksbiene (NYTF) is the longest consecutively producing theatre in the U.S. and the world's oldest continuously operating Yiddish theatre. Led by CEO Christopher Massimine and Artistic Director Zalmen Mlotek, NYTF is dedicated to creating a living legacy through the arts, connecting generations and bridging communities. NYTF aims to bring history to life by reviving and restoring lost and forgotten work, commissioning new work, and adapting pre-existing work for the 21st Century. Serving a diverse audience comprised of performing arts patrons, cultural enthusiasts, Yiddish-language aficionados and the general public, the company presents plays, musicals, concerts, lectures, interactive educational workshops and community-building activities in English and Yiddish, with English and Russian supertitles accompanying performances. NYTF provides access to a century-old cultural legacy and inspires the imaginations of the next generation to contribute to this valuable body of work. Learn more at www.NYTF.org.
| | | |
| --- | --- | --- |
| | Donations | Arts Orgs |
Related Articles
More Hot Stories For You
Marc Shaiman and Scott Wittman Announce Future HAIRSPRAY Productions Must Cast to 'Reflect Characters as Written'
Progress is being made in the world of musical theatre today, as OnStage Blog's Chris Peterson reports that Hairspray creator Marc Shaiman and Scott W... (read more)

Chris Trousdale, Former Member of DREAM STREET Who Began Career on Broadway, Has Died at 34
BroadwayWorld is saddened to report that actor and musicians Chris Trousdale has passed away. TMZ has reported that he passed away due to COVID-19. He... (read more)

Lea Michele Responds to Being Called Out for Behavior on GLEE Set- 'We Can All Grow and Change...'
Lea has now issued an apology in response. 'I apologize for my behavior and for any pain which I have caused,' says Michele. 'We can all grow and chan... (read more)

Amber Riley Responds to Lea Michele Drama With 'I Don't Give a S---. People Are Out Here Dying'
As BroadwayWorld reported yesterday, Lea Michele is under fire by various people who have worked with her on stage and screen over the years. The late... (read more)

PETER PAN LIVE!, Starring Allison Williams, Christopher Walken, Kelli O'Hara, Taylor Louderman, and More, Will Be Broadcast Online
Peter Pan Live! will be broadcast online as part of The Shows Must Go On! The show will launch this Friday at 2pm EDT (7pm BST) and be available for 4... (read more)

NAACP Encourages Moment of Silence Today to Honor George Floyd
NAACP is asking that everyone joins in for a moment of silence for 8 minutes and 46 seconds today, June 4, at 3:45pm.... (read more)