Dr. Anthony Fauci Discusses His Friendship With Larry Kramer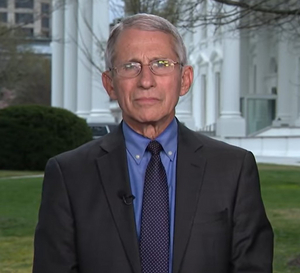 Dr. Anthony Fauci, who is currently one of lead members of the White House Coronavirus Task Force, recently spoke to Variety about his friendship with legendary playwright, author, and activist, Larry Kramer, who passed away earlier this week.
Read the full story HERE.
Fauci shared while a friendship blossomed between the two, it started out on rocky ground. "One of the first things he did was to write an article in the San Francisco Examiner in 1988 entitled 'An Open Letter to Dr. Anthony Fauci.' He referred to me as an incompetent idiot and a murderer. He got my attention for sure."
Fauci shared the path that they took to becoming friends:
"I started to develop first an acquaintanceship then a friendship and then a dear, deep friendship with Larry. It went from confrontation over the years to a place where I actually helped in his medical care. I was a consulting physician for him and helped connect him with the appropriate people to get the liver transplant that saved his life several years ago. We continued to the very end to be very dear friends....The thing about Larry that's very unusual is that even in the context of a very deep, dear affection for each other, he still wouldn't hesitate to publicly start trashing me. He would do it almost tongue-in-cheek."
Fauci continued to say that he spoke with Kramer as recently as a week and a half ago:
"He'd gotten an award. I called to congratulate him and it was very poignant, because it was clear that he was very weak and he sounded very fragile on the phone. We chatted for a few minutes, but he was tired. The one thing I feel really good about now is that the last thing he said to me when he hung up the phone was 'I love you Tony,' and I said, 'I love you too Larry.'"
Check out the full story HERE.
Related Articles
More Hot Stories For You
Patti LuPone Wants to Narrate Mary Trump's New Book For Randy Rainbow to Lip-Sync
Could we be getting a new Randy Rainbow/Patti LuPone collaboration? We sure hope so!...

QUIZ: Attend the Winter's Ball to Find Out Which Hamilton Star Will Be Your Date!
We're going back to 1780 for A Winter's Ball (you know, where the Schuyler Sisters are the envy of all?) for our latest Hamilton quiz!...

VIDEO: On This Day, July 9- Lin-Manuel Miranda, Phillipa Soo, Ariana DeBose, and Leslie Odom, Jr. Say Goodbye to HAMILTON
On this day in 2016, original Hamilton cast members, Leslie Odom Jr., Phillipa Soo, and Ariana DeBose along with the musical's star and composer, Lin-...

VIDEO: Listen to Act 1 of HAMILTON, Acted Out by The Muppets
Voice actor and comedian Ricky Downes III has recorded all of Act I of Hamilton... in the voices of all The Muppets!...

Broadway League Approves 15-Second COVID-19 Test For Actors and Crew; League President 'Cautiously Optimistic' About Early 2021 Return
Broadway League President Charlotte St. Martin told the New York Post that for the first time, she feels 'cautiously optimistic' about Broadway being ...

BROADWAY AT HOME on PBS Continues With GREAT PERFORMANCES: SHE LOVES ME & More
Beginning July 24, GREAT PERFORMANCES will continue to keep the performing arts alive with Broadway at Home, broadcasting a theatrical favorite every ...