Click Here for More Articles on THE ICEMAN COMETH
Could KING LEAR Be Denzel Washington's Next Broadway Project?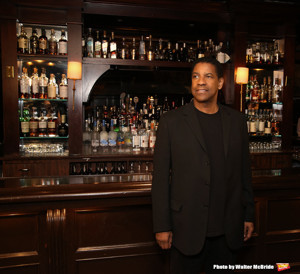 Denzel Washington is currently on stage in Eugene O'Neill's ferocious American classic, The Iceman Cometh, but apparently he almost took on a different iconic role. In an interview with The New York Times, Washington says it came down to Iceman and King Lear.
Iceman may have won out, but King Lear may not be out of the question. Washington says the definitive conversation with producer Scott Rudin had the two looking to the future. "'Let's do 'Lear' five years from now,'" Rudin reportedly said. Washington's response? "'O.K., we'll do that next - God willing.'"
To read more, visit The New York Times here.
Currently in previews at the Bernard B. Jacobs Theatre (242 West 45th Street) is Eugene O'Neill's classic, The Iceman Cometh, starring Tony Award winner, two-time Academy Award winner, and 2018 Academy Award nominee Denzel Washington. Opening night is set for Thursday, April 26 at the Bernard B. Jacobs Theatre.
Directed by five-time Tony Award winner George C. Wolfe, the companyjoining Mr. Washington includes Colm Meaney, David Morse, Bill Irwin, Tammy Blanchard, Carolyn Braver, Austin Butler, Joe Forbrich, Nina Grollman, Thomas Michael Hammond, Neal Huff, Danny Mastrogiorgio, Dakin Matthews, Danny McCarthy, Jack McGee, Clark Middleton, Michael Potts, Reg Rogers, and Frank Wood.
The Iceman Cometh creative team includes four-time Tony Award winner Santo Loquasto (Scenic Design), Tony and Academy Award winner Ann Roth(Costume Design), and nine-time Tony Award winner Jules Fisher & three-time Tony Award winner Peggy Eisenhauer (Lighting Design).
Writing about The Iceman Cometh in 1985, Frank Rich of The New York Times raved, "the word 'masterwork' is not invoked lightly. Eugene O'Neill's tragic vision remains undiminished by time. The Iceman Cometh is a ferocious American classic that has lost none of its power to send one shaking into the middle of the night."
Photo Credit: Walter McBride / WM Photos