The Iceman Cometh - 2018 - Broadway
Denzel Washington, two-time Academy Award winner and Tony Award winner, returns to Broadway in one of the signal roles in the American theatre in Eugene O'Neill's The Iceman Cometh, for 14 weeks only.
Frank Rich of The New York Times raved, "the word 'masterwork' is not invoked lightly. Eugene O'Neill's tragic vision remains undiminished by time. The Iceman Cometh is a ferocious American classic that has lost none of its power to send one shaking into the middle of the night." Beginning March 22, 2018, Denzel Washington, fresh off his extraordinary sell-out runs in both Fences and A Raisin in the Sun, comes back to the Main Stem in "the greatest American play" (New York Magazine) by "the greatest American playwright" (The Washington Post).
Five-time Tony winner George C. Wolfe directs this strictly limited engagement.
"Before Eugene O'Neill, America had entertainment; after him, it had drama." John Lahr, The New Yorker
"Eugene O'Neill did nothing less than re-invent - or rather invent - the American theater." - Sarah Churchwell, The Guardian
"The Iceman Cometh ranks among the theater's finest works. One final salute to a notable drama by a man who writes with the heart and wonder of a poet." - Brooks Atkinson, The New York Times
Video preview
Photo preview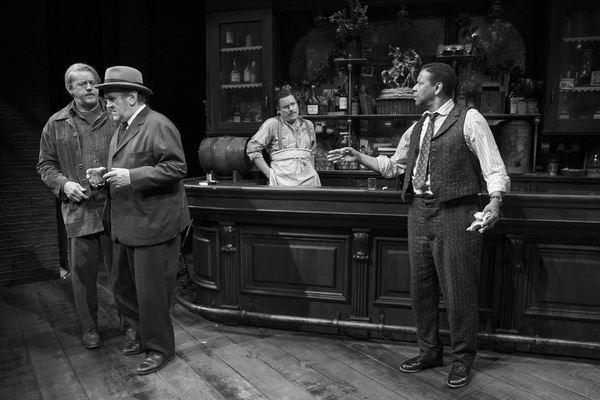 Schedule
Running Time: Three hours and 50 minutes, with two intermissions
Featured Reviews For The Iceman Cometh
'The Iceman Cometh' review: Denzel Washington is superb in excellent O'Neill revival - amNY
In order words, Hickey (played by Nathan Lane three years ago at BAM) would not appear to be a role destined for Denzel Washington - yet here he is on Broadway giving a first-rate performance in a first-class revival of O'Neill's titanic 1946 tragedy of shattered dreams, hopelessness and inebriation.
The Iceman Cometh review – Denzel Washington's mixed return to Broadway - The Guardian
The last Iceman Cometh to arrive in New York, Robert Falls's, was a melancholy symphony with each voice rising and combining to constitute the play's comfortless music. That's not present in Wolfe's production, a series of solos, many of them from the horn section. Cuts have been made to the play - it runs nearly four hours, an hour less than other productions - and maybe this has harmed the cohesion, the lived-in-ness. One experiences less a world and more a room full of actors, mostly good ones, each waiting for a chance to monologue.
The Iceman Cometh Broadway Cast