The Iceman Cometh - 2018 - Broadway
Denzel Washington, two-time Academy Award winner and Tony Award winner, returns to Broadway in one of the signal roles in the American theatre in Eugene O'Neill's The Iceman Cometh, for 14 weeks only.
Frank Rich of The New York Times raved, "the word 'masterwork' is not invoked lightly. Eugene O'Neill's tragic vision remains undiminished by time. The Iceman Cometh is a ferocious American classic that has lost none of its power to send one shaking into the middle of the night." Beginning March 22, 2018, Denzel Washington, fresh off his extraordinary sell-out runs in both Fences and A Raisin in the Sun, comes back to the Main Stem in "the greatest American play" (New York Magazine) by "the greatest American playwright" (The Washington Post).
Five-time Tony winner George C. Wolfe directs this strictly limited engagement.
"Before Eugene O'Neill, America had entertainment; after him, it had drama." John Lahr, The New Yorker
"Eugene O'Neill did nothing less than re-invent - or rather invent - the American theater." - Sarah Churchwell, The Guardian
"The Iceman Cometh ranks among the theater's finest works. One final salute to a notable drama by a man who writes with the heart and wonder of a poet." - Brooks Atkinson, The New York Times
Video preview
Photo preview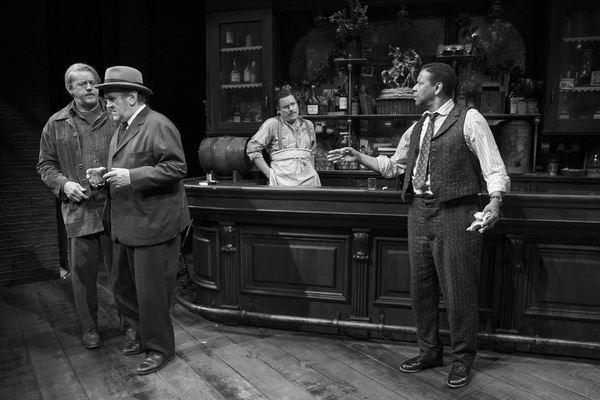 Schedule
Running Time: Three hours and 50 minutes, with two intermissions
Featured Reviews For The Iceman Cometh
Review: In an Energized 'Iceman,' the Drinks are on Denzel - New York Times
If you have a good time at a production of "The Iceman Cometh," does that mean the show hasn't done its job? I was beaming like a tickled 2-year-old during much of George C. Wolfe's revival of Eugene O'Neill's behemoth barroom tragedy, which opened on Thursday night at the Bernard B. Jacobs Theater, with Denzel Washington more than earning his salary as its commanding star.
'The Iceman Cometh' Broadway Review: Denzel Washington Is on a Mission - The Wrap
Each of the four acts plays in real time. Wolfe's approach is occasionally to suggest the surface realism of "Iceman," but more often he is stripping it away to expose the play's absurdist core. Maybe this is the "Iceman" that Samuel Beckett saw in his mind's eye that led him to write his own masterpieces, particularly "Waiting for Godot." Illusion and reality. O'Neill and Beckett's characters are flattened by the one, and so they can't live without the other.
The Iceman Cometh Broadway Cast