Comedian Hannah Gadsby Will Bring DOUGLAS Off-Broadway This Summer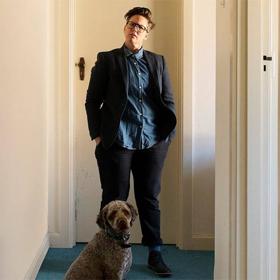 Westbeth Entertainment will present Hannah Gadsby'S latest solo show, DOUGLAS, for a 4-week limited engagement, July 23 - August 17, at the Daryl Roth Theater (101 East 15th Street). Tickets go on sale to the general public on Sunday, April 14 at 10:00am at Ticketmaster.com or by calling 1-800-745-3000.
Hannah Gadsby took the comedy world and Netflix by storm with her multi-award winning sensation Nanette. Now she returns to New York City, where Nanette played a critically acclaimed, sold out run in 2018, with an all new show, DOUGLAS. And while Nanette was a random barista, Douglas is a very specific dog, and the only thing they have in common is they've inspired Hannah to put pen to paper and turn out a show you couldn't possibly expect.
"After the heartbreak humour of Nanette and its beat-perfect delivery, Douglas feels like one of Hannah Gadsby's trademark "thought orgies," vaulting precariously from thought to thought, from one needling idea to another, from wordplay to droll wordplay. The uproariously funny Douglas is part lecture, part stand-up and part tongue-in-cheek tirade. And it's all heart."
- The Australian, March 29, 2019
DOUGLAS had its world premiere in Melbourne on March 27 and will launch a US tour on April 29 in San Francisco, culminating in this limited New York engagement this summer.
Hailing from Tasmania, Hannah Gadsby has come to the world's attention through her multi-award-winning stand-up show Nanette, which played to sold out houses across Australia, London, Edinburgh, New York and Los Angeles before launching on Netflix last June as the first Australian Netflix Original Comedy Special and stopping the comedy world in its tracks.
The overnight success of Hannah Gadsby was more than ten years in the making, with her award-winning stand-up shows a sell-out fixture in festivals across Australia and the UK since 2009. She played a character called Hannah on the TV series Please Like Me and has hosted three art documentaries, inspired by comedy art lectures she created to accompany collections at major galleries. Hannah has a book in the works with Ballantine in North America and Allen and Unwin in Australia and the UK. Translation rights have been sold in multiple territories.
Westbeth Entertainment has consistently delivered critically acclaimed, financially successful, groundbreaking productions for over 35 years. WestBeth's ability to meld creative vision with financial and production savvy has created a unique company out of making artists' and audience's dreams come true.
Developing and introducing artists and talent to North American audiences has a big part of WestBeth's history. From Billy Connolly to Eddie Izzard, The Jim Henson Company to John Leguizamo and Trevor Noah, WBE has been the creative catalyst, partner and producer of some of the most innovative performances and productions on the continent in venues throughout North America including Madison Square Garden, The Hollywood Bowl, Toronto's Massey Hall, Chicago's Chicago Theatre and even New York's Radio City Musical Hall.
With entertainment and audience enjoyment being a key element, WestBeth's upcoming productions include: Professor Brian Cox's Universal tour of North America and Eddie Izzard's new comedy tour Wunderbar. Recent productions include: Eddie Izzard's first US book tour for his memoir Believe Me, a New York Times Bestseller; North American debut of Australia's comedy group Aunty Donna; Hannah Gadsby's North American debut of Nanette; Dylan Moran's Off The Hook North American Tour; Noel Fielding (of The Mighty Boosh) North American debut tourAn Evening with Noel Fielding; ongoing development production of Robert Townsend's Living The Shuffle; Las Vegas engagement of Brian Henson's Puppet Up! Uncensored at the Venetian's Sands Showroom; Eddie Izzard's Force Majeure American Tour performed in all 50 states; Billy Connolly's High Horse tour; the off-Broadway run of comedian Trevor Noah's Born a Crime; Eric Idle's What About Dick at the Orpheum Theatre in Los Angeles; John Leguizamo's Ghetto Klown on Broadway, the West End, and Colombia, South America; and the national tour, Off-Broadway, Australia tour and Edinburgh Fringe Festival runs of Puppet Up!
DOUGLAS will play Tuesday - Friday at 8pm and Saturday at 6pm and 9pm at Off-Broadway's Daryl Roth Theater (101 East 15th street). Tickets, priced at $63.50 will be available at Ticketmaster.com or by calling 800-745-3000, beginning Sunday, April 14 at 10:00am EST.