Chico, Canine Co-Star of LEGALLY BLONDE, Passes Away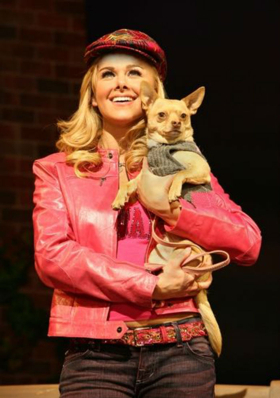 BroadwayWorld is saddened to report the passing of animal actor Chico the Chihuahua, best known to Broadway audiences as 'Bruiser Woods', Elle's canine companion in Legally Blonde the Musical.
Veteran animal trainer Bill Berloni revealed the news tonight in a touching tribute to the pup on social media.
Chico's remarkable story began at a dog shelter, where he was scheduled for euthanasia before being personally selected and trained by Berloni, the animal trainer behind numerous animal stage performances.
After extensive training and trust-building with the cast, Chico went on to appear in the entire Broadway run of Legally Blonde as well as numerous regional and touring productions of the show.
Chico made Broadway history as the first animal actor to conduct a 'conversation' on stage in real time with the actors. Chico leaves behind a legacy as part of the official Legally Blonde Broadway logo, as well as the taped performance of the show on MTV.
See Berloni's tribute to Chico below:
On Monday, March 11th, our beloved Chico crossed the rainbow bridge. His journey to the Palace Theater, where he originated the role of Bruiser Woods in LEGALLY BLONDE - THE MUSICAL, began at the Associated Humane Society in Newark, NJ when he was mistakenly shown to Bill. Chico had been severely abused and was actually slated for euthanasia. He "spoke" to Bill that day, however, and despite everyone at the shelter telling him he was the absolute wrong choice, Bill took him...if nothing else to find him the perfect forever home. Destiny intervened at a press event for LEGALLY BLONDE when the show's director, Jerry Mitchell, fell in love with our little chihuaha and declared "This is our Bruiser!" Original cast members Laura Bell Bundy, Annaleigh Ashford, and Christian Borle worked patiently to help Chico overcome his fears, learn to trust again, and become the first dog ever trusted to open a Broadway show and deliver crucial exposition to Margot and the Delta Nus on the whereabouts of his pink princess Elle Woods. He was a true star and the show literally couldn't go on without his talents! Chico went on to do the entire Broadway run of LEGALLY BLONDE, followed by the national tour and numerous regional productions before retiring two years ago. Chico often travelled with Bill to do talks and training demonstrations, and starred in an episode of FROM WAGS TO RICHES WITH Bill Berloni affectionately titled "Bad Chico." He can be seen on the MTV live taping of his signature show, followed by their reality show THE SEARCH FOR THE NEXT ELLE WOODS. He will live on in our hearts and as LEGALLY BLONDE - THE MUSICAL's official logo. Donations in Chico's name can be made to THE SANDY FUND at the Humane Society of New York, 306 East 59th Street, NY NY 10022. THE SANDY FUND is an endowment fund to benefit homeless animals created by Bill and Dorothy Berloni in honor of their first canine Broadway star "Sandy," the rescue dog that originated the role of Sandy in the musical ANNIE.

A post shared by William Berloni (@berlonitheatricalanimals) on Mar 13, 2019 at 6:39am PDT
See a clip of Chico's performance here: