Click Here for More Articles on A BRONX TALE: THE MUSICAL
Broadway By Design: Beowulf Boritt & William Ivey Long Bring A BRONX TALE from Page to Stage
Who is Annie without her red dress? Or Eva with out her balcony? It is the charge of the Broadway designer to transport the audience into the world of a show, whether it be Great Depression-era New York City or outside of the Casa Rosada.
In Broadway by Design, BroadwayWorld will be shining a spotlight on the stellar designs of this Broadway season, show by show. Today, we continue the series with Beowulf Boritt and William Ivey Long, who acted as scenic and costume designers for Broadway's nostalgic trip uptown, A BRONX TALE.
---
Based on the critically acclaimed play that inspired the now classic film, this streetwise musical will take you to the stoops of the Bronx in the 1960s-where a young man is caught between the father he loves and the mob boss he'd love to be. Featuring an original doo-wop score, this is a tale about respect, loyalty, love and above all else: family.
So where did Boritt begin? He explains, "There's a lyric in the opening number where they describe the neighborhood as the universe in one little block. That summed up the set design for me. The story is about this kid who grows up in a very insular neighborhood. Even though it's in New York City, it's like a small town. There's some lovely things about that, because everyone is like a big family, but there are some downsides as well, because everyone is all up in your business. That said, what the set was trying to be was, not only literally a neighborhood in the South Bronx, but a place that seemed nurturing and trapping at the same time."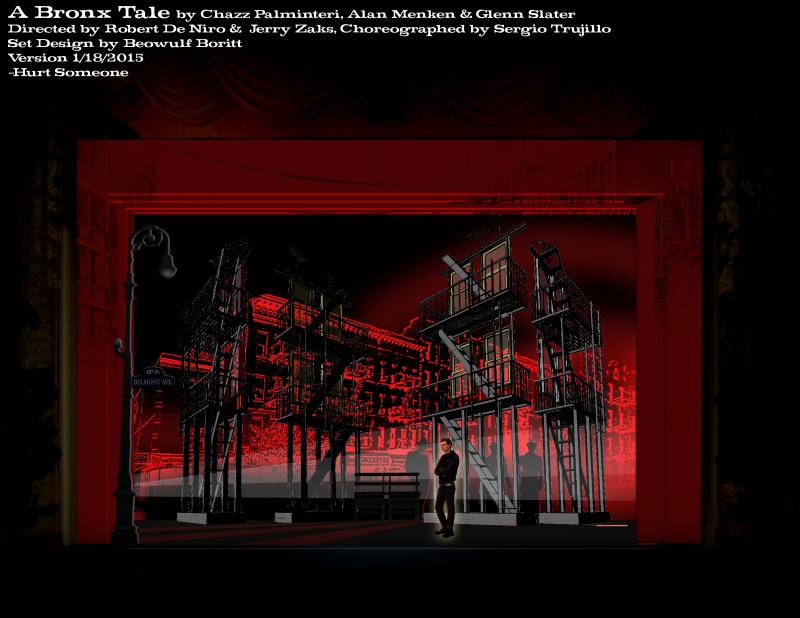 "I see it as a pressure cooker. The set is this intense, red world with these big, black, iron towers that roam around in it. Sometimes they feel very open and inviting and sometimes they feel like a cage around Calogero," says Boritt.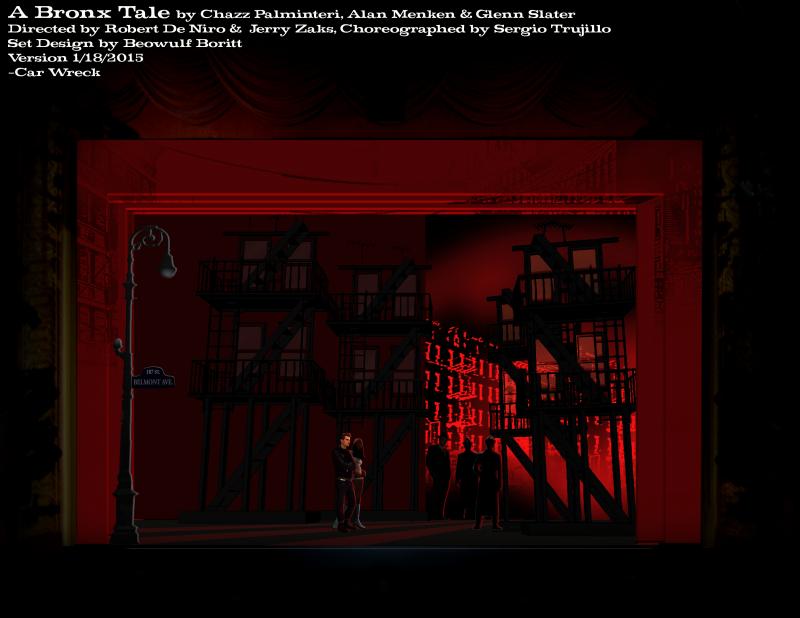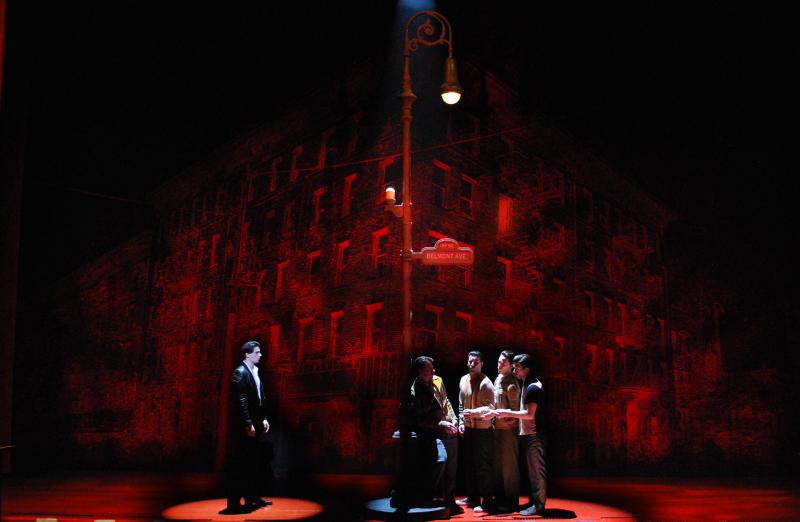 On his biggest challenges of the project, he continues: "The inherent challenge in any musical, and it's just a modern trend... things need to move quickly and smoothly. You need to get from Point A, to Point B, to C as quickly as possible. In the case of A Bronx Tale, it's 2000 pound, three-story-tall steel towers that are rovering around the stage, so they're only gonna move so fast! There's also a lot of dance and movement in the show, so the set needs to allow for that and needs to move very fluidly."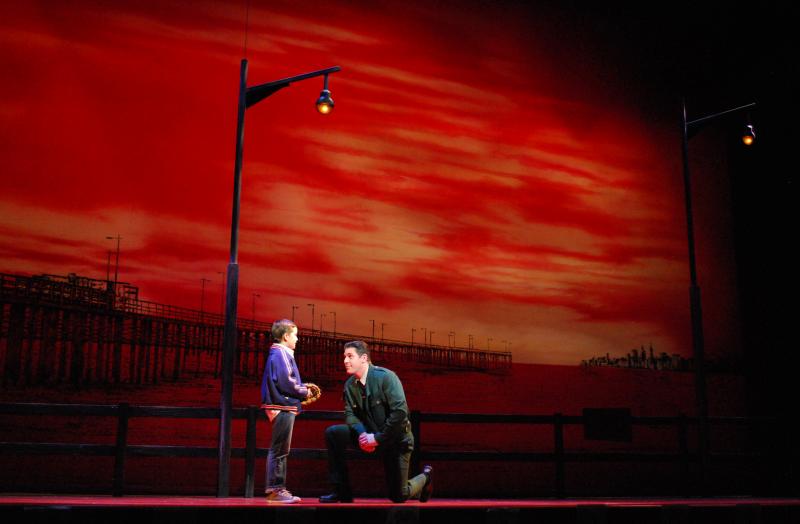 Costume designer William Ivey Long got lots of input from the show's creators. He explains: "Chazz Palminteri has been very much involved with everything we were doing. Perhaps the big take away for me for the whole process was how much Mr. Robert De Niro knows about clothes! He knows about period dressing and attitude. We studied yearbooks from the Bronx, we studied the film... For him, we wanted to look back at all of the information that was out there- the black-white tension; how to differentiate the posses. How did the different kinds of kids wear the same clothes? And when they were different, which pieces were different? He is a wealth of information. The first time he and Jerry Zaks came to my studio they spent two and a half hours with us!"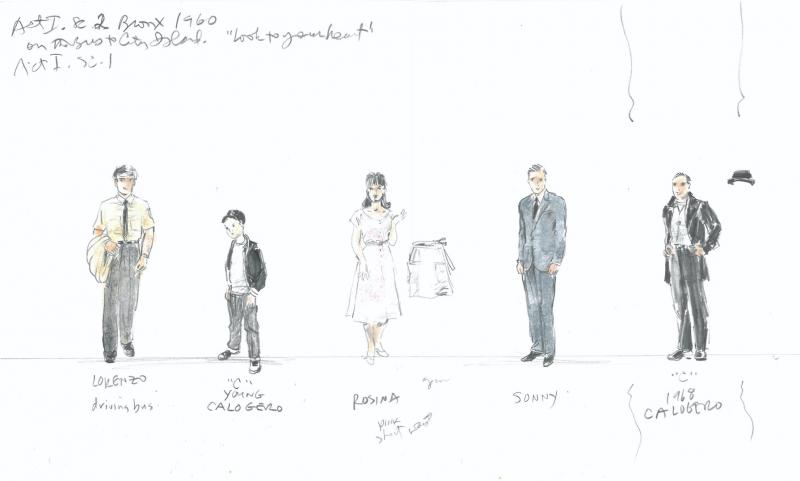 "After we did Paper Mill, Mr. De Niro was really concerned that we didn't get some of the shirts and hats right. He then came two more times to the studio. There was a specific collar from the late sixties that he actually drew for me, and we used. It's not every director you have who is so specific and so involved, and of course we love it! It made us crazy with joy. And I can truthfully say, I think we got the shirts right the second time around."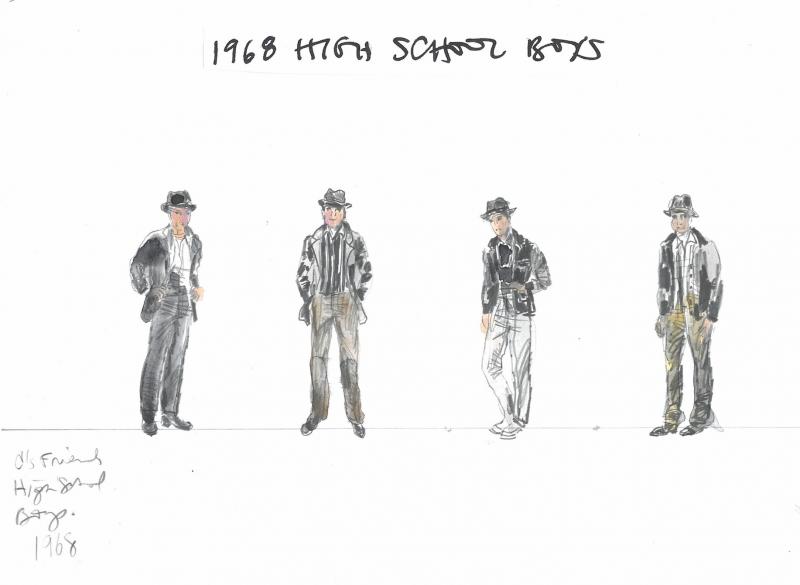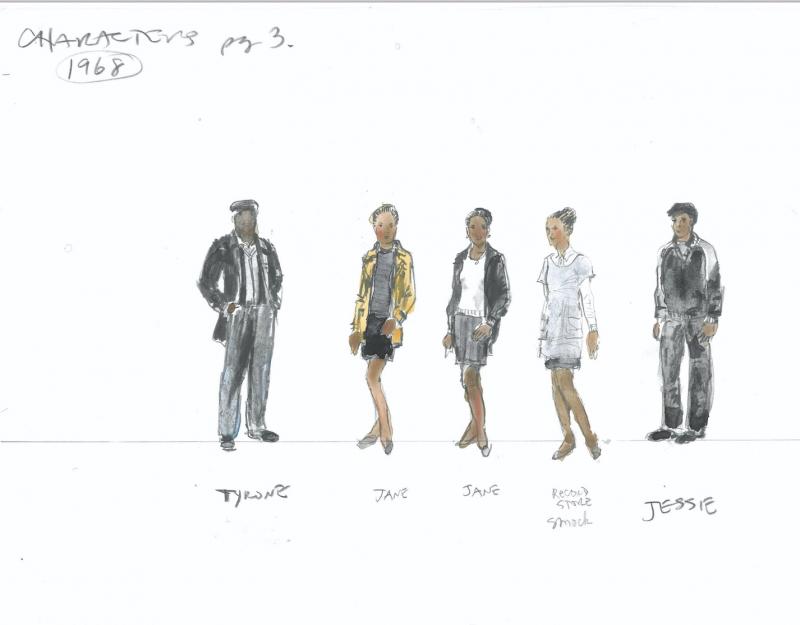 "Our biggest challenge was satisfying Mr. De Niro [Laughs]," jokes Long. "No, really it was getting those shirts right. This was a very specific, street-by-street kind of look, and I didn't have all of the references. We needed to really find that neighborhood."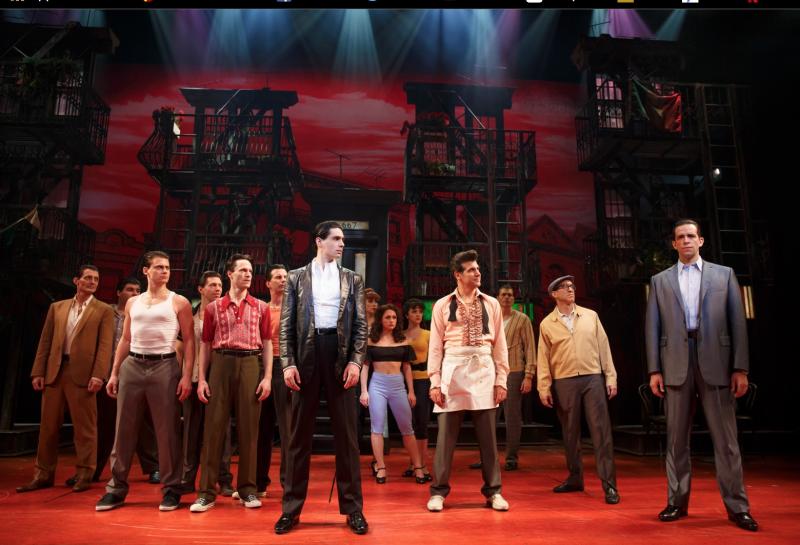 Want more Broadway By Design? CLICK HERE.
---
A BRONX TALE opened on Thursday, December 1 at the Longacre Theatre (220 West 48th Street). The new musical features a book by Academy Award nominee Chazz Palminteri, music by Oscar, Grammy, and Tony Award winner Alan Menken, and lyrics by Grammy Award winner and Oscar and Tony Award nominee Glenn Slater, and is co-directed by two-time Oscar winner Robert De Niro and four-time Tony Award winner Jerry Zaks, with choreography by Tony nominee Sergio Trujillo.
The 30-member cast of A BRONX TALE stars Tony Award nominee Nick Cordero (Waitress, Bullets Over Broadway) as Sonny, Richard H. Blake(Jersey Boys, Legally Blonde, Matilda The Musical) as Lorenzo, Bobby Conte Thornton (My Fair Lady at Bay Street Theatre) as Calogero, Ariana DeBose (Hamilton, Bring It On, Motown The Musical) as Jane, Lucia Giannetta (LES MISERABLES - Broadway and 25th Anniversary Tour, Leap of Faith, A Bronx Tale at Paper Mill Playhouse) as Rosina, Bradley Gibson (Rocky, Chicago national tour) as Tyrone, and Hudson Loverro (Kinky Boots National Tour, A Christmas Story at Paper Mill Playhouse) as Young Calogero.