Bistro Winning-Carole Demas & Sarah Rice Star In Expanded Version Of THANK YOU FOR YOUR LOVE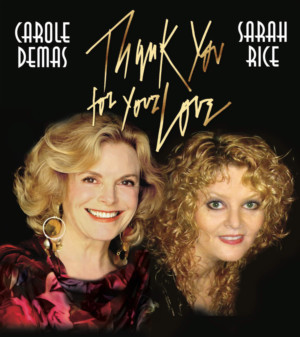 This year, a living legend of musical theatre turns 90: Lyricist-bookwriter Tom Jones (who also, under a stage name) appeared in the original company of his most famous and wildly successful record-breaking musical, The Fantasticks. His collaborator, composer Harvey Schmidt, just recently passed away. The production's record-breaking run closed, on January 13, 2002, after 17,162 performances. Their shows also include 110 in the Shade, I Do! I Do!, Philemon, Celebration and many more. And celebration is what it's about when Broadway veterans Carole Demas, who originated the role of Sandy in Grease, and Sarah Rice, who originated the role of Johanna in Sweeney Todd, return to celebrate Jones & Schmidt. Demas and Rice have based the show on their 50 years of work and personal relationships with Tom and Harvey. With very special guest Broadway's Hal Robinson who is also a Fantasticks alumni.
The show, titled THANK YOU FOR YOUR LOVE, which just won a coveted BISTRO AWARD, will be presented in a newly expanded 2 Act version Tuesday, OCTOBER 16 at 8pm at The John Engeman Theatre, 250 Main Street, Northport, New York 11768. https://web.ovationtix.com/trs/pesptpm/10313836/6717.
• "This mélange of life-affirming songs that glow in the talents and heartfelt performances of these two women is like being refreshed and having faith renewed. You really do "try to remember the kind of September when life was slow and oh so mellow." ... Life is good, life is rich, and life is real and love is all those things, too, in the songs of Schmidt and Jones especially when these two women sing them with such passion and belief and commitment." Rob Lester
• "THANK YOU FOR YOUR LOVE: OUR CELEBRATION OF Tom Jones & Harvey Schmidt is being honored as Outstanding Tribute Show. Starring Carole Demas and Sarah Rice (both of whom played Luisa in the original production of THE FANTASTICKS), directed by Charles Repole, Special Guest Hal Robinson and illuminating projections by producer Stuart J. Allyn, it is rich with marvelous singing, trenchant song interpretations, and a great deal of heart."
Demas and Rice each played Luisa in the long-running original production of THE FANTASTICKS. From a personal perspective, they will share their love and appreciation of years of professional work and ongoing friendships with Jones and Schmidt. This unique offering of songs, multimedia, and funny and poignant backstage/onstage stories will feature beloved favorites such as MY CUP RUNNETH OVER, TRY TO REMEMBER, SOON IT'S GONNA RAIN, and other exquisite gems and novelty numbers sung by two of Broadway's most captivating voices.
Thank You For Your Love is directed by award winning actor/director Charles Repole with musical direction and vocals by Warren Helms, special guest Broadway's Hal Robinson, harpist Maria Banks, and veteran sound and video designer Stuart J. Allyn. The Show is produced by A.D.R. STUDIOS, Inc.
Tickets are $25.00
The John Engeman Theatre, 250 Main Street, Northport, New York 11768. https://web.ovationtix.com/trs/pesptpm/10313836/6717..
About Carole Demas
Carole Demas, Broadway and TV legend, stole the hearts of audiences and critics alike with her captivating and critically-acclaimed creation of Sandy in Broadway's iconic, original GREASE. Her 57 year career has included thousands of leading role performances on and Off-Broadway and in regional theater. Carole originated the title role in the premiere production of Stephen Schwartz's THE BAKER'S WIFE, in Los Angeles. Among her other roles: two years at New York's Sullivan St. Playhouse as Luisa in THE FANTASTICKS and the creation of original ingénue leads in Fred Ebb's MORNING SUN; RONDELAY (director Cyril Ritchard, choreographer Jacques d'Amboise); Oscar Brand's HOW TO STEAL AN ELECTION (opposite Clifton Davis); Tom Jones & Harvey Schmidt's PHILEMON and THE BONE ROOM among many others. In major regional theatres: Philia (A FUNNY THING HAPPENED ON THE WAY TO THE FORUM); Regina (ANOTHER PART OF THE FOREST); Angel (CELEBRATION); Wanda (ENTER LAUGHING); Corrie (BAREFOOT IN THE PARK, with Joan Bennett) and singing for the Champlain and NY Shakespeare Festivals for multiple seasons.
Carole played numerous guest star roles on classic prime time TV (including, KOJAK, MANNIX, ROUTE 66, BARNABY JONES, MAN FROM ATLANTIS, FANTASTIC JOURNEY (recently, BLUE BLOODS/CBS and ALLEGIANCE/NBC) and recurring roles on daytime dramas (EDGE OF NIGHT, ONE LIFE TO LIVE, AS THE WORLD TURNS). For the popular PBS Series GREAT PERFORMANCES, Carole joined other stars of the Great White Way for Lorimar's SHOWSTOPPERS - THE BEST OF BROADWAY. On film, Carole starred in the 300 YEAR WEEKEND, with William Devane and THE SPACE WORKS for Trans-Lux Corp. Other films include appearances in: A LOVELY WAY TO DIE for Universal Films and the recently released THE DISAPPOINTMENTS ROOM.
Her New York City concert and cabaret performances include: (BROADWAY ORIGINALS (Town Hall), OFF-BROADWAY CLOSE UP (Merkin Hall), 50th Anniversary celebrations for WBAI Radio, Lincoln Center Library and The Fantasticks. She is seen in NYC's favorite cabaret venues (Feinsteins/54 Below, Birdland, The Metropolitan Room, Laurie Beechman Theater, New World Stages annual gala, Le Poisson Rouge, The Iridium, The Triad-Stage 72, Signature Theatre, Urban Stages, Concerts For City Greens, etc.). She sang for BROADWAY TO BARBADOS for two seasons and recently headlined on Crystal Cruise, Film and Theatre Cruise to French Polynesia. She is a recurring favorite star in The Ziegfeld Society Productions in New York City. Her one-woman show in NYC and other locales (including The Caribbean Theatre, St. Croix) received rave reviews..."a powerhouse of musical theatre", "a vocal champion", "a consummate artist", her voice has been described as "shimmering and thrilling with great warmth, sweetness and surprising power". Her engaging, exciting cabaret and concert performances have brought funds and attention to many worthy causes.
Carole starred in TV's most successful regional children's series, THE MAGIC GARDEN (for over 12 years) leading to hundreds of live family concerts and recent viral posts on Facebook. Carole's wonderful versatility has been seen on camera in principal roles in over 200 commercials for television (everything from men's cologne to peanut butter and often singing the jingles as well), among them Kodak, Promise Margarine, Lipton Tea, Puss 'n Boots, Wonder Bread, M&M's, Clairol, Timex, Lysol, AT&T, etc. more at www.caroledemas.com, www.caroleandpaula.com
About Sarah Rice
Sarah Rice originated the role of Marianne in a musical adaptation of THE MISER called HANG ON TO YOUR RIBBONS, Off-Off Broadway. This led to being cast as Luisa in the long-running original Off-Broadway production of THE FANTASTICKS. She continued in the role for over two years. She also played Anne in A LITTLE NIGHT MUSIC, Cunegonde in CANDIDE, at the Guthrie, Miranda in THE TEMPEST, Zan in REGINA, Gretel in HANSEL AND GRETEL and Liesl in THE SOUND OF MUSIC. Stephen Sondheim and Harold Prince chose her to become part of musical theatre history when she was cast as the original Johanna in SWEENEY TODD, THE DEMON BARBER OF FLEET STREET on Broadway for which she won a Theatre World Award and recorded on RCA.
Leading soprano roles since then include Marie in DAUGHTER OF THE REGIMENT, Gilda in RIGOLETTO, Cunegonde in CANDIDE, Mabel in PIRATES OF PENZANCE, Kathie in THE STUDENT PRINCE, Lady Catherine in THE VAGABOND KING, Monica in THE MEDIUM, Madame Goldentrill in THE IMPRESARIO, Maria in WEST SIDE STORY, Marietta in NAUGHTY MARIETTA, Magnolia in SHOWBOAT, Christine Daae in PHANTOM OF THE OPERA, Sarah in BITTERSWEET, Margot in THE DESERT SONG, Susanna in THE SECRET OF SUSANNA, Gretel in CHRISTOPHER COLUMBUS, THE MERRY WIDOW (with Dame Joan Sutherland), Tirese/Tiresias in LES MAMELLES DE TIRESIAS, Eolo in L'ORIONE, Marian Paroo in THE MUSIC MAN, Jenny Lind in BARNUM, and Sarah Brown in GUYS AND DOLLS, with theater and opera companies throughout the world, including the famed Gran Teatro la Fenice in Venice, Italy, Santa Fe Opera, Central City Opera, Dallas Opera and others.
She is a 2010 Bistro Award and 2011 MAC AWARD winner, Female Vocalist, for her critically acclaimed solo cabaret debut, Sarah Rice sings SCREEN GEMS, Songs of Old Hollywood and voted favorite female cabaret debut performer by Cabaret Hotline Online readers in 2009. Recent shows include her Ivor Novello/Noel Coward show, celebrating the music of the era of Downton Abbey, GLAMOROUS NIGHTS & CARELESS RAPTURE, and serial guest-starring in the award-winning SONDHEIM UNPLUGGED both at 54 Below, and The Mabel Mercer Foundation's Cabaret Convention where she returned last year for their Sondheim Evening. More at www.sarahrice.com
About Tom Jones and Harvey Schmidt
Tom Jones wrote the book and lyrics, and Harvey Schmidt wrote the music for THE FANTASTICKS, the longest running production in the history of the American theatre. Jones and Schmidt's first Broadway musical, 110 IN THE SHADE, had a successful run and was later revived in a production starring Audra McDonald. I DO! I DO!, their two character musical with Mary Martin and Robert Preston, ran for a year on Broadway and a year on the road and is frequently done around the country and the world. (One production, in Minneapolis, played for twenty-two continuous years with the same two actors in the leading roles.) For several years, Jones and Schmidt worked privately at their theatre workshop, concentrating on small musicals in new and often untried forms. The most notable of these efforts were CELEBRATION, which moved to Broadway, and PHILEMON, which won the Outer Critics Circle Award and was filmed for television. In addition to an Obie Award and the 1992 Special Tony for THE FANTASTICKS, in 1999 Jones and Schmidt were inducted into the Broadway Hall of Fame at the Gershwin Theatre and in 2012 they were inducted into the Songwriter's Hall of Fame. Subsequent shows include GROVER'S CORNERS, MIRETTE, ROAD SIDE, THE SHOW GOES ON, etc. After the retirement of Mr. Schmidt, Tom Jones has been working on three new musicals: LA TEMPESTA, with composer Andrew Gerle; HAROLD & MAUDE, with composer Joseph Thalken; and THE GAME OF LOVE, with composer Jacques Offenbach (arrangements by Nancy Ford).
About Director Charles Repole
Charles Repole directed the highly acclaimed concert versions of DUBARRY WAS A LADY starring Faith Prince and Robert Morse and CALL ME MADAM starring Tyne Daly for the prestigious City Center Encores! series. Other Broadway directing credits include the revival of Gentlemen Prefer Blondes (which originated at the Goodspeed Opera House), The Lauri Strauss Leukemia Foundation Benefit at Carnegie Hall, the Easter Bonnet Competition at the Palace Theatre, A SALUTE TO Frank Sinatra at Carnegie Hall and he conceived and directed the annual fund raising gala for the 92nd Street "Y"for over 10 years. Also an accomplished on-stage performer, he has appeared before Broadway audiences starring in DOUBLES, WHOOPEE! (a Drama Desk nomination) and VERY GOOD EDDIE (a Tony nomination and a Theatre World Award). Off-Broadway credits include OLYMPUS ON MY MIND. Mr. Repole is the Chairman of the Drama, Theatre and Dance Department at Queens College and was the recipient of the 2001 President's Award for Excellence in Teaching.
About Musical Director and Vocalist Warren Helms
Warren Helms has been seen on prime time television accompanying Susan Boyle and has performed with actress Ann Jillian, The Irish Tenors, Aretha Franklin and Clay Aiken. Warren collaborated with Bill Whelan, the composer of "Riverdance" with the Atelier project at Princeton University. Currently a faculty member of The Juilliard School, William Paterson University in Wayne and Caldwell University, Warren was previously a faculty member of The Manhattan School of Music, where he musical directed the American Musical Theatre Ensemble and served as coach/accompanist for their opera productions. Mr. Helms was assistant conductor/pianist for the Broadway production of Showboat at the Gershwin Theatre and is presently the music director for The Women's Theater of NJ and with The Bickford Theatre. Warren is Musical Director of Coro Lirico and Director of Music at The Immaculate Heart of Mary Church in Wayne.
About Hal Robinson
Hal Robinson has a long and distinguished career in the theater and film/tv. Best known for origination of Zinnowitz in GRAND HOTEL on Broadway and Selznick in NICK and NORA on Broadway. He acted in Bert Kalmar, Harry Ruby, George S. Kaufman and Morris Ryskind's musical, ANIMAL CRACKERS, at the Paper Mill Playhouse in Millburn, New Jersey, Charles Repole was director. Robinson also had a recurring role as a judge in TV's "Buffy the Vampire Slayer" and appeared in LAW AND ORDER. His stage credits include playing El Gallo in the original 1960 off-Broadway production of THE FANTASTICKS as well as THE BAKER'S WIFE (1985); YOURS, ANNE (1985); OLD WICKED SONGS (1996); Herr Schulz in the 1998 Broadway revival and subsequent national tour of CABARET; ACTOR, LAWYER, INDIAN CHIEF (2002); LITTLE MARY SUNSHINE (2002); THE VISIT (2008) and THE PEOPLE IN THE PICTURE (2011).
About Sound Designer Stuart J. Allyn
Stuart J. Allyn is an award-winning sound designer, consultant, recording engineer. EMMY Award for Lead Audio - The 1994 Winter Olympics. Theatrical Sound Designs include: critically acclaimed NY debut PHANTOM by Maury Yeston & Arthur Kopit; New York Premier of James Michener's SAYONARA; the multi-award winning SONG OF SINGAPORE - "Best Off-Broadway Musical"; Sondheim's COMPANY national tour; New York Shakespeare Festival's ONE FLEA SPARE and SATURN RETURNS. He served The White House and recently was designer/mixer for Broadway to Barbados concerts 3 years running, Actor's fund benefit for Kathi Moss with 40 original cast Broadway stars from NINE, GREASE and GRAND HOTEL, and the 25th Reunion Concert of GRAND HOTEL. Mr. Allyn designed and mixed The MAC Award Winning City Greens Concerts and has mixed the Newport Jazz Festival, concerts at Carnegie Hall, Birdland, etc.
Other credits include: THE WINTER IN LISBON(film) with Dizzy Gillespie, award winning scores for Columbia Pictures; critically acclaimed independent films; specials for PBS including: Placido Celebrates Seville; and Sesame Street, 20 YEARS AND STILL COUNTING, with Ray Charles, Placido Domingo etc.; Grammy nominated albums: LICKETY SPLIT (The Vanguard Jazz Orchestra,) and MEL LEWIS, 20 YEARS AT THE VILLAGE VANGUARD. Nominated for 4 Grammys, 3 Emmys, an Obie, several CLIOs winner of EMMY, ASCAP, Drama Desk, Outer Critics Circle and 3 film festival awards.

Related Stories
More Hot Stories For You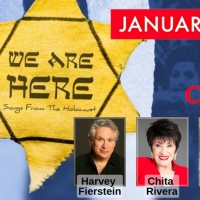 Harvey Fierstein, Chita Rivera, and More Announced for WE ARE HERE Concert at Carnegie Hall

December 4, 2022

"We Are Here", a remarkable concert of music written inside the Nazi camps and ghettos, will come to Stern Auditorium / Perelman Stage at Carnegie Hall to commemorate International Holocaust Remembrance Day on January 26th at 7:30pm.
---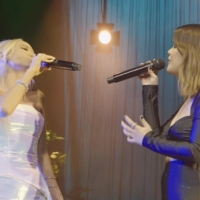 VIDEO: Watch Kristin Chenoweth and Country Star Maren Morris Sing 'For Good' from WICKED

December 4, 2022

Maren Morris surprised audiences by bringing out Kristin Chenoweth to join her for a performance of 'For Good' from WICKED during the final show of Morris's Humble Quest concert tour at Nashville's Bridgestone Arena. Watch the video here.
---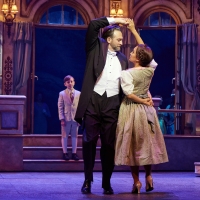 Photos: First Look at Ashley Blanchet, Graham Rowat, Gavin Lee, and More in Paper Mill's THE SOUND OF MUSIC

December 3, 2022

Paper Mill Playhouse (Mark S. Hoebee-Producing Artistic Director; Michael Stotts- Managing Director), recipient of the 2016 Regional Theatre Tony Award, has released production photos for The Sound of Music. The show began performances at Paper Mill Playhouse on Friday, December 2 and will play through Sunday, January 1, 2023.
---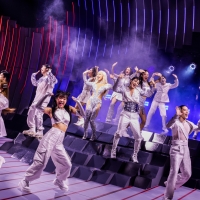 KPOP Producers Issue Letter in Response to New York Times Review

December 3, 2022

In response to Jesse Green's review of KPOP from the New York Times, the producers of KPOP have issued a response letter, requesting that Green 'issue an apology to the cast and creators of [KPOP] for the insensitive and, frankly, offensive review.'
---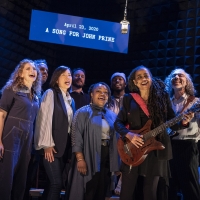 Suzan-Lori Parks' PLAYS FOR THE PLAGUE YEAR to Return to The Public in April 2023

December 2, 2022

After a truncated run as a result of several COVID-19 cases in the company, Suzan-Lori Parks' theatrical concert PLAYS FOR THE PLAGUE YEAR will be returning for an engagement in The Public Theater's Joe's Pub in April 2023.
---