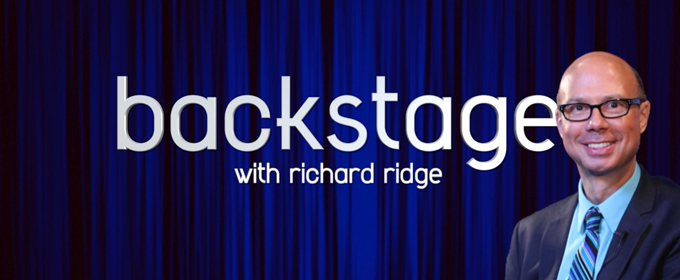 Click Here for More Articles on BACKSTAGE WITH RICHARD RIDGE
Backstage with Richard Ridge: Broadway's Newest Stars, Michael Xavier & Siobhan Dillon, Talk Navigating SUNSET BOULEVARD
Two of Broadway's newest stars come straight from the West End, where they've been navigating the twisting, frenzied SUNSET BOULEVARD, which opened earlier this month at the Palace Theatre. Michael Xavier and Siobhan Dillon, who star opposite Glenn Close in her triumphant return to the musical, met with Richard Ridge to open up about their famous co-star, their relationship on stage, and so much more!
Xavier's West End credits include: Love Story (Oliver-Olivier Award nomination), Sunset Boulevard (Joe), The Pajama Game (Sid Sorokin), Spamalot! (Sir Galahad), The Phantom of The Opera (Raoul), My Fair Lady (Freddy), Pageant (Miss Great Plains) London: Into The Woods (Wolf/Cinderella's) Prince-Olivier Award nomination), Henry VI (Suffolk), Edward IV, Richard III (George of Clarence), Assassins (John Wilkes Booth), The Sound Of Music (Captain Von Trapp), Soho Cinders (James Prince), Sweet Charity (Charlie/Vittorio/Oscar). UK: Show Boat (Ravenal), Hello Dolly! (Cornelius), Wonderful Town (Bob), Oklahoma! (Curly), Rock (Rock Hudson), Mamma Mia! (Sky), The Mikado (Nankipoo), Miss Saigon (Chris). U.S: The Secret Garden (Archibald Craven) Films: Never Let Go, Gnomeland.
Dillon has been performing on London's West End stages for a number of years in roles such as Sandy in Grease, Sally Bowles in Cabaret, Molly in Ghost the Musical, Vivienne Kensington in Legally Blonde, and Ellen in Miss Saigon. After its successful London run, Siobhan is extremely grateful that she is now reprising the role of Betty in this production of Sunset Boulevard, which will be her Broadway debut.
Related Articles