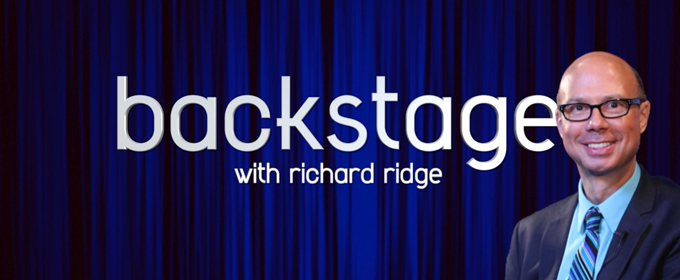 Click Here for More Articles on BACKSTAGE WITH RICHARD RIDGE
BWW TV Exclusive: Backstage with Richard Ridge- SAG Foundation Conversations Series with Ian McKellen & Patrick Stewart; Part 1
Screen Actors Guild Foundation and Broadway World have partnered for an filmed Conversations Q&A series to recognize and celebrate the vibrant theatre community in New York City and the union actors who aspire to have a career on the stage and screen. The most recent conversation featured stage and screen titans Ian McKellen and Patrick Stewart, moderated by BroadwayWorld's Richard Ridge. Check out Part 1 of the conversation below!
McKellen (Spooner in No Man's Land and Estragon in Waiting for Godot) has over 40 international awards for his half-century on screen and stage. He has worked regularly for Royal Shakespeare Company and National Theatre of Great Britain and on the West End stage in Shakespeare and a wide range of classic and new plays. In New York, he won every available award for Amadeus (1981). His solo show Acting Shakespearepacked theatres across the States and is now a teaching aid throughout the country. In 2001, he returned to Broadway in Dance of Death and hosted Saturday Night Live. He was inducted into the American Theater Hall of Fame in 2004. Most recently, he played King Lear for the RSC at the Brooklyn Academy of Music. McKellen has starred in more than 40 movies: Richard III, Stephen King'sApt Pupil, Gods and Monsters, The Da Vinci Code, four X-Men films, The Lord of the Rings and The Hobbit trilogies. Lately UK/PBS sitcom Vicous. Full career at www.mckellen.com.
Stewart (Hirst in No Man's Land and Vladimir in Waiting for Godot). Theater: No Man's Land (Berkeley Rep.), Waiting for Godot (What's on Stage Theatre Event of the Year), Macbeth (Tony nomination), Bingo: Scenes of Money and Death, Who's Afraid of Virginia Woolf? (Young Vic. London Fringe Best Actor Award), The Ride Down Mount Morgan (Broadway), The Tempest (Shakespeare in the Park, Broadway), Othello (Washington, DC), A Christmas Carol (LA, Broadway, London, Olivier for Best Entertainment, Drama Desk Award for Best Solo Performer, What's On People's Choice Award for Best Solo Performance), over forty productions with The Royal Shakespeare Company, including Hamlet (Olivier - Best Actor), Antony and Cleopatra (SWET Best Actor), The Merchant of Venice (SWET Best Actor nomination) and Peter Brook's A Midsummer Night's Dream. Television:Macbeth (Great Performances), Hamlet (Emmy nomination, Great Performances), Star Trek: The Next Generation (SAG Award nomination), Extras (Emmy nomination), Frasier, The Lion in Winter (Golden Globe nomination), King of Texas, A Christmas Carol (Emmy and SAG nominations), Moby Dick(Golden Globe, Emmy, SAG nominations). Film: Conspiracy Theory, Jeffery, Robin Hood - Men in Tights, LA Story,Dune, Excalibur, four Star Trek: The Next Generationmovies, Stephen Belber's Match, Hunting Elephants and three X-Men movies, with a fourth - X-Men: Days of Future Past - coming in 2014. Stewart was knighted by The Queen in the 2010 New Year Honours for Services to Drama.