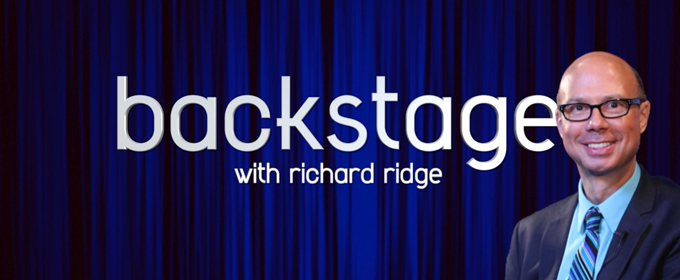 Click Here for More Articles on BACKSTAGE WITH RICHARD RIDGE
BWW TV EXCLUSIVE: Anthony Warlow on Finally Making His Way to Broadway as 'Daddy Warbucks' in ANNIE; Show Opens TONIGHT on Broadway!
Welcome to BWW's exclusive talk show, BACKSTAGE WITH Richard Ridge. Follow Richard as he visits the theater's best and brightest in their dressing rooms, on their stages and favorite hang outs to talk about their lives, careers and all of the things you don't know, but want to know.
Australia's preeminent musical theatre and opera star Anthony Warlow is making his Broadway debut as billionaire Daddy Warbucks in the new production of Annie, currently in previews at the Palace Theatre. In this edition, Richard chats with Anthony about his legendary career Down Under, starring in LES MISERABLES, THE PHANTOM OF THE OPERA, and so much more! Click below to watch the full interview!Anthony Warlow made his music debut with the Australian Opera at the age of 19 in Benjamin Britten's A Midsummer Night's Dream. Being awarded the Joan Sutherland Scholarship enabled him to further his career in opera, with roles in The Magic Flute, La Bohème, Tosca, Otello, The Tales of Hoffman (with Dame Joan Sutherland), Romeo and Juliet and Don Giovanni.
Warlow's musical theatre career began in 1985 with the London National Theatre's production of Guys and Dolls. He created the role of Enjolras in the Australian production of Les Miserables, a performance which won him a place on the Grammy Award-winning International Cast recording. Other productions include The Secret Garden, Man of La Mancha, My Fair Lady, Grease the Arena Spectacular, A Little Night Music, and a healthy catalogue of Gilbert & Sullivan's comic operas. Warlow's performance in the title role of The Phantom of the Opera (1990 and 2007-2009), set the seal on his status as Australia's premier stage performer. He received the prestigious Advance Australia Award for Contribution to Music Theatre in 1991 for his performance, Gold and Platinum sales of his solo albums and in 1998 Anthony was honored by the nation and the National Trust being elected a Living National Treasure.
Annie, the new production of the Tony Award-winning musical opens tonight, November 8, 2012 at the Palace Theatre (Broadway at 47th Street).
Buy Tickets to Annie - click here.

Related Articles