Annie - 2012 - Broadway Tickets, News, Info & More
The timeless story. The classic characters. The unforgettable songs.
Under the loving direction of three-time Tony Award winner James Lapine, the musical you remember is back on Broadway in a brand-new production you'll never forget. The beloved book and score by Tony Award winners Thomas Meehan, Charles Strouse and Martin Charnin remain the same, with new choreography provided by Tony Award winner Andy Blankenbuehler.
Video preview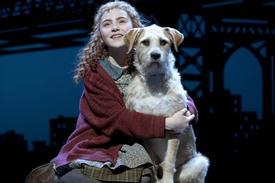 Photo preview
Schedule
Running Time:
2 hours and 25 minutes, with one intermission
Featured Reviews For Annie
For 'Annie' actress on Broadway, the sun has come out - Washington Post
"Annie," the 1977 musical based on the 1920s "Little Orphan Annie" comic strip, returns to Broadway as if shipped to the Palace Theatre by a morale-boosting arm of FEMA. Infused with zip and charm by its sensational Annie, Noo-Yawk-tawkin' Lilla Crawford, the show, slickly staged by James Lapine, tells you that any city or nation keeping faith with the future will rise again, come hell or high water...Coaxed by Lapine...Crawford exudes the beguiling clarity of a kid unbowed by the hard-knock life. Her Annie is as egalitarian as we'd like to believe our country, at its best, might be...Matching Crawford vowel for lazy New York vowel, the Australian Warlow proves to be an ideal Warbucks, the warmth of the performance rising scene by scene.
'Annie' review: Musical is relevant today - Newsday
For all the freight of timeliness, this remains a sweet spot of a family musical, full of adorable, but not sticky-adorable, waifs punching the air with their teeny fists and belting "Tomorrow" over and over until every cynic within earshot might be a believer. Director James Lapine's handsome yet lovable vision finds the emotional core without losing the cartoon magic. There is a modesty, a humanity within the spectacle that helps the too-large theater feel embracing...As Annie, Lilla Crawford has a self-possessed intelligence...She also has lungs to match her big presence...I'll hear no negative words about Katie Finneran, who, unlike her much-admired campier predecessors, makes Miss Hannigan both a cruel clown and a genuinely erotic creature whose thwarted ambitions seem just the slightest bit sad.