Annie - 2012 - Broadway
The timeless story. The classic characters. The unforgettable songs.
Under the loving direction of three-time Tony Award winner James Lapine, the musical you remember is back on Broadway in a brand-new production you'll never forget. The beloved book and score by Tony Award winners Thomas Meehan, Charles Strouse and Martin Charnin remain the same, with new choreography provided by Tony Award winner Andy Blankenbuehler.
Video preview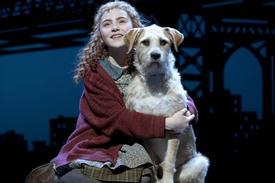 Photo preview
Schedule
Running Time: 2 hours and 25 minutes, with one intermission
Featured Reviews For Annie
Miscasting and hard knocks pull the life out of Broadway's 'Annie' - Chicago Tribune
At the Palace Theatre, it feels very much like "Annie" has gotten lost...It has some successful, even emotional, moments, especially involving Anthony Warlow's Daddy Warbucks, one of the few roles here that does not feel miscast...Finneran mostly looks lost and flailing here, trapped somewhere in the wastelands between traditional musical comedy stylings and some kind of new realism...Crawford, no question, has a lot more real, complex girl inside her than the typical spunky, bewigged moppets who've played this role on stage and screen, but there's a certain invulnerability throughout that proves problematic. Crawford is a capable kid; that was a directing problem.
Theater review: 'Annie' on Broadway - NY Daily News
If this take seldom crosses the line into something must-see special (it doesn't), even a simply good production of "Annie" offers rewards.