Annie - 2012 - Broadway
The timeless story. The classic characters. The unforgettable songs.
Under the loving direction of three-time Tony Award winner James Lapine, the musical you remember is back on Broadway in a brand-new production you'll never forget. The beloved book and score by Tony Award winners Thomas Meehan, Charles Strouse and Martin Charnin remain the same, with new choreography provided by Tony Award winner Andy Blankenbuehler.
Video preview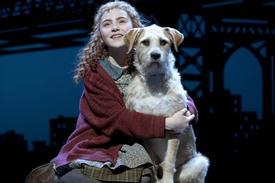 Photo preview
Schedule
Running Time: 2 hours and 25 minutes, with one intermission
Featured Reviews For Annie
James Lapine, Alchemist - Wallstreet Journal
This revival of "Annie" is fabulous. Creatively staged by James Lapine, Stephen Sondheim's longtime collaborator, and smartly cast from top to bottom, it makes a convincing case for a musical widely regarded by cynical adults as suitable only for consumption by the very, very young. Even if you're a child-hating curmudgeon, you'll come home grinning in spite of yourself.
Review: 'Annie' revival has a fine Warbucks, overcooked Hannigan and doesn't make lizards leap - Associated Press
The slow-to-start musical features an appealing 11-year-old Lilla Crawford in the title role, an overcooked Katie Finneran as Miss Hannigan and a first-rate Anthony Warlow as Daddy Warbucks...Finneran and Warlow seem to be in different shows. If you missed her in her Tony Award-winning turn as a daffy, drunken floozy in "Promises, Promises," she reprises it here. In fact, she does very little new...If Finneran is big and brassy and broad, Warlow is the opposite. This Australian actor brings gravitas and a sumptuous voice to Warbucks...While Crawford is excellent, as is usually the case with "Annie," a younger orphan often steals your heart. In this show, that would be Emily Rosenfeld as Molly, who is cuter than a dump truck of plush teddy bears.