Click Here for More Articles on ERNEST SHACKLETON LOVES ME
BWW Interview: Valerie Vigoda Is Exploring Unknown Musical Terrain in ERNEST SHACKLTON LOVES ME
After critically acclaimed and award winning productions in Seattle, New Jersey and Boston the new musical, Ernest Shackleton Loves me, just opened at Off-Broadway's Tony Kiser Theatre, where it plays through Sunday, June 11th.
ERNEST SHACKLETON LOVES ME is the epic musical adventure starring GrooveLily's fierce and funny electro-violinist Valerie Vigoda (Striking 12), and the courageous and charismatic Wade McCollum (Priscilla Queen of the Desert). This innovative, high-tech adventure tells the story of a sleep-deprived single mom who struggles to work as a video game music composer. Unexpectedly, she is contacted across time by the famous polar explorer, Ernest Shackleton. Inspired by her music, he shares his epic Antarctic journey with her in video and song. Against all odds, they discover that their greatest inspiration lies within each other.
Vigoda recently chatted with BroadwayWorld about the show's amazing journey. Catch up below!
---
I heard that you just won an award today, congratulations!
Oh my gosh, it's so funny. I had a very Shackleton day off. I went up with Wade [McCollum] to visit our friend Curtis and we all were up there for a lovely, relaxed time. It was the first time I had been out of the city since we started this really intense process. We literally crossed the line back into Manhattan and got the text. We arrived into New York under this beautiful sparkly day, and got the text that we won the award. So we were just freaking out in the car, it was so great.
I know that it's something that has been a part of your life now for a while, right?
Eight years.
How did it start? Where did this whole idea come from?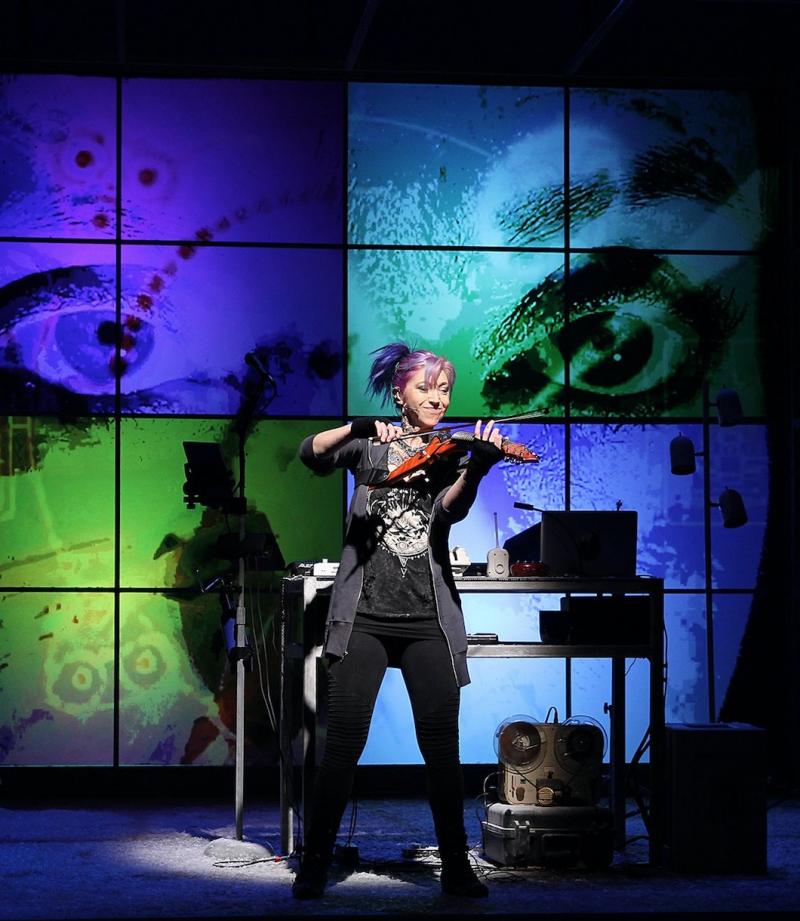 Way back in 2003 I had seen a museum exhibit about Ernest Shackleton. I had seen it with Brendan [Milburn], who was my collaborator at that time. We were completely floored by it. I couldn't believe that most of us here in America don't know about him. I had never heard of him before. How could that be? And, they had all the images of the photographs and film from the expedition there in the exhibit. They had a replica of the lifeboat that he rode 800 miles in.
So then, a few years later, we were figuring out what would make us each happy in our lives. What we decided was that we both love writing and I love, love, love performing. I'm exhilarated by it. Brendan is much more of a behind the scenes person. He's an amazing performer, but he just doesn't care about it. So we said, "Well how about we write something that I can perform, and you don't have to perform?" So we sort of started thinking about a one person show.
When did Joe [DiPietro], join the conversation?
He had seen our first show and really liked it and wanted to do something with us, and of course we're huge fans of his. So we were talking about how we wanted to work together and we shared with him this idea that we wanted to write something just for me. That I didn't want it to be self-indulgent. I wanted it to be something big, and I just blurted out, "like Ernest Shackleton!" I didn't have any concept of how to connect his story to me at all. It was really a random blurt of what I found inspiring. And he said, "Oh, who's that?" He had never heard of him.
So we told him about this story and as soon as we mentioned the banjo, the importance of music that Shackleton cared about so deeply- that he did make the men bring along the 14 pound banjo when every man was only allowed two pounds of personal items. I think we were at our apartment and Joe was taking in all of the aspects of my life that later came into the show, and we sort of drew together all of these things. So he said, the banjo is our way into the story. He came up with the outline and that it should be titled Ernest Shackleton Loves Me and we starting working on it.
And the full story built from there?
It was always this journey toward self-reliance and independence for this woman who felt like she couldn't do it alone. It took awhile, through readings and workshops, and there were lots of phone calls and answering machine messages in order to have Shackleton's voice come through on this show. It really started to take off in terms of creating it when our director came on board and said, "This is really cool."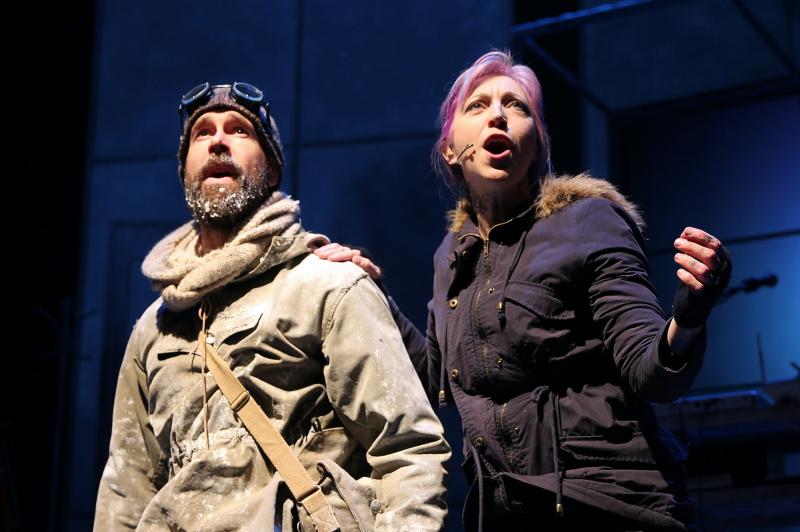 The live looping stuff is obviously such a big part of the show. What has it been like seeing the audience reaction to that?
As a violinist and a singer I never really thought I would be able to do something like that on my own. But it's been amazing and it's really great practice to get out there. I have to create every sound by myself and make it happen. You get used to all the weird, trippy choreography we have to do. Every time you want something to occur at a certain time you have to trigger that event during the measure before. So it's a very weird collision of left brain and right brain. It's very pre-planned and you have to analytically know what you're doing next. So it's been an amazing journey and I feel like I've grown a bunch of new neurons.
I've spoken to lots of actors who talk about the difficulty of doing a dark show or playing an emotionally draining character and how that can be hard to shake off at the end of the day. Whereas you, on the other hand, get to put out a really positive and optimistic message every night. Have you found that having that in your psyche has rubbed off on your life when you're offstage?
Oh my gosh, yes. I know exactly what you mean and I think what you immerse yourself in cannot help but really affect you. I feel so grateful to be able to immerse myself in what is possibly the most inspired and optimistic story of all time. Strangely, over the past 8 years, my life has come to resemble it more and more and more. I was not a single mom when this began. Over the past few years my personal life has gone through the biggest upheaval, multiple upheavals really, both personally and professionally. Having this has been hugely impactful on the way that I am able to center myself and navigate through and have gratitude for my experiences and my circumstances, all of it. It makes a huge difference.
Not only me, but the audience is feeling, "If Shackleton can do that, I can do anything." I'm walking out of here feeling so optimistic like I can take on the world. That, I think is exactly the message we want to bring. And if that's what we're doing, we're succeeding. I think that's the impact of immersing oneself in optimism. I think that's what Shackleton did. I think I'm a different person from what I was only when I got here in late March. I feel like this process has really helped inspire me on a personal level.
It's certainly a message that has stuck with me and I'm sure it's hitting home with other people too.
And a few people have said that it's such good timing for us in our society right now. I agree with that, I really do. There's some sort of serendipity that keeps happening regarding this show. Like whenever it seems like some disaster is going to strike, a miracle happens and it doesn't. It also happens to be the centennial of the Shackleton voyage. You think it takes so long, like "let's go let's go let's go." But the fact that it's happening now is so perfect. 1917 was the year that he travelled. It's the wrap up of the Shackleton centennial and with the timing of our political landscape... I'm thrilled to be able to be doing this right now.
Vigoda is an electric violinist, singer, writer, former Army lieutenant, and founding member of the band GrooveLily. She has toured the world with Cyndi Lauper, Joe Jackson and the Trans-Siberian Orchestra, and is now spreading her wings as a soloist, with her live-looping multimedia release Just Getting Good (inspired by the technology used in Ernest Shackleton Loves Me). Co-writer of many songs for Disney, as well as the scores for ten stage musicals (such as Striking 12, Sleeping Beauty Wakes, Toy Story: The Musical, Wheelhouse, Long Story Short, and Beautiful Poision) which have been produced from La Jolla Playhouse to Off-Broadway, she has won the Jonathan Larson Award for Excellence in Writing for the Theatre, the LA Ovation Award for Best Musical, and the ASCAP Richard Rodgers Award. An honors graduate of Princeton University, Val is delighted to be the newest Artist Mentor in the groundbreaking, joyous Electrify Your Strings program, which brings rock arrangements and high-octane performance energy to school orchestras throughout the nation. Proudest production: 11-year-old son Mose. Visit her at www.valvigoda.com.
Sir Ernest Shackleton (1874-1922) is widely known as one of the most inspirational leaders of the twentieth century, and is studied by Navy captains and business school students alike. While he never achieved his personal dream of being the first to reach the South Pole, his reputation as a leader of men is based on a still greater success: the survival and safe return of all of his team members, after their ship, the Endurance, was crushed in the middle of its 1,800 mile journey through the Weddell Sea. Whilst overcoming almost unimaginable odds, Shackleton's men road an iceberg for months before landing on the deserted Elephant Island, exhausted and starving. Shackleton then took five of his strongest men and a twenty foot row boat, and crossed 720 nautical miles in one of the greatest open water traverses in history, landing on the remote South Georgia Island. The six men then spent 36 hours scaling previously unclimbed snowy peaks with nothing but 50 feet of rope and a carpenter's hammer. Once they found safety, Shackleton rested only a single night before sailing back repeatedly out into the Antarctic ice floe to successfully rescue all 22 of his crew men. Shackleton's name lives on as a synonym for courage, leadership and most of all, unquenchable optimism.