BWW Interview: Lauren Molina on Her Rootin', Tootin' Good Time in DESPERATE MEASURES
Around a decade after she originated the role of Regina/Candi in ROCK OF AGES, Lauren Molina returns to NEW WORLD STAGES for another fun and funny musical romp. Having been with Desperate Measures since it began, Molina has gotten to throughly develop the hilarious Bella Rose. As the life of the party in Desperate Measures, we sat down with Molina to talk about the new Off-Broadway musical.
---
Tell me about how you first came to be involved in Desperate Measures.
So, last year, in May, I got an email from Peter Kellogg who is the book and lyrics writer. He asked if I would be interested in doing a 29 hour reading at The York of a new show that was loosely based on MEASURE FOR MEASURE and had country western music written by David Friedman. I was available, and I always love doing new musicals, so I said "Sure." I was shocked at how hilarious and clever, and catchy, it all was. It was so tuneful and when we did the reading it was such infectious fun. The audience just ate it up. I thought, "Wow, this is a really special thing we have." There was such a great response the creatives thought, "Oh, we should try to raise money and do a full production of this."
Lo and behold, they raised enough money to do a production at The York. People were so into it. The audience were just going crazy, and people were coming back time and time again to see it. We had super fans that were coming back, and the show kept extending and extending. So, I just felt so lucky that I hadn't even auditioned. I was just randomly asked to do it, and they liked me enough to keep me.
After that run at The York, we made a cast album, which was so great. I thought, "Well okay, that's it." Like with everything else it's temporal, it's ephemeral, done with that chapter, and then a couple of months later they said, "We have some wild news. We're going to be transferring to New World Stages, and Pat Addiss, the lead producer, with Mary Cossette put their money where their mouths are, and raised a million bucks to do our little show here at New World Stages.
Since you've been with it since the beginning, has anything changed with the character?
Things that have changed are very slight. Now, I have an opening monologue that wasn't there before, so they've given me a little more. I guess I proved myself. [Laughs]
There's been internal cuts and little additions here and there to add jokes and such. While we were doing it, we turned some funny bits where I talk to cardboard cutouts. If these random cardboard cutouts are going to be characters in our show, I need to say something to them. They are some of my favorite lines in the show. We really play up the absurdity and silliness. And, even though my character is a prostitute, technically, I represent the fun, silly, following your heart rather than what is right or wrong, or black and white, in this very rigid wild west world.
I'm very lucky that not too much has changed. I've really found who she is. She's very easy for me to slip into as far as the sass and silliness. I've just gotten used to the language and the role.
Bill Castellino, the director, was extremely collaborative. He was also the choreographer, so - together - we choreographed the strip tease number that I do. That has really grown and changed from when it first started. We thought it would be really funny if it's not like Gypsy Rose Lee in taking off a glove, but it starts by snapping off the fringe that's on the arms. We just found the absurd, like ripping off the decals on the shirt opposed to something that is more typical of sexy striptease. We also changed the costume from the York Theater. The costumes now are much more special, they were all made for the show, and, especially, for the striptease, we added tassels that I now spin. Spoiler alert, we now have a big reveal at the end with a body suit and a cactus in a very perfectly positioned place.
I like that you mentioned your monologue. It gives the musical that Shakespeare feel.
Yeah. That's exactly how I look at it. It is a nod to Shakespeare, and it's not Shakespeare. The story of our musical has the essence of MEASURE FOR MEASURE, but it is totally stripped down and dumbed down in a way that everyone can understand and really enjoy. It's not dumbed down in a way that makes it ignorant or stupid. It's very clever. It's just in a way that is understandable.
MEASURE FOR MEASURE is a problem play. Is it a comedy? Is it a drama? It's sort of convoluted in the intentions of certain characters, and this is very clear. And, all of the tropes of the characters are extremely clear. They follow the western formulas. You know, the Good Guy Sheriff and the Bad Boy aloof dumb cowboy. The sexy saloon girl, the nun, who I see as being like Sarah Brown from GUYS AND DOLLS. She's very stern and has to uphold what's right in the church. And, of course the evil Governor.
It's really interesting. I feel like Shakespeare problem plays are kind of having a heyday.
I agree. I think it's important for us to find his works that maybe need some tweaking. These are stories that are timeless, and if we can reinvestigate them, find new ways to explore the storytelling, and to make it clearer or to mine the comedy and make it funny. You don't read MEASURE FOR MEASURE or see MEASURE FOR MEASURE and laugh, typically. It's hard. It's a kind of serious situation. So, I love that this nod to Shakespeare at the top of the show, with the prologue, lets me play a naughty librarian. [Laughs]
Obviously, you and your character are not the same person, but do you find any similarities between yourself and Bella Rose?
We are both funny and kind. We lead with our hearts and from a sense of do-what-feels-right and not going by some arbitrary law. I'm a rule breaker. Lauren is, in general. [Laughs] In that way we are similar. Obviously, I don't commit crimes, but you know, I do things that aren't going to harm anyone if it's going to be for the good of all. Obviously, I'm a stripper in real life. I have The Skivvies, so there's a similarity too. We both love to entertain and make people feel good, love to make people laugh, and I think that's the root of it.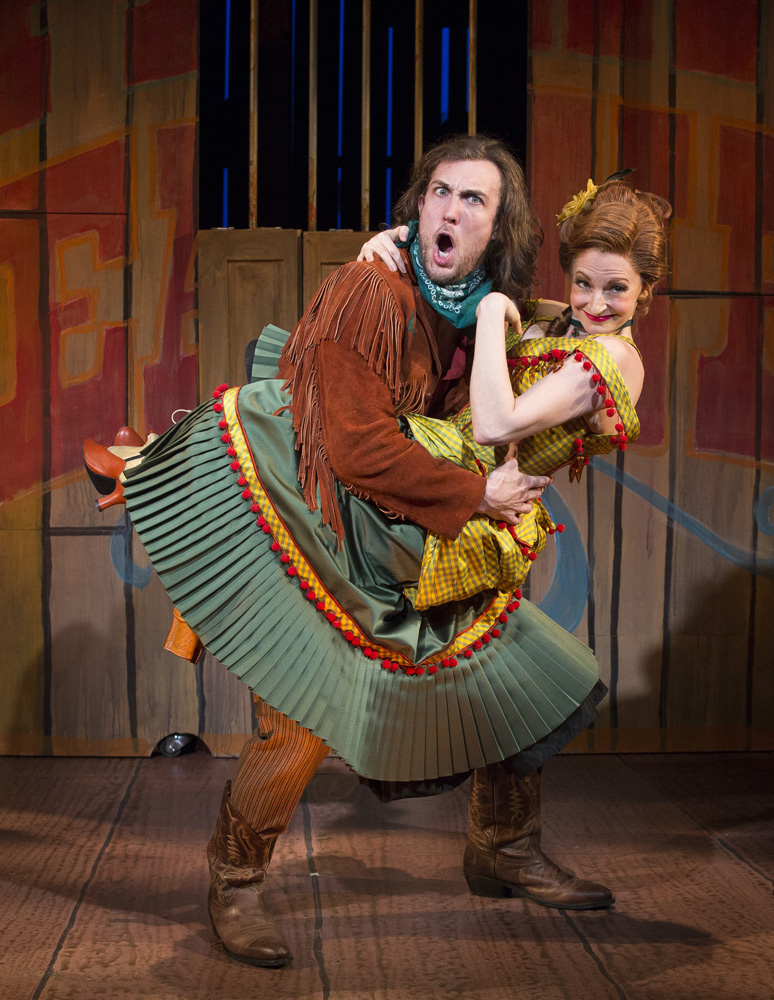 So, if Bella had to do The Skivvies, what would her song be?
"Hot in Here!" [Laughs] When I first got the script, back in the 29 hour reading, I opened the script, and it said that Bella's first song was "Hot in Here." I thought, "This is a joke, right?" Because, for every Skivvie's show, we open with Nelly's "Hot in Here." I thought, "Somebody is pulling my leg!"
I did some Skivvies shows post The York performances of Desperate Measures, and we did a little mashup at the start of Nelly's "Hot in Here" and David Friedman's "Hot in Here." So, yeah, she would probably sing something like that, or maybe Pussycat Dolls' "Don't Cha," but finding comedy in it. "Loosen up my buttons, babe," something like that.
Awesome. The cast has great chemistry on stage.
Yeah. I'm having a blast. This show is so fun. The cast is like family. Sarah [Parnicky], who plays the nun, is like a sister to me. Conor [Ryan] is like a brother. Peter [Saide] is like an older brother. Conor is like my younger brother. Nick Wyman is like my dad. He's such a good guy for advice and just wants to take care of us. And, Gary Marachek is like a crazy weird uncle. [Laughs]
That is so great that the cast has great chemistry off the stage. It's clear on stage that, even in the case of the villain, you're all having fun working with each other.
You know, it's funny because when the show came out, we were running for a while before the "Me Too" movement started. When the Harvey Weinstein shit hit, we were all like, "Has there been a different reaction?" And there was. You could feel it in the audience when he [Nick Wyman's Governor] made the proposition to Susanna. Everybody in the audience was like "Oooooooooh," and you could feel the sliminess. So, navigating that realistic, gross sexual, what is it called? Sexual lechery.
Definitely predatory.
Predatory! Yes, that's the word I was looking for. Thank you. Navigating that, it resonates. I think that it's even more important now, and it resonates even more so now.
Then, she gets to turn it against him!
Yeah! Like Stormy Daniels. Like, that's who I feel like I am. The prostitute, the comedian, the funny woman who is confident in her body, confident in being sexual and in her sexuality, has saved the day. The hooker with a heart of gold will always save the day.
Ever since ANNA CHRISTIE.
Yes!
All the way back to O'Neil. Also, not a comedy.
No! I mean it's crazy that we take these timeless themes and make them so. It's not the themes that are funny, it is the dialogue and the situations. But, power corrupts, and the differences of right versus wrong, the justice, and the sense of morality changes.
What advice would you offer to someone wanting to follow your path?
I always encourage young kids to do everything. Enrich your life with as much as possible besides theater. Continue to study theater, take voice lessons, dance, acting, sure. But, what makes you a great actor or a more interesting person is to travel the world and read books. I feel like people aren't reading anymore. People's attention spans are so short. People are forgetting that the world is full of culture and history, and it's not just social media. Really hone your special skills.
Another thing is always be true to yourself and who you are. Don't try to fit yourself into a box that you think you need to fit in. I remember when I came to the city, I was trying to sound a certain way and look a certain way. It wasn't until really embraced who I was and what I did that I found success. I wasn't a standardly pretty ingenue; I was quirky. I do the soprano thing, but I am also a belter. I didn't know where to fit, and it turns out I was able to do both when I was just confident in who I was and what I brought to the table as far as comedy. When you're going to an audition, if you hear someone else sing the song you were preparing, right before you go in, still continue to sing what you prepared. Don't try to mix it up because, if you go in, full of confidence and awesome, they'll notice it about you. Be true to yourself. The fact that I played the cello landed me my first Broadway show in SWEENY TODD. So be true to yourself.
That's a great point because I think of what you did as Joanna is so different than what you're doing here as Bella.
Yeah. Couldn't be more different.
It's really embracing your range for sure.
Yeah. And I'm not sure everyone can do everything, but what I say is "Don't wait for someone to give you a job. Create your own content. Make your own work. Make your own show. Make a YouTube series of sketch comedy. Put up cover songs. Make music with your friends. Try to just continue your creativity and find your tribe of people who are supportive and who you can collaborate with." In this business, it can be extremely rollercoaster-y and unpredictable. It's unstable money-wise, so if you can find creativity with a constant, I encourage that.
Have yourself a rootin', tootin', good-ol time in the Old West with Bella Rose and the rest of the characters in DESPERATE MEASURE by booking tickets at http://desperatemeasuresmusical.com/.
Related Articles