BWW Exclusive: The Broadway League Explains Broadway Snow Days- Be Prepared for Winter 2017!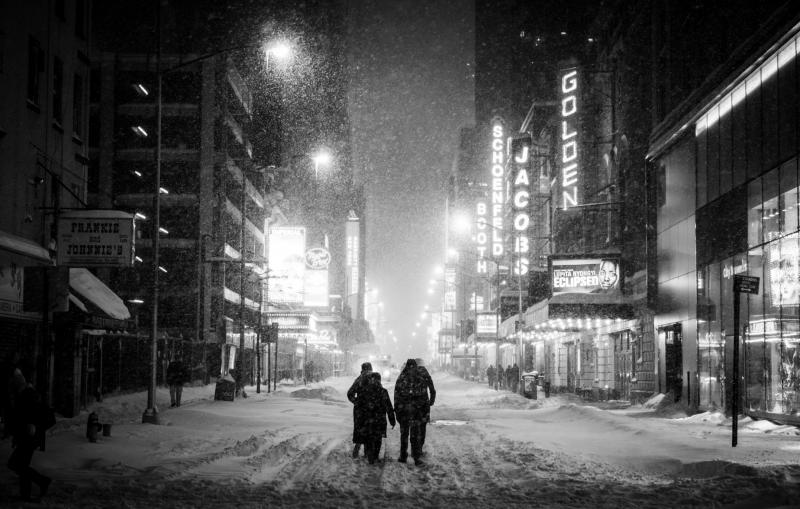 With this first major snowfall of 2017, New York City must again cope with school closures, delays in public transportation, and potentially a lot more.
When the weather gets hazardous, Broadway takes it seriously. As a result of the last major NYC snow storm (Winter Storm Jonas in January 2016) the Broadway League announced that all shows would close; a decision, according to President Charlotte St. Martin, that the League did not take lightly.
So what kind of conditions could warrant a similar decision? She shared some important points to keep in mind, should we see another storm like Jonas in 2017:
-Safety is the main concern.
"Our goal is to remain open no matter what- until it's no longer safe for the cast, the crew and theatre-goers to attend a Broadway show. 60-70% of our theatre-goers are from outside New York City, and many of which are already in town when these storms hit. We do everything we can to get the shows on."
-The big decisions usually come from the top.
"Basically, we don't declare Broadway closed unless the Mayor or the Governor says we should. It's usually an official decision: the roads will close, they'll tell people to stay off the highways, or there might be a travel ban or a state of emergency. They are talking to us and we are talking to them, because we know they are doing press conferences every hour or so."
-Getting the cast/crew to/from work is also a consideration.
"If you are scheduled to work that day, you are supposed to work that day. If you are sick or can't get in, the cast or crew calls out. And a show requires both, because many stagehands deal with set and movement. That can become a safety issue."
-Sometimes weather closures happen on a show-to-show basis.
"[Sometimes] shows can not go on because they can't get all of their casts in. In those cases, those shows might have to cancel."
Bottom Line: Should Winter Storm Niko result in any Broadway cancelations, rest easy with the knowledge they are to keep you and your favorite Broadway performers safe enough to sing and dance another day!
Related Articles
Originally from Pittsburgh, Pennsylvania, Nicole began writing for BroadwayWorld in 2010. She currently resides in New York City, where she gets to enjoy far more (read more...)