BWW Album Review: Debbie Wileman Arrives With Judy Garland Tribute Album I'M STILL HERE
A Celebration Of Judy Garland's 100th Birthday.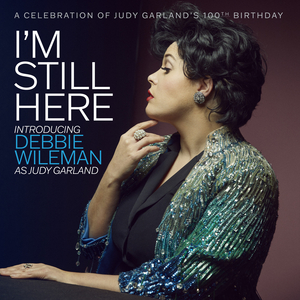 What started as a Pandemic Project for Debbie Wileman has turned into a bonafide career, as the viral internet sensation has picked up so much steam as a singing entertainer that this month she releases her first-ever album, and embarks on her first U.S. concert tour. Wileman's DIY "Song A Day" video series that lasted over a year put her singing artistry onto the Facebook Machine, the YouTube networks and into the homes of many global fans, and although the performances in her videos ran the gamut from Debbie herself to Dusty Springfield to Julie Andrews to Dame Shirley Bassey, the video that caught everyone's attention and, first, pushed her onto all the Hot Lists was her first Judy Garland video. Throughout the duration of the daily series, Debbie Wileman would occasionally pop into view in her homemade Judy Garland drag, chat a bit as (her version of) Judy and then sing - sometimes songs that all who love Judy Garland know, and sometimes songs that The Greatest Entertainer Who Ever Lived never got a chance to perform. Now, thanks to the popularity of the Song A Day videos and Debbie's outrageous adorability, the fans' cries have been answered: on June 10th the album I'M STILL HERE: A CELEBRATION OF Judy Garland'S 100TH BIRTHDAY was released with the billing INTRODUCING DEBBIE WILEMAN AS Judy Garland.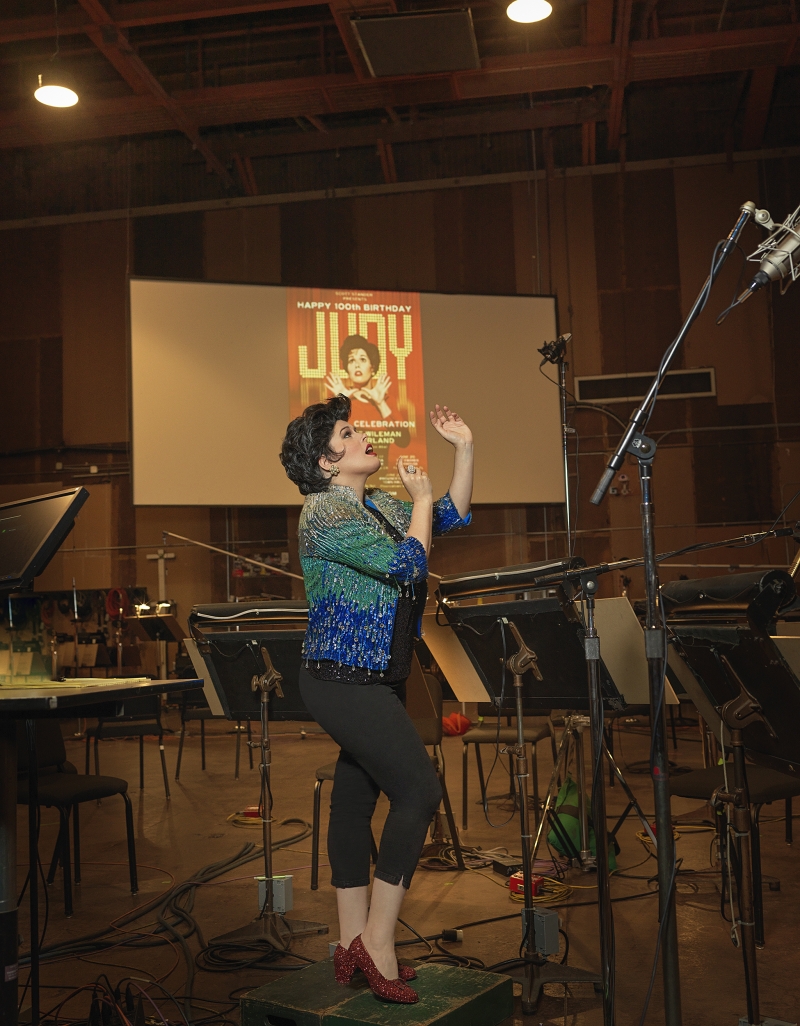 The choice to release the album on Garland's actual date of birth was an ingenious move from album executive producer Scott Stander, who saw Wileman online and made the bold and beautiful move to put her in the spotlight where she belongs. The album and Wileman's American tour were to start on the same day but passport issues kept Debbie at home in the United Kingdom until today, June 16th, necessitating the re-scheduling of her first two dates, but the album was released on time and has been garnering praise from fans of both women, Garland and Wileman.
I'm Still Here is a collection of songs written after Garland's death in 1969, sung by Wileman as she imagines Judy would have performed them, and the choices she and her creative support team have made are all risks that have yielded reward. Who would ever have dreamed of Judy Garland singing The Beatles? How about Patsy Cline or Lady Gaga? And how audacious would it be to hear Judy Garland take on Amy Winehouse and Adele? Wileman has approached the album with great artistic vision and total follow-through. Orchestrated, conducted, and produced by Steve Orich, the album is rich with exciting atreatments that harken back to some of Garland's own famous arrangements (fans will, immediately, recognize the influences), all performed by a full orchestra that raises the album's production values to impressive heights. Orich and Stander have put the full weight of their support behind Wileman, and their belief in her talent is not misplaced. The lady is a marvel.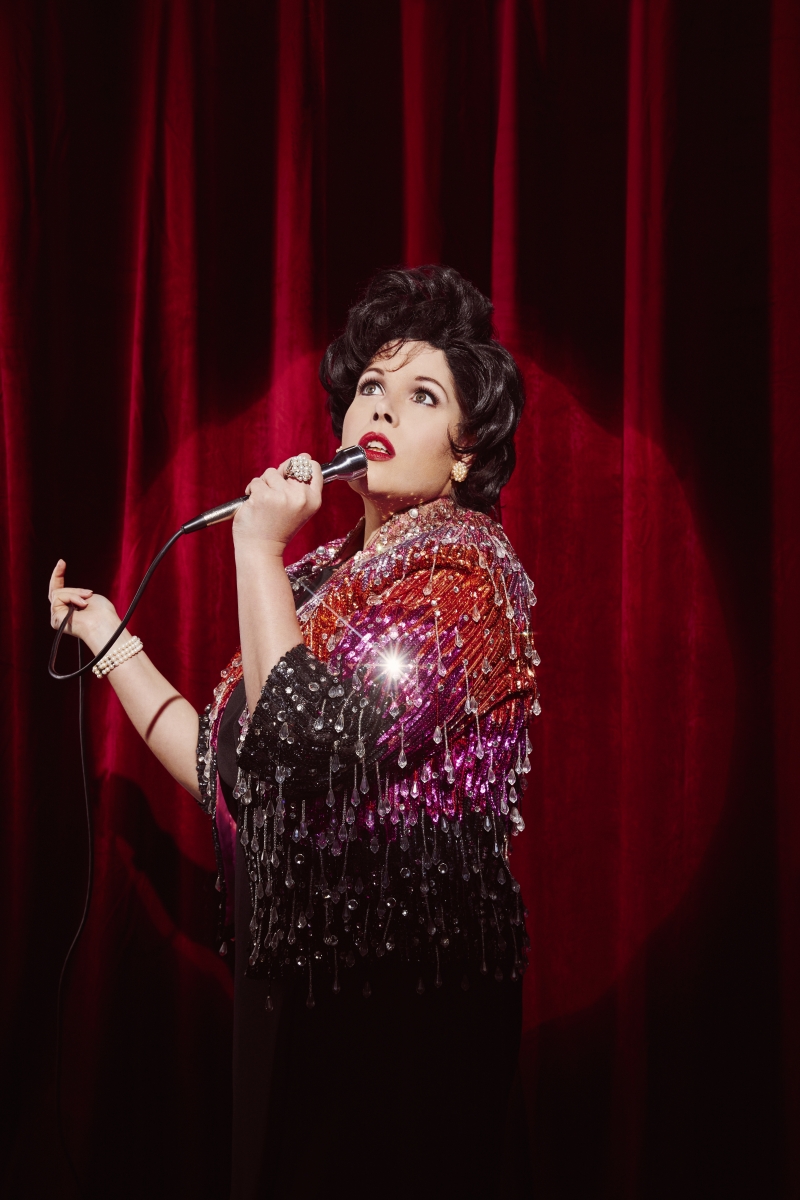 The history of the world is certainly filled with Judy Garland impersonators and impressionists. Some score, some fail, and some just keep on trying. What this writer and Judy Garland devotee finds is the key to a successful Judy Garland tribute artist is intent. Some of the impressionists lean into unfortunate comedic choices, making Judy the butt of their inappropriate jokes. Some capture a little piece of Garland but don't have the foundation of a solid enough talent to put their impressions over the top. When an artist comes along who can master the Garland sound, the Garland persona, or the slam-dunk combination of both, there is gold, but the one thing, the most important factor, that makes or breaks a Judy Garland impressionist is love and respect. Jim Bailey, inarguably the greatest Garland illusionist of all time, loved Judy. His love of Judy walked into the room with him, both of them on Judy's pencil-thin stilettos. Bailey based his work on a mission statement of respecting and honoring a Great Lady. So does Debbie Wileman. While presenting her version of Judy, Wileman seeks to keep Garland alive in a 2022 world, hence the interesting setlist, but she is also an artist who is still evolving in her craft, so her Judy has seen some changes in the last two years, some growth, growth that will, no doubt, continue as Debbie gets to know Judy even better than she already does. There are times on the album when she sounds so uncannily like Garland that it is scary, and there are moments when one might recognize that "she's almost there," which is a wonderful thing because it allows the listener to observe and enjoy Judy Garland while still honoring and acknowledging the singing actress Debbie Wileman. This is not a straight-up imitation. Anybody can take and memorize all the notes, inflections, rhythms and retards in famous Judy Garland recordings, and then make an attempt at an impression. There is an impression here, but there is also the birth of new creation. Here, Wileman has given audiences thirteen new Judy Garland recordings - twelve of them brand new, and one of them classic Garland, each and every one interesting, fascinating, and exciting. It is an absolute thrill getting to hear Judy Garland sing "I'm Still Here" with little lyric changes that make the story being told very germane to Judy (fans familiar with Garland's history will love it) and Wileman's vocal prowess is mind-blowing, not just the sound of Garland, but the basic technique that allows for wide open sounds resonating through her instrument and power notes impressive enough to make a person jealous.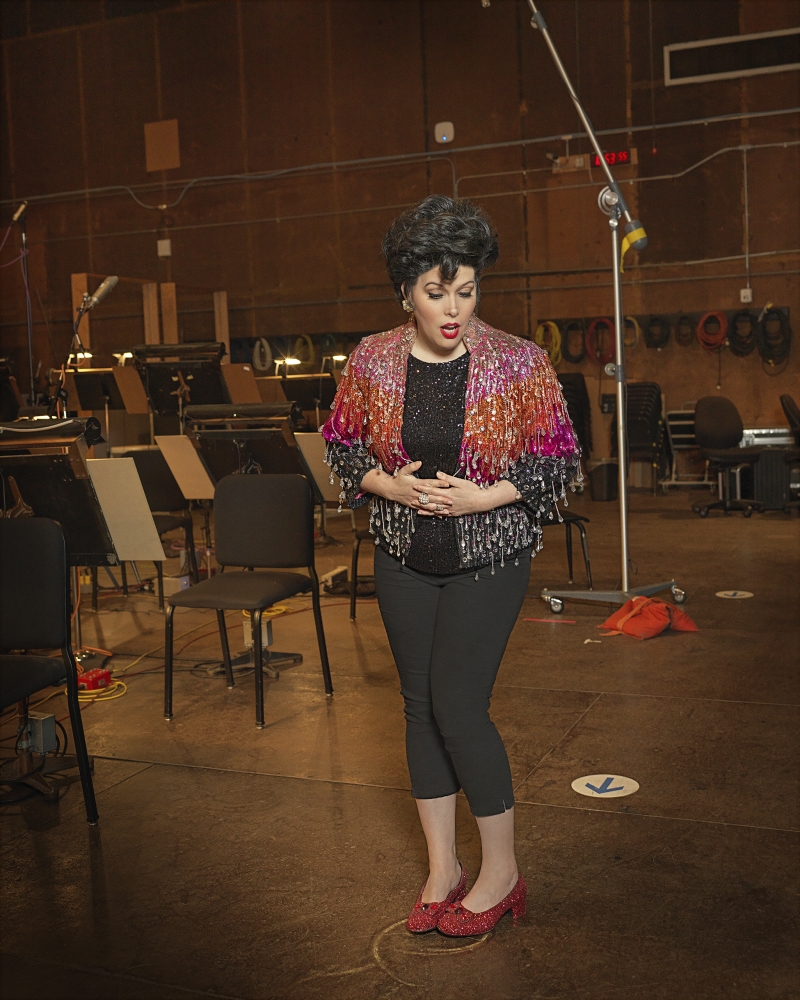 For fifty-three minutes Debbie and her orchestra pull out all the stops, going tender on "Beauty and The Beast" and sassy for "Back To Black" (an album highlight) and bluesey with the Patsy Cline torcher "Crazy" - each track one during which a person might find themselves thinking that it shouldn't work but it does. Particular standouts for this writer are a "Fifty Percent" where Wileman acts her head off, a breathtakingly arranged and performed "Defying Gravity" that nods to the famed "Come Rain Or Come Shine" arrangement, and a mash-up of Streisand and Gaga's Star Is Born movies that doesn't just show off Wileman's skill, it shows off her storytelling versatility. However, if asked to pick favorites on the album, it has to be the experiences of hearing Judy Garland as Mame (a dream realized), and hearing Judy Garland sing The Beatles. The mashup of "Yesterday" and "Got To Get You Into My Life" is inspired, joyful, and (one would like to hope) something that Judy might have done, herself, given the chance.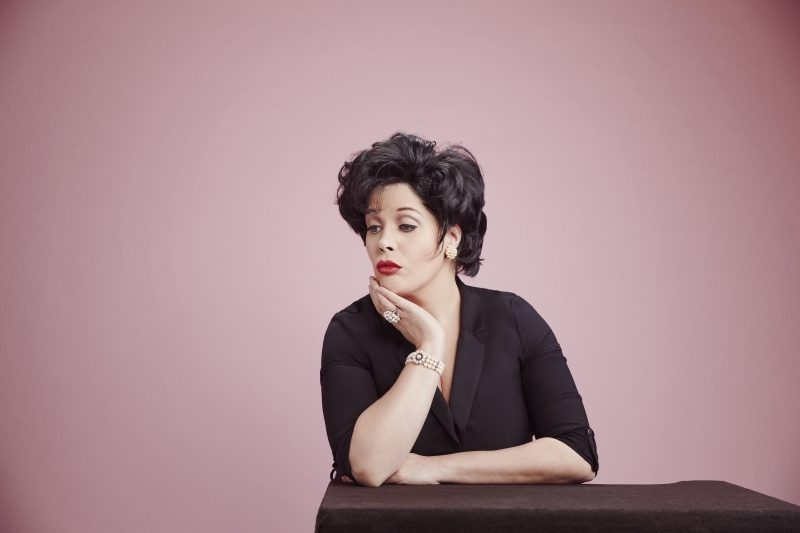 I'M STILL HERE: A CELEBRATION OF Judy Garland'S 100TH BIRTHDAY is a great album, though obviously a niche recording designed specifically for the fans of the legend, but it is a solid way to introduce Debbie Wileman to the entertainment world. Naturally, one can expect that the British actress will continue to work under the Garland umbrella because this is what put her on the map, and there are people who never got to see Garland live, people who want to hear how Judy might have sung "All That Jazz" and "As If We Never Said Goodbye" and there are people who appreciate Debbie Wileman the same way that people loved Jim Bailey. But even as she continues to present her Garland illusions, it will be fun to see Debbie Wileman emerge into the light as Debbie Wileman. She is a talent worth watching, acknowledging, nurturing, and supporting. Judy Garland was an original and so is Debbie Wileman. Seeing them both soar from center stage is going to be a great adventure.
I'm Still Here: A Celebration of Judy Garland's 100th Birthday Introducing Debbie Wileman as Judy Garland is a 2022 release on The Stander Group label. It is available on all digital platforms and on CD. Buy on Amazon HERE. Buy the CD from The Stander Group HERE.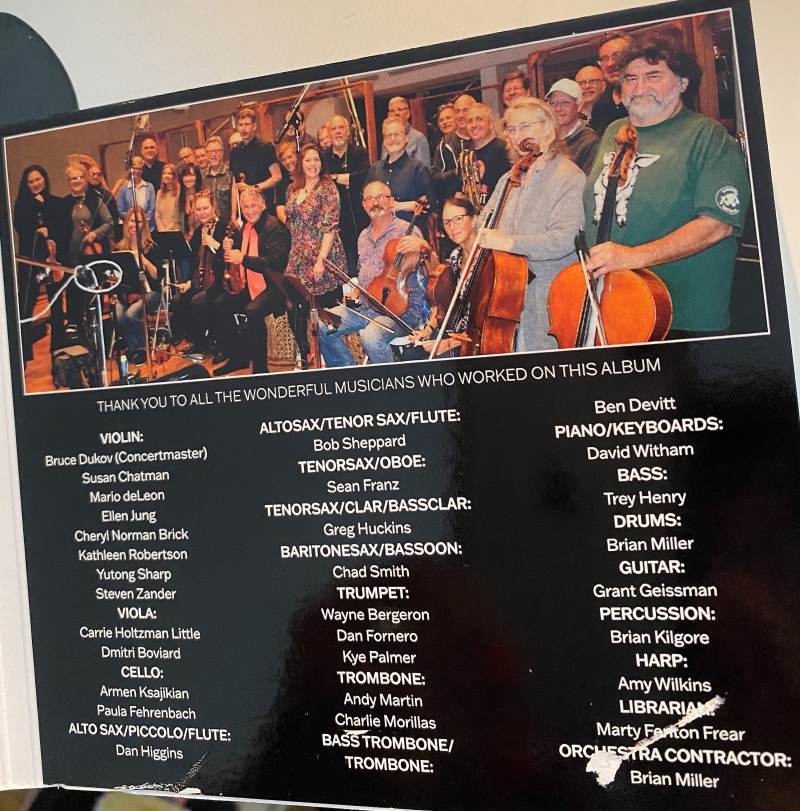 Track List:
I'm Still Here
Beauty and the Beast
Yesterday/Into My LIfe
Crazy
Fifty Percent
Back to Black
Evergreen/Shallow
It's Today
If He Walked Into My Life
Optimistic Voices/Defying Gravity
Rolling in the Deep
Over the Rainbow
When You Wish Upon a Star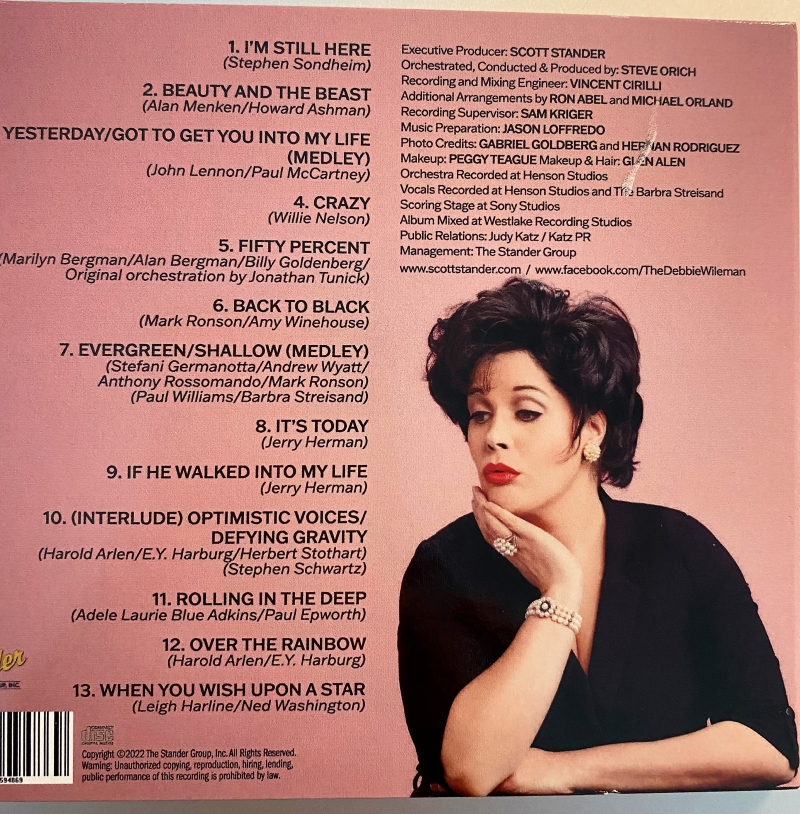 Debbie Wileman will tour the states this summer with HAPPY 100TH BIRTHDAY JUDY. Those dates and ticket links can be found below:
June 20, 2022
Parker Playhouse, Fort Lauderdale, FL
Ticket LINK
June 22, 2022
The Plaza Live, Orlando, FL
Ticket LINK
June 25, 2022
Carnegie Hall, New York City, NY
Ticket LINK
June 26, 2022
Provincetown Town Hall, Provincetown, MA
Ticket LINK
June 28, 2022
Catalina Club, Los Angeles, CA
Ticket LINK