Stephen Mosher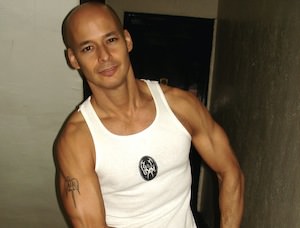 Stephen Mosher is the author of The Sweater Book (a collection of his photography featuring celebrated artists from the entertainment communities of New York, Los Angeles, and London), Lived In Crazy (a memoir about his colorful life and that of his family) and the upcoming Stephen Mosher Stories (a 'best of' collection of four decades of his photography).  He and his husband, actor Pat Dwyer, are the subjects of the romantic marriage equality documentary film Married and Counting (available on Amazon, Itunes, and Youtube).  Stephen was the Health and Fitness columnist for EDGE Magazine online and is occasionally a contributing writer for the entertainment website HOTCHKA.  Aside from his writing, Stephen's other passions are his work as a personal trainer and his family.  Instagram: @dozermosher  Twitter: StephenMosher1  Website: StephenMosher.com
MOST POPULAR ARTICLES
LAST 30 DAYS
LAST 365 DAYS
Review: John Burns Makes 'Em Laugh at Don't Tell Mama With SOCK IT TO ME!

February 3, 2023

All the world loves a clown named John Burns who sings the Sixties.
---
10 Videos To Kick Off Black History Month

February 1, 2023

Today begins Black History Month and there is work to be done... but it's fun work.
---
Tim Connell Will Encore ...AND SO IT GOES... at Pangea on February 17th

January 31, 2023

Esteemed and oft-praised musical cabaret storyteller Tim Connell produced three shows last year. His final show of 2022 will now be a show for 2023.
---
Amanda McBroom and Ann Hampton Callaway Will Play DIVALICIOUS For Three Nights at 54 Below

February 1, 2023

What happens when two award-winning singer-songwriters get together to put on a show? You get DIVALICIOUS, that's what.
---
Photos: Chris Ruetten Documents January 24th THE LINEUP WITH SUSIE MOSHER

January 30, 2023

It's another photo flash of Susie Mosher's weekly variety show, this time by Chris Ruetten.
---
Review: Andrew Barth Feldman Comes Of Age With BARTH MITZVAH BOY at The Midnight Theatre

January 30, 2023

We all knew Andrew Barth Feldman was a gifted artist... but THIS gifted? Surprise!
---
Karen Akers Debuts Bob Levy and Alex Rybeck Composition MY SISTER AND BROTHER AND I

January 30, 2023

Singer-songwriter and filmmaker Christine Lavin saw something that inspired her and, now, there is a new Karen Akers video in the world.
---
Jelani Remy Will Guest On THE BROADWAY LECTURE SERIES

January 28, 2023

Jelani Remy's heart is overjoyed to be back home in NJ as the featured guest of The Broadway Lecture Series at Stagework in Pompton Lakes this March
---
Review: Linda Purl Is A Breath Of Fresh Air At Birdland Theater With THIS COULD BE THE START

January 26, 2023

When Linda Purl and co. are in the room, you can bet the room is going to be SRO.
---
Review: THE BRYCE EDWARDS FRIVOLITY HOUR Is Some Serious Stuff at Don't Tell Mama

January 24, 2023

Modern-day vaudevillian Bryce Edwards is the man that people want to see.
---
Review: Jean Louisa Kelly Masters The Art Of Cabaret With ANYTHING CAN HAPPEN at The Laurie Beechman Theatre

January 25, 2023

Well, it's about time that the cabaret industry got a Jean Louisa Kelly show. And what a show.
---
Photos: Jean Louisa Kelly Makes Solo Show Debut In ANYTHING CAN HAPPEN at The Laurie Beechman Theatre

January 23, 2023

The film and TV actress who started her career on Broadway is starting a journey in cabaret and concert.
---
Lina Koutrakos Announces ONE NIGHT ONLY at Birdland February 20th

January 23, 2023

Lina Koutrakos returns to the solo stage on February 20th at Birdland.
---
Cynthia Clarey Will Debut BRIDGE OVER MUDDIED WATERS at Laurie Beechman Theatre On February 5th

January 25, 2023

The former opera star turned Chicago cabaret staple will make her Manhattan nightclub debut.
---
Interview: Andrew Barth Feldman & Marc Tumminelli of BARTH MITZVAH BOY at Midnight Theatre

January 22, 2023

Andrew Barth Feldman is having a do-over, and he is doing it with all original songs created by his own hand.
---
Photos: Marla Lou Plays A GODDESS REBORN at The Green Room 42

January 21, 2023

Marla Lou presented her solo concert event A GODDESS REBORN at The Green Room 42 and has shared with Broadway World an exclusive look at what went down.
---
Interview: Cat Curry-Williams, Will Nunziata & Joan Ryan of BROADWAY SINGS FOR SHE ANGELS at The Green Room 42

January 19, 2023

An exciting benefit concert will play The Green Room 42 this weekend and Broadway World is chatting with the three forces behind BROADWAY SINGS FOR SHE ANGELS.
---
Review: THE BARRICADE BOYS Take No Prisoners at 54 Below

January 18, 2023

The 54 Below audience certainly wasn't miserable at a show performed by one-time Les Mis actors from London's West End.
---
Photos: VONDA SHEPARD Brings Friends Old And New To The Stage At 54 Below

January 17, 2023

Vonda Shepard stopped by 54 Below with a show of her new music and Broadway World Cabaret caught it on camera.
---
10 Buchanan and Buonopane Videos That Ramp Us Up For SONGS THAT MADE US GAY at The Green Room 42

January 20, 2023

The songs may have made them gay but Michael and Todd make us happy. Check out these ten videos and then check out their show at The Green Room 42 on January 28th.
---