Stephen Mosher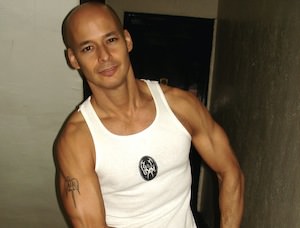 Stephen Mosher is the author of The Sweater Book (a collection of his photography featuring celebrated artists from the entertainment communities of New York, Los Angeles and London), Lived In Crazy (a memoir about his colorful life and that of his family) and the upcoming Stephen Mosher Stories (a 'best of' collection of four decades of his photography). He and his husband, actor Pat Dwyer, are the subjects of the romantic marriage equality documentary film Married and Counting (available on Amazon, itunes, and Youtube). Stephen was the Health and Fitness columnist for EDGE Magazine online and is a contributing writer for the entertainment website HOTCHKA. Aside from his writing, Stephen's other passions are his work as a personal trainer and his family. Instagram: @dozermosher Twitter: StephenMosher1 Website: StephenMosher.com
MOST POPULAR ARTICLES
LAST 30 DAYS
BWW Review: Lorna Luft Rocks at 54 Below
Posted: Aug. 9, 2019


BWW Interview: Lorna Luft Looks Back at Laurel Canyon in Return to 54 Below
Posted: Aug. 5, 2019


BWW Review: THE DRINKWATER BROTHERS Blow the Roof Off Birdland
Posted: Aug. 22, 2019


BWW Interview: Richard Skipper Mesmerizes in An Evening With Richard Skipper: From Conway to Broadway at St. Luke's
Posted: Aug. 6, 2019


BWW Review: Sierra Boggess Enchants At 54 Below
Posted: Aug. 2, 2019


BWW Review: JOSH FRANKLIN CONCERT Astounds at The Green Room 42
Posted: Aug. 20, 2019


BWW Interview: JOSH FRANKLIN at The Green Room 42
Posted: Aug. 9, 2019


LAST 365 DAYS
BWW Review: Lorna Luft Rocks at 54 Below
Posted: Aug. 9, 2019


BWW Interview: Lorna Luft Looks Back at Laurel Canyon in Return to 54 Below
Posted: Aug. 5, 2019


BWW Review: THE DRINKWATER BROTHERS Blow the Roof Off Birdland
Posted: Aug. 22, 2019


BWW Interview: Richard Skipper Mesmerizes in An Evening With Richard Skipper: From Conway to Broadway at St. Luke's
Posted: Aug. 6, 2019


BWW Review: Sierra Boggess Enchants At 54 Below
Posted: Aug. 2, 2019


BWW Review: JOSH FRANKLIN CONCERT Astounds at The Green Room 42
Posted: Aug. 20, 2019


BWW Interview: JOSH FRANKLIN at The Green Room 42
Posted: Aug. 9, 2019


BWW Review: THE DRINKWATER BROTHERS Blow the Roof Off Birdland

August 22, 2019

This brother and brother act is taking New York by storm and audiences should get in to see them before they become the ungettable ticket around town.
---
BWW Review: MAX VON ESSEN'S CD RELEASE CELEBRATION Thrills at Birdland

August 20, 2019

The Tony Award-nominated star gave a special concert for one lucky audience to honor the release of his debut solo cd, and it was a night to remember.
---
BWW Review: JOSH FRANKLIN CONCERT Astounds at The Green Room 42

August 20, 2019

Up and coming musical theater writer Josh Franklin debuted 12 songs from 3 musicals in New York to a besotted audience.
---
BWW Interview: Will Nolan And Leola of LADYLAND! at The Green Room 42

August 16, 2019

Leola brings a new LADYLAND sermon to The Green Room 42 next month and, in delicious anticipation, we have an interview with the star and her impresario, Will Nolan.
---
BWW Interview: Natalie Douglas of TRIBUTES at Birdland

August 16, 2019

Venerated jazz singer Natalie Douglas spends her time paying tribute to the legendary singers who came before and, in the process, pays a well-deserved tribute to Natalie Douglas.
---
BWW Interview: Max von Essen of CALL ME OLD FASHIONED: THE BROADWAY STANDARD at Birdland

August 15, 2019

Seven-time Broadway veteran, Max von Essen, celebrates the release of his first solo cd in a concert at Birdland
---
BWW Review: SCARLET ENVY at The Laurie Beechman Theatre

August 12, 2019

Scarlet Envy Lights The Laurie Beechman Ablaze in a return engagement of her one-woman show REFLECTIONS
---
BWW Review: Lorna Luft Rocks at 54 Below

August 9, 2019

Iconic entertainer Lorna Luft debuts a new rock show at Feinstein's/54 Below to a grateful, screaming crowd. Everyone dreams of being a rock star, at least once in their lives. Lorna Luft has spent her career singing show music and standards and, all the while, she has been hiding a secret from the world: she wants to sing rock and roll -- and that is exactly what she did last night at Feinstein's/54 Below when she debuted her new club act to a packed house of screaming fans, excited to hear what she had to say about her love of The Beach Boys, The Byrds and, most of all, The Beatles.
---
BWW Interview: JOSH FRANKLIN at The Green Room 42

August 9, 2019

New musical theater works will have their Manhattan debut as Josh Franklin's friends Christopher Sieber and Caitlin Kinnunen and more from Broadway gather in concert at The Green Room 42.
---
BWW Review: Susie Mosher's THE LINEUP Is Right On The Mark at Birdland

August 8, 2019

This Variety Show plays New York City once every week at Birdland and, with an impressive roster of guest artists and the inimitable Suse Mosher, The Lineup is where it's at.
---
BWW Interview: Sean Patrick Murtagh Debuts MARIO! at The Green Room 42

August 6, 2019

Sean Patrick Murtagh pays tribute to his mentor from beyond, famed tenor Mario Lanza, in his NYC solo nightclub debut at Green Room 42
---
BWW Interview: Richard Skipper Mesmerizes in An Evening With Richard Skipper: From Conway to Broadway at St. Luke's

August 6, 2019

Cabaret's Mr. Show Business shares his most personal night of theater to date with his new one-man show An Evening With Richard Skipper: From Conway to Broadway, sending a grateful audience home happy.
---
BWW Feature: SALON Offers a Safe Space at Don't Tell Mama

August 5, 2019

Salon is a weekly open mic night where artists can try out new material in a judgment-free zone. I recently did some undercover reporting. It wasn't dangerous or glamorous, like Hunter S. Thompson or Nellie Bly, though it was both alluring and scary at times. I infiltrated the cabaret community to see what it's like being a nightclub singer - and I had a really good time, but I don't want to do it again. I don't know how cabaret performers do it. It's exhausting and it's expensive. You spend all your time promoting yourself, you pay musicians, press reps, photographers and dry cleaners, and every day you run the risk of waking up with a cold and no voice, and an obligation to sing. It's nerve-wracking. Still, these artists continue to produce art for a willing audience: they do it for love of the art and of the audience. It begs the question, though, when a cabaret performer doesn't have a show to do, how do they keep their skills up? How do they continue to grow without spending precious earned cash on an expensive master class?
---
BWW Interview: Lorna Luft Looks Back at Laurel Canyon in Return to 54 Below

August 5, 2019

Lorna Luft... and The Beatles? That's right. Lorna Luft, famous for her Broadway belt and her concerts that pay tribute to The American Songbook and the musical legacy of a legendary Lady with whom she shares a special bond has a brand-new show, and it's an extremely personal one because it's all hers.
---
BWW Review: Ethan Slater Charms Fans at 54 Below

August 5, 2019

Tony Award Nominee Ethan Slater Debuts his eponymous solo show with mad skills and natural grace to a packed 54 Below.
---
BWW Review: Sierra Boggess Enchants At 54 Below

August 2, 2019

Fresh off a brief stint as Cinderella in Into the Woods at The Hollywood Bowl, Sierra brings some Broadway, Disney and Boggess magic to the devoted fans overflowing the room for her return to Feinstein's/54 Below.
---
BWW Review: Lillias White Makes 54 Below Happy

August 1, 2019

Tony Award Winner Lillias White has a mission to brighten up her audience's nights during troubled times in the world. Audiences at Feinstein's/54 Below got the full mirth-filled Lillias-ized treatment at Make Someone Happy.
---