BEFORE THE BELL, A Challenging Play About Bullying, Is Now Available For Licensing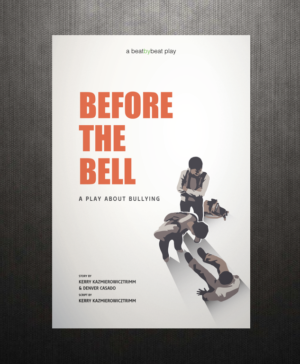 Beat by Beat Press announced this week that its new play BEFORE THE BELL is now available for licensing. Beginning today, schools and community theaters can request a free perusal script and apply for production rights at www.bbbpress.com.
BEFORE THE BELL is a riveting drama about a bullying incident that occurs on a high school campus. It's 60-minutes long and was written for middle school and high school-age actors by award-winning playwright Kerry Kazmierowicztrimm.
The play adds to Beat by Beat's growing catalogue of unique, contemporary shows for the amateur market. Since launching in 2011, over 2,000 productions of Beat by Beat plays and musicals have been licensed in 60 countries around the globe.
"This show represents an exciting new territory for us," says Denver Casado, founder of Beat by Beat Press. "Up until now we've focused on children's musicals. But when discussing the issue of bullying, our team quickly realized the complexity and nuance of the issue would require a different, more subtle format. One day an idea hit me, a way we could reshape story structure to reveal all the hidden factors that can lead to an unfortunate incident. I sent Kerry an email with the idea, he loved it, so we worked closely with him over the next year developing the piece."
The show plays with form and perspective to portray a story of empathy and understanding.
BEFORE THE BELL takes place during one 20-minute period before school. During this time, a web of connected events leads to rising tension in which two bullies confront and physically assault another student. We witness this from the victim's point-of-view.
Suddenly, time stops and restarts. We then see this same 20-minute period take place once again - but this time from the perspective of one of the bullies.
Then, the story restarts yet again, and we see this same 20-minute period occur for a third and final time - this time from the perspective of the other bully.
Through this shift in perspective, we're able to witness all the complex and interconnected factors that can lead to violence in school, and the role bystanders play in these situations.
The show is packaged with a Resource Guide that includes 40 pages of engaging activities for processing the themes of the play and continuing the conversation in the classroom.
Also accompanying the play are 14 incidental music and sound cues to vividly bring the performance to life, as well as a Director's Guide with playwright notes and staging suggestions, a Logo Pack, plus a license to make unlimited copies of all the materials for the duration of the production and permission to video record the performance.
Beat by Beat has attracted thousands of theaters to its unique online publishing platform. Available for free, its ePerusals let directors instantly read entire shows in a single multimedia PDF file. After purchasing a show, customers receive the production materials in the same day via digital download. Over 75,000 drama teachers and directors visit the website each month.
For additional information on the show, licensing information, and to request a free perusal script, visit www.bbbpress.com.