Amy León Sells Out The Apollo Theater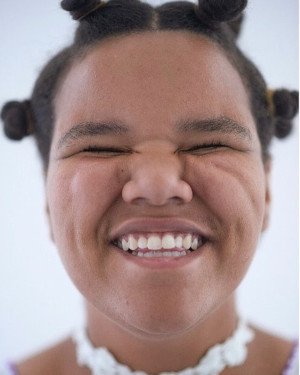 Amy León comes to The Apollo Music Café Friday, April 6, Listen to Her New Single "On the Run," Out Now!
Joy. The only word to describe the feeling of overcoming every abuse possible inside the NYC foster care system to selling out the iconic Apollo Theater in Harlem at 25-years-old. Curated by Dwight Jordan, musician, poet & activist Amy Delilah León will perform this Friday, April 6 at The Apollo Music Café to a sold out room.
The Apollo Music Café series is designed to bring independent, cutting-edge artists to a forward-thinking audience. Featuring diverse performances across a myriad of genres, the monthly series showcases artists drawn from the independent music scene who are destined to impact the way music is heard and experienced.
León will perform for the first time music from her sophomore EP, WITNESS, releasing summer 2018. "One the Run," the first single from the new project, premiered exclusively on Okayplayer and is now available on Apple Music, Spotify and iTunes. Listen to "On the Run" here.
Produced by Tel Aviv producer ATELLER and written by León, "On the Run" is a beautiful, complex record about the overwhelming fear of loving a Black body as a Black body. Says Amy, "'On the Run' was an attempt to write myself into a safe space. It is an odyssey of love... It analyzes the cyclical madness that has made this history of violence all we know to expect."
Provocative, thought provoking and timely, Amy León is an internationally known artist who's work is cross medium; music, poetry, spoken word and theater. Currently based in London, León came to New York for her Apollo performance and to accept her award at MCC Theater's annual Miscast Gala. She, and Tony and Emmy winner Laurie Metcalf, who currently stars in Edward Albee's Three Tall Women, were honored at the event on March 26 at the Hammerstein Ballroom.
What's next for Amy León? At the end of April she leaves for a 12-city tour in Italy and is slated to make her London festival debut in July at CITADEL headlined by Tame Impala and CHVRCHES, and Latitude, headlined by Solange and alt-j. - Watch this space.