Click Here for More Articles on Broadway Impact
Aaron Tveit Talks About His COVID-19 Symptoms, Shares if MOULIN ROUGE! Will Be Returning to Broadway and More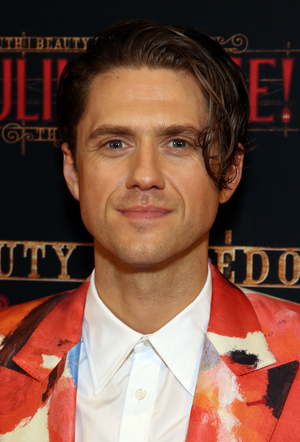 In an interview with Variety, Aaron Tveit shared his experience dealing with COVID-19, discussed what he knew about Moulin Rouge! returning to the stage and more.
Click HERE to read the full story.
Tveit shared that in early March he felt like he was coming down with a cold. As Broadway was shutting down, Tveit, who was self-isolation as a precaution learned that two of his cast members in Moulin Rouge had tested positive! After getting tested a week later, he was diagnosed as one of the early cases in New York.
He shared his symptoms:
"I felt lethargic. I never had the shortness of breath or fever that people were talking about. But then, very interestingly, I completely lost my sense of smell and taste."
When asked if he was 100% better, Tveit said:
"I'm 21 days into this. I say that I'm 95 percent better. My cough is totally gone. My nose doesn't hurt. I can taste and smell fully. I have tons of energy. I have been able to, in my apartment, get back to working out. I don't have the symptoms anymore.

When asked if Moulin Rouge! will be coming back, his answer was:
"Yes, as far as I know. Our producers have said we will be back. I feel very grateful for that. I have friends who have friends in Asia in shows that have re-opened. The audience there have been flocking to shows. Live theater in its best sense is something that you can go to and disappear and get out of reality. In a community like New York, Broadway is such a wonderful escape for everyone trying to get back normalcy. I certainly believe that - and hope it's the case once we're on the other side of this."
Click HERE to read the full story.
Photo Credit: Walter McBride / WM Photos

Related Articles
More Hot Stories For You
Andrew Lloyd Webber's Really Useful Group Outlines Potential Guidelines to Be Put in Place When West End Reopens
Andrew Lloyd Webber's Really Useful Group is discussing guidelines that will need to be in place in order to safely reopen productions on the West End... (read more)

When Will Broadway Re-Open? "January," Hopes Broadway League President
'I actually am a little more optimistic than those who say Broadway will reopen in the spring, but I tend to be an optimistic person, I tend to think ... (read more)

Amanda Kloots Shares Nick Cordero is 'Day By Day, Hour By Hour' Getting Better
Amanda Kloots has shared another update on the health journey of her husband, Broadway veteran Nick Cordero.... (read more)

Social Roundup: Read How Audra McDonald, Randy Rainbow, and More Broadway Stars 'Ruined a Musical'
You might've seen this popular Twitter trend from Jared Gray going around! Read Audra McDonald, Randy Rainbow, Bebe Neuwirth, and more Broadway star's... (read more)

VIDEO: Watch Cynthia Erivo, Kelli O'Hara, Christopher Jackson and More in PBS National Memorial Day Concert
As BroadwayWorld previously reported, PBS will present the NATIONAL MEMORIAL DAY CONCERT, hosted by Tony Award-winner Joe Mantegna and Emmy Award-winn... (read more)

Meet Our NEXT ON STAGE College Top 15!
You voted, here they are! In no particular order, meet our top 15 in the college category.... (read more)