BWW Review: THE BIG HEARTLESS at Just Say It Theater
I am, in general, a huge fan of new works. There just seems to be this sense of vitality and urgency in original plays - the feeling that someone HAD to tell this story; that kind of passion and need for expression has led to some of my favorite theatrical experiences. As of last night, Just Say It Theater's production of The Big Heartless can be added to that list. This new play, written by local playwright Dale Dunn, was a semi-finalist in the 2016 Eugene O'Neill National Playwrights Conference, and I am very grateful to have had the opportunity to see it in Santa Fe, cast with local talent and directed by the always excellent Lynn Goodwin.
The play itself deals with somewhat unconventional theatrical subject matter, which added to the compelling nature of the piece. In brief, The Big Heartless details a brief period in early spring for Mac, a member of a Montana wolf reintroduction team (who is in that position, in part, to atone for previous sins), his neighbors, the elderly Tootie and Ned, and their lonely granddaughter, Jean (whose main social interactions are with Mac and characters she has created in the computer game The Sims). Monsoon and Cliff, two teenaged runaways from an abusive "tough love" institution, shake up Mac and Jean's quiet, remote existences; juxtaposed with the personal drama is a race against time for Mac, who is trying to get to a pair of runaway wolves before trigger happy ranchers do.
It's a well written play - there is a wonderful level of nuance, symbolism and subtext in it that allowed for, in my case, some great post-show discussions; Ms. Dunn clearly knows what she is doing and also has a great sense of character and pace (the plays runs a tidy two hours, plus an intermission). It would be my personal preference, honestly, to have been given a little more (there are several large revelations and twists in the play that are all very well executed, but I do wish that there had been a bit more build up to these key moments); that being said, the narrative flow of the play is still very good and highly engaging. The dialogue all feels authentic, natural, and appropriate to the characters; I personally also appreciated her use of poetry in the script.
Of course, without the right cast, strong writing only goes so far - Goodwin and Dunn have assembled a strong crew of local talent, though, who played the text truthfully and dynamically, making it all the more potent. Matt Sanford's effortless portrayal of Mac grounded the play nicely; I had expected the character to be a stiff, aloof, outdoorsman type, but Sanford's gruff but affable interpretation was both a surprise and a great choice. I enjoyed Jennifer Graves and Dan Friedman as the grandparents, Tootie and Ned, as well - they had delightful chemistry and provided some wonderful comedic moments, causing the escalating drama of the second act to have all the more impact. The three teens, all New Mexico School for the Arts students, did very nice work, as well - as Monsoon, Lucy Shattuck had impeccable comedic timing; she also had great chemistry with both Tulah Dillman-Stanford (Jean) and John Helfrich (Cliff). Ms. Dillman-Stanford had, in my estimation, one of the most challenging roles in the play, but rose to the occasion and did a lovely job, particularly as the plot thickened, and Mr. Helfrich give a very solid, emotionally resonant performance as the troubled Cliff. Supporting the actors' performances, Ms. Goodwin's direction was highly effective and, in some memorable instances, delightfully inventive (I won't spoil it, but a transition involving Jean's gaming and her grandparents was brilliant).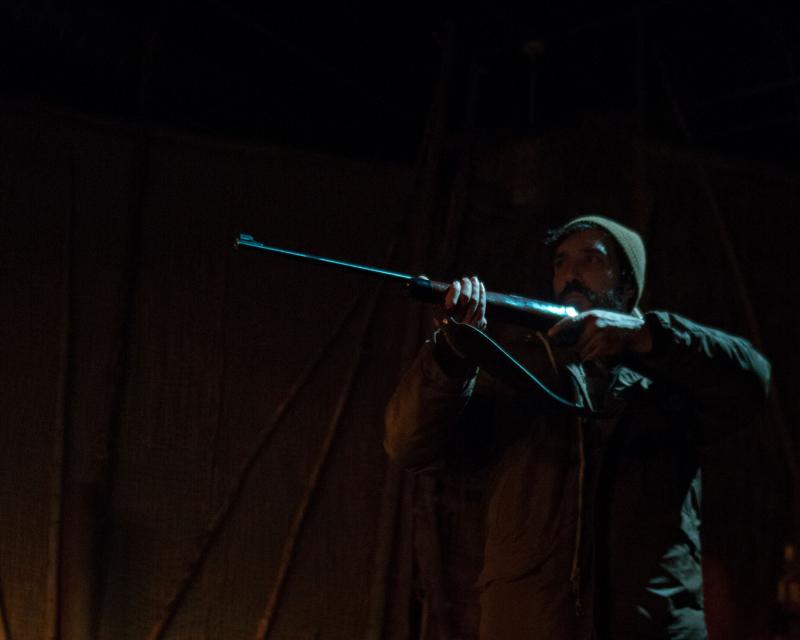 In addition to the inventive staging, the technical design was some of the most innovative I have seen since moving to Santa Fe. The black box space upstairs in Warehouse 21 felt totally transformed by Jay Bush's set design (and what great attention to detail; there are so many minor things on the set, down to the books in Mac's cabin, that help build the universe of the show). The media design by Dylan McLaughlin was absolutely entrancing (my initial plan was to review the production final dress, but due to a technical difficulty, the media was down; Ms. Dunn urged me to come back when I could see the full effect, and I am so very glad that I did, because it was truly exceptional), and the sound design (Dan Piburn) and lighting design (Alexandra Pontone) were both perfectly constructed and executed.
As my fiancé and I left the theatre last night, he made the comment that he is really happy that we live in a community where actors have the opportunity to participate in such exciting new works. I agreed, and I would add now that I am so happy Santa Fe is a community where audiences have the opportunity to experience those plays, as well.
The Big Heartless runs Thursdays - Saturdays at 7:30 and Sundays at 2 through March 3rd at Warehouse 21 (1614 Paseo de Peralta). Tickets may be purchased online at https://www.brownpapertickets.com/event/4023683, by phone at 505-986-0847, or at the door.
Related Articles View More Albuquerque

Stories

Shows