CastPlus and Omny Studio Partner to Drive Podcast Monetization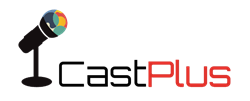 CastPlus, a podcast advertising platform, today announced a partnership with Australian podcast host, Omny Studio, to pair influential podcasters with brands and agencies seeking to monetize on the explosive growth of podcasting. Under terms of the partnership, podcasts hosted with Omny Studio will gain access to CastPlus' extensive list of advertising partners.

"This partnership means Omny's clients will be able to instantly monetize their shows without the challenges typically associated with drawing advertising partners to podcasts," said Uriel Zecharia, CEO and Co-founder of CastPlus. "The explosive growth of podcasting and uniquely engaged nature of podcast listeners provides a tremendous monetization vehicle for multiple industries."

According to recent findings from Edison Research, more than 42 million Americans listen to podcasts every week and, unlike traditional radio, podcast listeners are highly engaged with their content: 88% of fans listen to all or most of the episodes of their favorite show, according to Midroll. Further, the Interactive Advertising Bureau released research in late 2016 that shows showing stats podcast ads increase purchasing intent for 65% of listeners. This has led to new market segments materializing for podcast advertising, including music publishers seeking to grow revenues for back catalogs, and radio broadcasters turning to podcast advertising to monetize repackaged shows from traditional broadcasts.

"The difference between the CastPlus service compared to other podcast advertising marketplaces is that we're an end-to-end platform, not just an index," said Zecharia. "From discovery, to scheduling and real time analytics, brands and podcasters will now find it much easier to execute ad campaigns efficiently and with clear, measurable ROI."

Omny Studio noted that this partnership represents a key step in its plan to increase monetization options for podcasters on their hosting platform. "Advertising dollars have been slower to flow-through to the podcasting space in Australia than in the States, but that's changing," said Sharon Taylor, CEO of Omny Studio. "We're excited to be able to offer our podcasters easier access to brands who understand the power of podcasts," she said, adding that Omny Studio expects the partnership with CastPlus to bring more advertisers to the Australian market and help expand the reach of client's shows to the United States.