Tickets Now On Sale For WAR HORSE At Troubadour Wembley Park Theatre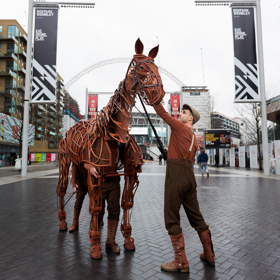 Joey, the life-sized horse puppet from the National Theatre's acclaimed play War Horse, visited Wembley Park to celebrate today's general public on sale of War Horse coming to the Troubadour Wembley Park Theatre this autumn.
Having visited 11 countries around the world and playing to nearly 8 million people over the past 11 years, including a recent sold-out return to the National Theatre, the NT's War Horse is now on a UK and international tour throughout 2019 and as part of the tour, will return to London for a strictly limited run at Troubadour Wembley Park Theatre, located in North West London's newest cultural neighbourhood, from 18 October 23 November.
Tickets for the limited six week run are now on sale and include a Captioned performance on Saturday 2 November 2pm, a BSL performance on Saturday 9 November 2pm signed by Donna Ruane and an Audio Described performance on Saturday 16 November 2pm plus a 12 noon Touch Tour.
Troubadour Theatres, who specialise in the creation of temporary and semi-permanent theatre venues including Kings Cross Theatre, will open Troubadour Wembley Park Theatre this summer. The six week run of War Horse will include a programme of activity which engages with schools and the local community in Brent in the lead up to the yearlong Brent Borough of Culture collaborative project in 2020.
War Horse will also tour to Sunderland Empire (currently playing until 23 February), Marlowe Theatre, Canterbury (27 February 16 March), Regent Theatre, Stoke-on-Trent (27 March 6 April), Bord G is Energy Theatre, Dublin (10 27 April), Lyric Theatre, Hong Kong (from 10 May), Civic Theatre, Auckland (from 21 June), Liverpool Empire Theatre (31 July 17 August), New Theatre, Oxford (22 August 7 September), Curve, Leicester (18 September 12 October) and Seine Musicale, Paris (29 November 29 December), with further international dates to be announced.
War Horse is directed by Marianne Elliott and Tom Morris, designed by Rae Smith, with puppet direction, design and fabrication by Basil Jones and Adrian Kohler for Handspring Puppet Company, lighting by Paule Constable, and movement and horse choreography by Toby Sedgwick, with video design by Leo Warner and Mark Grimmer for 59 Productions, songmaker John Tams, music by Adrian Sutton and sound by Christopher Shutt.
Katie Henry is the UK & International Tour Director and Craig Leo is the Associate Puppetry Director. Charlotte Peters is the Associate Director and Matthew Forbes is the Associate Puppetry Director. They are joined by Resident Director, Charlie Kenberand Resident Puppetry Director, Gareth Aled.
War Horse is produced on tour by the National Theatre.
Suitable for ages 10+
For more information and to purchase tickets visit warhorseonstage.com
Or https://www.troubadourtheatres.com/wembley-park
For access bookings call 0333 320 1663 or email access@kxtickets.com