Theatre Royal Stratford East Announces Full Casting For THE WOLVES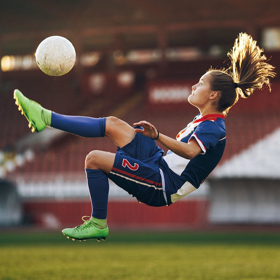 Theatre Royal Stratford East is pleased to announce the full cast for the European premiere of The Wolves, Sarah DeLappe's award-winning debut play directed by Ellen McDougall. The cast of The Wolves includes Annabel Baldwin, Seraphina Beh, Nina Bowers, Lauren Grace, Francesca Henry, Kristin Hutchinson, Shalisha James-Davis, Hannah Jarrett-Scott, Rosabell Laurenti Sellers and Rosie Sheehy.
Stretch, squat, lunge, kick, the girls are warming up, a pack of teenage warriors ready for battle and out to score some goals.
From their plot of astro turf in the heartland of middle America the girls gossip, joke and wrestle with the big and small questions of our times, whilst trying to remain unbeaten in their high school soccer league.
The Wolves had its world premiere off-Broadway in 2016.
Ellen McDougall said:
'The Wolves is an exceptional new play by Sarah DeLappe that centres the experience of young women. Following its success in New York, I'm so excited to direct the European Premiere at Theatre Royal Stratford East and to be part of Nadia Fall's thrilling opening Season.'
To celebrate the opening of Nadia Fall's inaugural season and continuing Theatre Royal Stratford East's commitment to accessibility and welcoming new audiences, during previews all seats for The Wolves will be priced at £10, and £5 for Newham residents.
Annabel Baldwin plays #46. Theatre credits include Harry Potter and the Cursed Child (Palace Theatre) and Captain Alan of Canary Wharf (Edinburgh Fringe/Camden Fringe). Her film credit is Servants' Quarters.
Seraphina Beh plays #00. Theatre credits include Leave Taking and Black Attack (Bush Theatre); Parliament Square (Royal Exchange/Bush Theatre); Cosmic Jives (Albany); My Beautiful City (Arcola); Jack and the Beanstalk (Lyric Hammersmith); Ondisting; Romeo & Juliet Et Al and Skeen (Ovalhouse). Her television credits include EastEnders, Casualty, Game Face and Live at the Electric.
Nina Bowers plays #11. Theatre credits include The Magic Flute (Aix?en?Provence Festival, Complicité); Crave (The Pit, Barbican); Twilight: Los Angeles 1992 (Gate Theatre) and Tomorrow I'll 2 Be Twenty (Tour, Complicité). She also wrote and co?devised Nina Talks About Her Values which was performed at Camden People's Theatre as part of the Camden Fringe 2017.
Lauren Grace plays #7. Theatre credits include Charlie Sonata (Lyceum Theatre Edinburgh). Her film credits include Bird (nominated for a Scottish BAFTA New Talent Award for Best Actress in short film) and Zero.
Francesca Henry plays #2. This is Francesca's professional debut. She has been working with OV12 director Hannah Bannister on a new play Water Wings written by Isley Lynn.
Kristin Hutchinson plays Soccer Mom. Her theatre credits include Judith (Arcola & UK Tour); Cell (Young Vic); Beyond Caring (UK & European Tour); Grey Man (Theatre 503); Howard Barker Double Bill (Arcola); Beyond Caring, Beauty and the Beast, Waves (National Theatre, UK & European Tour & Broadway), A Dream Play, Iphigenia at Aulis (National Theatre); The Empress, Creation, Passion, The Mysteries (Royal Shakespeare Company); Live Like Pigs (Royal Court); Worker's Playtime/The Jewish Wife, Party Time/One For The Road (Battersea Arts Centre); Autumn and Winter (Orange Tree); How The Other Half Loves, Tons of Money (Bristol Old Vic); Top Girls, Dancing at Lughnasa, King David, The Europeans (Mercury Theatre, Colchester). Television credits include Measure for Measure, Pie in the Sky, Wycliffe and Doctors.
Shalisha James-Davis plays #8. Theatre credits include Our Country's Good and Notre Dame (National Theatre). Television credits are Silent Witness, Next Of Kin, Vera and Class Student and film credit is Mary Queen of Scots.
Hannah Jarrett-Scott plays #25. Theatre credits include Pride & Prejudice (*Sort Of) (Tron Theatre); A Bottle of Wine and Patsy Cline (Gilded Balloon); Glory On Earth and Lion, The Witch & The Wardrobe (Royal Lyceum Edinburgh); Once This Is All Over We Still Have To Clear Up (Yellow Magpies/Edinburgh Festival Theatre); Janis Joplin: Full Tilt (Theatre Royal Stratford East & Assembly Rooms) and Midsummer Songs (New Wolsey Theatre). Television credit is Trust Me.
Rosabell Laurenti Sellers plays #14. Her television credits include Game of Thrones Series 5-7, Una Grande Famiglia, Paura D'Amare, Mia & Me and Cenerentola. Her film credits include Trading Paint and Maraviglioso.
Rosie Sheehy plays #13. Theatre credits include The Whale (Theatre Royal Bath); Uncle Vanya (Theatre Clwyd/Sheffield Theatres, for which she won the 'Best Female Performance in the English Language' award at the Wales Theatre Awards 2018); Escape the Scaffold (Theatre 503); Strife (Chichester Festival Theatre); Bird (Royal Exchange Manchester); The Hairy Ape (The Old Vic) and Chicken (Paines Plough). Her screen credits include Chernobyl and DCI Banks.
Sarah DeLappe's debut play The Wolves (The Playwrights Realm/NY Stage & Film/Lincoln Center Theater) was a co-winner of the Relentless Award and a finalist for the Pulitzer Prize, the Susan Smith Blackburn Prize, and the Yale Drama Series Prize. It is currently slated for over 50 productions worldwide. She holds an MFA from Brooklyn College.
Ellen McDougall is Artistic Director at The Gate Theatre. Previous credits at the Gate include Effigies of Wickedness (2018); The Tale of the Unknown Island (2017) and Idomeneus (2014). Other credits include Othello (Sam Wanamaker Playhouse at the Globe), the Lyric's annual pantomime Aladdin (2016) and Cinderella (2015); The Rolling Stone (Orange Tree Theatre/Manchester Royal Exchange), The Remains of Maisie Duggan (Abbey Theatre, Dublin), The Glass Menagerie (Headlong), Anna Karenina (Manchester Royal Exchange), Henry the Fifth, (Unicorn Theatre), Glitterland (Secret 3 Theatre/Lyric Hammersmith) and Ivan and the Dogs (Actors Touring Company/Soho Theatre) which was nominated for an Olivier Award. McDougall was formerly part of the Secret Theatre Company at the Lyric Hammersmith. She trained as an assistant to Katie Mitchell and Marianne Elliott. She was awarded an International Artists' Development Award (ACE/British Council) in 2012. Ellen is directing Dear Elizabeth later this year at The Gate Theatre.