Experience A Summer Of Shakespeare Across The US From The Royal Shakespeare Company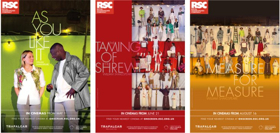 RSC Artistic Director Gregory Doran has announced his ambition for a new collaborative cross-cast ensemble, to play three Shakespeare productions in a newly reconfigured Royal Shakespeare Theatre this summer.
He has said: This season reflects the power of storytelling in its most essential form, with the actor at the centre of the work. With Justin Audibert and Kimberley Sykes, I am creating a company, which reflects the nation in terms of gender, ethnicity, regionality, and disability - 27 actors who will all appear in two out of the three plays. We will build on our commitment to inclusivity and create a truly shared theatrical experience.
As You Like It
In US Cinemas from May 1
Rosalind is banished and with her best friend, Celia by her side, she journeys to a world of exile. But not before catching the eye of love-struck Orlando who is also forced from The Court into the Forest...
What ensues is a riotous combination of a feisty cross-dressing heroine, a tartan-clad fool, melodic songs, questionable poetry and laughs aplenty. Will love conquer all, or is it merely a madness?
Kimberley Sykes (Dido, Queen of Carthage, 2017) directs this playful and passionate version of Shakespeare's much-loved romantic comedy
The Taming of the Shrew
In US Cinemas from June 21
In a reimagined 1590, England is a matriarchy. Baptista Minola is seeking to sell off her son Katherine to the highest bidder. Cue an explosive battle of the sexes in this electrically charged love story. Justin Audibert turns Shakespeare's fierce, energetic comedy of gender and materialism on its head to offer a fresh perspective on its portrayal of hierarchy and power.
Justin's last RSC show was the new adaptation of the Chinese classic Snow in Midsummer. He most recently directed The Box of Delights at Wilton's Music Hall and is Artistic Director of the Unicorn Theatre.
Measure for Measure
In US Cinemas from August 16
"To whom should I complain?"
When a young novice nun is compromised by a corrupt official, who offers to save her brother from execution in return for sex, she has no idea where to turn for help. When she threatens to expose him, he tells her that no one would believe her.
Artistic Director, Gregory Doran, directs a play with astonishing contemporary resonance.
Special Event Screenings hosted by Symphony Space in New York
As part of the RSC screening programme in the US, exclusive special events will be taking place at Symphony Space in New York for each production.
Announced events include a pre-screening introduction and drinks reception on May 30 for As You Like It with RSC Board Member and Shakespeare Scholar Professor James Shapiro. Following this, on June 23 for The Taming of the Shrew is a pre-screening introduction and drinks reception with RSC Director Owen Horsley (Maydays (2018), Salom (2017) for the RSC, and worked as Assistant Director on King and Country: Shakespeare's Great Cycle of Kings which toured to Brooklyn Academy Of Music in 2016).
An event for Measure for Measure will be announced in due course.
Places are limited, on a first come first served basis, and RSVP is essential. Please contact invitation@rsc.org.uk to confirm your attendance at the drinks reception.