Comedian Elf Lyons Embarks on UK Tour
The tour kicks off this Autumn!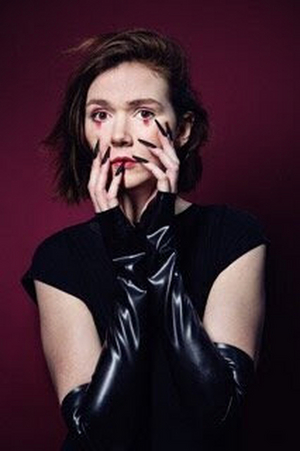 Following a hugely successful run at the Edinburgh Fringe Festival 2022, the award-winning actor, writer and comedian Elf Lyons is taking her terrifying and darkly funny Stephen King-inspired comedy show on tour this Autumn 2022. Beginning in Bristol on 1st October, before heading across the UK, culminating with nine nights at London's Soho Theatre, just in time to spice up this year's Halloween.
In this combination of horror and comedy, Elf brings her eccentric, remarkable, unique style to the stage with her new hair-raising comedy show inspired by Stephen King. Half Mad Clown spectacle, half Hammer Horror - in Raven, Elf becomes your own personal Pennywise as she merges horror techniques with old-school storytelling to make you burst into laughter and shiver in equal measure.
Elf says: "It talks about obsessive-compulsive disorder and addiction. It is part ghost story and part comedy clown show. There is live sound foley in it and a really creepy doll. It's about dealing with the ghosts and boogeymen in your closet. It is also about my phobia of Kevin Bacon which I developed as a child."
Get a glass of Red Rum, bring your pal Tony and laugh with Elf forever and ever. It will be a Misery if you can't come.

*No cats allowed
Directed by Leland Gaunt.
About Elf:
Elf Lyons is an award-winning comedian, theatre maker, director, comedy writer and voice artist. Elf Lyons has gained a cult reputation as one of the most innovative performers on the UK comedy and theatre scene. Her work has included re-enactments of classical ballets, musicals about the economy, immersive horror shows and even lectures at venues such as the Barbican on the Surrealist movement.
Since 2017, Elf has been nominated for the Edinburgh Comedy Award for Best Show at the Edinburgh Fringe, the Malcolm Hardee Award for Comic Originality, Fringe World Perth's Best Comedy Show, and in 2018 Elf won Pick of the Fringe at the Adelaide Fringe, Australia. In 2020, her show Unlikely Darlings with Helen Duff was one of The Telegraphs '50 Best Cultural Moments' of the year.
Since 2019, Elf's TV and radio credits have included Comedians Giving Lectures (Dave), Comedians Against Living Miserably (Dave), Unexpected Fluids (Radio 1), Evil Genius (BBC Sounds), and BBC World Service's Stand Up Show - London (BBC World Service). She wrote and starred in her own BBC Three short Top Ten Things I Have Brought Whilst Drunk. She has been a series regular on The Stand Up Sketch Show (ITV2 - series 2 & 3), The Breakfast Show and Culture Hour (Times Radio), The Colin Murray Show (BBC Radio 5) and The Dog Ate My Homework (CBBC). She is a three-time cover star of The Sunday Times Culture.
Alongside performing on stage and teaching performers clowning, Elf is a well-respected writer. She has written articles for The Guardian, The Times, The Telegraph, The Independent, Londonist, Cosmopolitan Magazine and Refinery29, amongst others. Elf was also featured on the cover of the Observer Magazine for her article 'In Praise of Polyamory'.
You can watch her Edinburgh Comedy Award nominated show Swan on NextUp.
Currently in 2022, Elf has created and performed three different one-hour comedy shows - each touring separately around the UK and internationally from 2023 onwards. These include Heist - an absurdist comedy show conducted entirely in British Sign Language with Duffy; Talk Dirty - a one hour straight stand-up show about filth; and Raven, her 5-star* mad-cap comedy horror show.
Full Tour Dates:
1/10/22 Bristol Tobacco Factory
6/10/22 Norwich Arts Centre
7/10/22 Brighton Komedia
8/10/22 Cambridge Junction
9/10/22 Oxford The Glee Club
15/10/22 Edinburgh The Stand
16/10/22 Glasgow The Stand
17/10/22 Newcastle The Stand
18/10/22 Birmingham The Glee Club
23/10/22 Salford Quays The Lowry
27 Oct - 5 Nov London Soho Theatre