Beckman Unicorn's GREAT EXPECTATIONS TOY THEATRE Now Available on Amazon UK
Charles Dickens, author of GREAT EXPECTATIONS, was a huge fan of toy theatres.
Beckman Unicorn was the first commercial theatre producer to create a new Toy Theatre for its London West End première production of Great Expectations creating new illustrations to reinvent a 21st Century version of a classic and beloved toy product which has entertained children and adults alike for over 150 years.
Beckman Unicorn is passionate about education and encouraging young people through positive interaction with the creative arts, helping them to explore their personal originality, talent and imagination. Each toy theatre includes a short script adapted from the original novel to allow children to explore their creativity, story-telling, character development, helping them to inspire and entertain their friends and family.
The toy theatres are easy to put together and a fun activity for kids of all ages - check out the video below of two kids putting the toy theatre together! Then you can order yours on Amazon UK or learn more at GreatExpectationsThePlay.com.
The History of Toy Theatres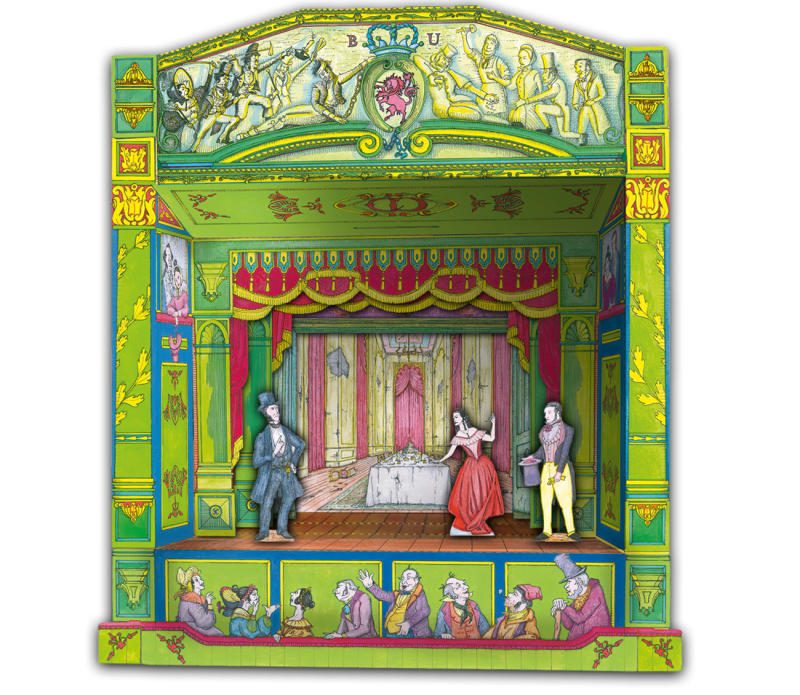 Around the beginning of Queen Victoria's reign, the cardboard theatre was perhaps the most popular toy in Britain. Between 1811 and 1870 more than fifty well-established firms were involved in their production and distribution. 'Live' theatre was at the height of its popularity with over 300 playhouses in London alone!
The theatres were developed as souvenirs and/or marketing promotions depicting current productions, and were accurate and detailed representations, portraying the actors, costume and scenery in great detail.
Later they became less specific, concentrating more on classics and proven favourites rather than contemporary productions.
Originally simple, they soon became more elaborate as their designers and printers became more competitive and more ingenious: some models even boasted working machinery which ranged from trap-doors to trapezes. They could be bought either hand-coloured or uncoloured: with the theatrical prints which preceded them they were the source of the slogan 'Penny Plain, Tuppence Coloured'.
Charles Dickens was an avid fan of the toy theatre, presenting entire productions to his guests including Queen Victoria!