BWW Review: WEST END LIVE LOUNGE, The Other Palace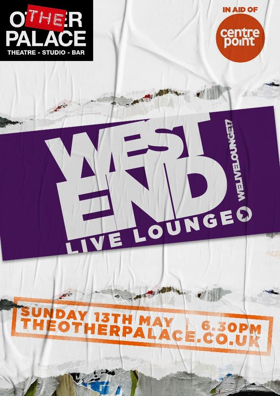 Set up by Shaun McCourt, West End Live Lounge continues to go from strength to strength. Returning to The Other Palace, it seems "The Only Way Is Up" for the charity concert series after a sell-out night of Number 1's (even though George Jackson's song didn't make an appearance).
Now in its second year, West End Live Lounge sees stars of the West End and beyond cover songs based on particular themes. This particular evening was Number 1's, celebrating chart-topping hits from the music industry. The number one priority behind the series though is charitable.
All proceeds from the evening go towards a selected charity, this one being Centrepoint which supports homeless young people. All the musicians and performers of the night also give their time for free to the cause.
Performing over 20 songs during the set, there's something for everyone on offer. Natalie Green and Kelly Agbowu fire(d) away fire(d) away, kicking off the show with "Titanium". After a couple of power ballads, Jodie Jacobs of Rock of Ages rocked the house with "Great Balls of Fire". It was in fact the rock anthems which got the crowd the most fired up throughout the night.
An ever-energetic Andrew Polec provided two highlights of the night with a singalong "Livin' On A Prayer", and teamed up with fellow Bat Out of Hell star Christina Bennington for a near re-enactment of the music video for "Bring Me To Life".
Other crowd favourites included chart-topping ballads. A rousing version of "I Will Always Love You", by Moya Angela of Dreamgirls closed out the first half, while Liam Tamne shone bright with a cover of Rihanna's "Diamonds". Ahead of their return and relaunch, Divalution impressed with a cover of "Gotta Get Thru This", featuring nods to other number ones from years gone by such as "No Scrubs" to "It Wasn't Me".
Previous concerts have been held in more intimate spaces, such as the Union Theatre and the Studio downstairs at The Other Palace. But as the concert series grows and gains more of a following, so too does the demand for tickets. Accordingly, Number 1 moved upstairs to the main theatre and played to a sold out crowd.
Such was the atmosphere that even the seven-piece band could be seen singing along. Aside from providing beautiful accompaniment for the evening, they were also the source of some brilliant improvised jokes from comedian and host Vikki Stone.
From the drummer who brought his own wheelie bin to audition for STOMP, to a stripped back version of "Cotton Eye Joe", Stone may think she's off the list for next year's host but I hope not. The straight man to her surreal jokes, Artistic Director of The Other Palace Paul Taylor-Mills oversaw proceedings, and gets a joke or two of his own in (I'm definitely stealing the bakery gag).
Thanks to comedic comperes and standout performances, the audience was engaged from the off. It's almost like being at a gig at points, my only qualm being that it's not. Heads are bobbing, people are singing, you could even see host Mills' own feet tapping along off stage.
I'd love to see this series continue to evolve, perhaps even incorporating a more gig like atmosphere. Why not create a space for standing in a pit, allowing for even more engagement. Somewhere like the Studio or the American International Church could work with that in mind. That may defeat the point of Live Lounge...although who among us hasn't danced around their living room a la Freddie Mercury in "I Want to Break Free"?
An evening of musicality, hilarity and all for charity. I can't wait for the next one!
Check West End Live Lounge for more information about upcoming concerts.
Related Articles View More UK / West End

Stories

Shows