BWW Review: MACBETH, Orange Tree Theatre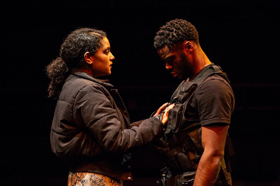 School is where most of us are introduced to William Shakespeare and the nature of this introduction will often impact on how much we love or loath The Bard in later life.
In their series Shakespeare Up Close, Richmond's Orange Tree Theatre continues its quest to bring Shakespeare's plays to life particularly for GCSE students. This year Nathan Powell directs a dark and intensely physical adaptation of Macbeth by six talented actors.
The play is a powerful and violent tale of ambition, witchcraft, murder and inheritance. When three witches visit Scottish General Macbeth, he is told he will be King. Encouraged by his wife Lady Macbeth, he plots to kill the current king to expedite his rise to power. After the murder, Macbeth begins a reign of terror, leading to grief, madness and ultimately downfall for both Macbeth and his wife.
In a talented cast of just six, Marc Benga is a standout as Macbeth. He brings out all the contradictions of the character, particularly his weakness, as he persuaded to become yet more ruthless by his wife Lady Macbeth, played skillfully and with great meaning by Tamara Camacho.
Montell Douglas is brimming with an excess of emotion as Macduff, pouring his heart into every line. Nyla Levy is suitably cautious as an energetic Banquo and Ayla Wheatley is a force of good as Malcolm, but excels in smaller roles, particularly as one of the witches.
Director Nathan Powell has been incredibly creative with a fresh, visceral and urgent approach to the play. The first scene where the witches are introduced is beautifully performed. Pushing a shopping trolley laden with supermarket carriers bags belching dry ice, they rap the lines in a sharp and slick staccato, exposing the innate rhythm of the lines while making them sound completely new.
One of the wonderful things about Shakespeare's works is that they are endlessly adaptable. His themes are timeless and this production endeavours to spark curiosity in his work without dumbing down the core essence of the play. This is a very urban version of the play: Conrad Kira's excellent sound design and music is loud and has a thumping bass line, costumes are street-chic and accents are very much London youth. There is frequent use of mobile phones and the knives the cast fling about in battle give uneasy echoes of the current knife crime epidemic.
There are clever touches throughout the production. The Porter scene is usually seen as a short, light-hearted relief after the murder of Duncan and could easily have been dropped in such a short version of the play. Here, it is given a clever spin as the Porter merges from a graffitied wheelie bin, digging out newspapers with current headlines. When the 'Equivocator...who committed treason' is spoken of, the headline 'Boris Twists the Knife' is shown.
Overall, the effort to condense the play into just 90 minutes is very successful, with no real sense that anything vital has been left out. However, the opening scene where Macbeth and Banquo show their fighting credentials is slick, but goes on a little too long and the scene where Macduff is told of the brutal murder of his wife and children is undermined by a lack of dramatic reaction from Malcolm or Ross, played a little too stiffly by Conrad Kira.
Hearing Shakespeare's words spoken aloud can often open up the meaning and sense within the text. This excellent production brings to life all the greed, power and ambition in the play. It is brooding, bleak and passionate; everything that Macbeth should be.
Macbeth is at the Orange Tree Theatre until 20 February
Photo Credit: Ali Wright
Featured BroadwayWorld Events
Check out these concerts...