BWW Review: KING LEAR, Duke of York's Theatre

Following on from a hugely successful run at Chichester, Sir Ian McKellen is back in the title role of King Lear, in the same theatre in which he made his West End debut in 1964. The Duke of York's is decidedly bigger than the Minerva, but with the addition of a walkway through the centre of the auditorium reducing the theatre capacity substantially, there's a much more intimate feel.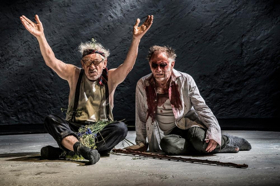 The opening scene is full of pomp and ceremony, with characters dressed in their finest outfits. Here we get our first glimpse of McKellen's Lear, with his many medals pinned proudly to his chest, offering to split his kingdom if his daughters declare how much they love him.
He seems distracted, and when he casts aside his favourite daughter Cordelia (Anita-Joy Uwajeh) in an uncharacteristic fit of rage, the audience knows to ready themselves for his rapid mental decline.
McKellen is simply breathtaking as the ageing King. Cleverly drawing out the signs of dementia, his movements becoming less smooth, as though he's not in control of his own body, and his outbursts of anger quickly give way to moments where he looks exhausted and lost. Abandoned by his daughters, and looking completely devastated and confused, it's difficult not to feel compassion for him.
Jonathan Munby has brought Lear into the modern age, with contemporary costumes, guns, sirens and military personnel in camouflage. The scene with the storm unleashes huge amounts of water on McKellen and Lloyd Hutchinson's Fool, with them soaked through, their clothes clinging to their skin, leaving Lear looking frailer than ever.
During the scene when the Earl of Gloucester (Danny Webb) and King meet again in Dover, Lear is childlike - babbling incoherently, often speaking softly and clutching a bunch of flowers he aims at people as though they were a weapon. His dirty clothes, tear-stained face and clearly broken spirit offer a stark contrast from the opening scene, emphasising all that Lear has lost.
Paul Wills's set is sleek and contemporary, with tall, dark wooden panels at the back of the stage folding back to form doorways. Following the storm, the wooden panelled rooms disappear and the vast stage is left predominantly bare, except for the white background depicting Lear's arrival at Dover.
Although I enjoyed James Corrigan as the corrupt and malicious Edmund, occasionally offering some light comic moments, he wouldn't be out of place in a more pantomimic production. Meanwhile Kirsty Bushell's vicious and dark Reagan, is unashamedly thrilled when Gloucester's eyes are torn out by her husband, while Webb, Sinead Cusack as Kent and Luke Thompson as Edgar are all excellent as the King's loyal supporters.
However, it is McKellen who stands out in this dark Shakespearean tragedy, and what an honour it is to see him take on Lear once more.
King Lear at Duke of York's until 3 November. It will also be broadcast live to cinemas across the UK and internationally on 27 September with National Theatre Live.
Photo Credit: Johan Persson