Alice Barlow and Michelle Gayle to Join SON OF A PREACHER MAN UK Tour in 2018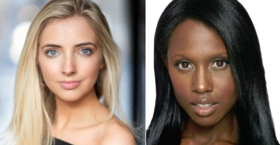 Alice Barlow and MIchelle Gayle will star in the heart-warming new musical Son of a Preacher Man. Alice will play the role of Kat from 16 January 2018 and Michelle will play the role of Alison from 6 March 2018.
Featuring the soulful music of Dusty Springfield, with a book by Warner Brown and directed and choreographed by Craig Revel Horwood, Son of a Preacher Man embarked on a national tour in September 2017.
Three broken hearts, one Soho hang-out, and the only man who could ever help them...
Welcome to the Preacher Man, the swinging 1960s Soho joint where the kids danced the night away to the latest crazes and dared to dream of love, while the legendary owner, the Preacher Man himself, dispensed advice to cure the loneliest of hearts.
Only, that was a long time ago and all that remains are the memories, the stories and the myths. Until now, that is, when three random strangers, generations apart but all in need of help with their hopeless love lives, are inexplicably drawn to the site of the original venue. The Preacher Man is long gone, but his son, with help from the wonderful Cappuccino Sisters, might just find it in himself to channel the spirit of the Preacher Man and once more give these three lovesick strangers the look of love.
Featuring the greatest hits of Dusty Springfield, including "The Look Of Love", "I Only Want To Be With You", "Spooky" and of course, the classic "Son Of A Preacher Man", this sparklingly funny and sweetly touching new musical by internationally renowned writer Warner Brown will have you laughing, crying and singing your heart out to some of the greatest songs ever written.
Alice Barlow plays Kat. Alice is best known for her roles on television, with credits including Coronation Street, Swipers, Drifters series 1, 3 & 4, Benidorm, Banana, Staff Room, Casualty, Crime Stories, Hollyoaks, and was also a contestant on The Voice.
MIchelle Gayle plays Alison. Michelle is an actress and singer best known for her roles in Grange Hill and EastEnders, and for achieving six top 20 hits and selling a million records with both of her albums receiving a nomination for a Brit award in the Best British Female category. On stage, Michelle has played the leading role of Belle in Disney's West End production of Beauty and The Beast and toured with plays including Mum's The Word, The Brother's, and Hopelessly Devoted, which was produced by Paines Plough and written by award winning poet, Kate Tempest. Other Film and television credits include Wolfblood, Joy Division, The Naked Poet, Doctors, Holby City, Family Affairs and True Crimes.
Warner Brown works internationally and is well known for his work in musical theatre and straight plays, encompassing both traditional and avant-garde forms.
He wrote 'the most popular family show of all time', the arena production Walking With Dinosaurs, creating an entirely new genre of theatrical presentation and winning many international awards. Currently playing in venues from Madison Square Garden to the Mercedes Benz Arena in Shanghai, an episode of CSI: Las Vegas has been based upon the show and it has even been parodied on The Simpsons.
Warner is currently working on multiple developing projects, including the Broadway musicals The Gold Room and The Thomas Crown Affair, both with composer Michael Feinstein; the opera Empty Spaces, with composer Joshua Schmidt, for Florentine Opera in the USA; the musical A Little Danger, with composer Michael Reed, for the St Petersburg Theatre in Russia; and the screenplay for the movie A Minute To Midnight for Bill Kenwright Films. He is part of the consortium, including choreographer Arlene Phillips and musical director Mike Dixon, for the new internet based project Reality.
Writing credits include Half A Sixpence (UK Tour), The Biograph Girl (Phoenix Theatre), Cinderella (London Palladium), The Black and White Ball, which opened in London and for which The Cole Porter Trusts grantEd Warner stage rights to the songs of Cole Porter, Flickers (Broadway's Circle-In-The Square Theater), The House on the Corner (Edinburgh International Festival) and, in addition, Tallulah For A Day and Sleep With Friends. Plays include Laughing Dove, Wavelength and The Prospero Suite, directed by John Doyle.
Warner has worked extensively in Europe, most recently writing the musical Garbo, with music by 'Meatloaf' rock legend Jim Steinman. He also has extensive writing credits for the BBC and was Script Associate of the BBC Classic Musicals Series, for which he adapted fourteen musicals featuring many international stars. Warner was the subject of the BBC Two TV documentary The Making Of A Musical. Warner is co-sponsor of the international music prize The S&S Award, named in honour of his late parents.
Craig Revel Horwood is a well-known face on television in the UK and now internationally for his role as a judge on all fifteen series of BBC One's Strictly Come Dancing and for directing and appearing as a judge in the Live Tour.
Craig's recent credits as director and choreographer include the current UK tour of Sister Act, the previous UK tours Brother Love Travelling Salvation Show and Chess; for television, How Do You Solve a Problem Like Maria? and Just the Two of Us; and for film, the feature film Paddington 2. In addition, he recently directed the all-star concert version of Stephen Sondheim's Follies at the Royal Albert Hall. Other credits as a theatre director and choreographer are: West Side Story (Prince Edward), Miss Saigon (Drury Lane), Hey, Mr Producer! (Lyceum), Spend Spend Spend! (Piccadilly Theatre; Olivier nomination for Best Choreography), Pal Joey (Chichester Festival Theatre), Guys and Dolls (Sheffield Crucible), Paradise Moscow (Opera North), Carmen (Holland Park), My One and Only (Piccadilly Theatre; Olivier nomination for Best Choreography), Beautiful and Damned (Lyric Theatre), Arms and the Cow (Opera North), The Ballet Boyz: Yumbo Vs Nonino (Festival Hall, Sadler's Wells, Royal Opera House, Covent Garden), The Hot Mikado (Watermill Theatre and UK Tour; Martin Guerre (Watermill Theatre), Sunset Boulevard (Watermill Theatre and Comedy Theatre, West End), Spend Spend Spend! (Watermill Theatre and UK Tour) and Copacabana (Watermill Theatre).
He recently returned to his roots as a performer in musical theatre, starring as Miss Hannigan in the UK national tour of Annie, and in Christmas 2016 as Captain Hook in Peter Pan at the Churchill Theatre, Bromley. Other performing credits include Captain Hook in Peter Pan at the Orchard, Dartford in 2014 and at the Swan, High Wycombe in 2015. Previously, Craig starred as the Wicked Queen in Snow White at Venue Cymru, Llandudno in 2009, The Hawth, Crawley in 2010 and The Orchard, Dartford 2011. He reprised his role at The Swan Theatre, High Wycombe in 2012 and the Cliffs Pavilion, Southend in 2013.
Amongst his numerous TV credits, highlights include winning the BBC Two series Maestro at the Opera, the final of which saw him conduct Act II of La Bohe?me at the Royal Opera House. He was also a grand finalist on the hit cooking show, Celebrity MasterChef and participated in and won Ready, Steady, Cook.
Son of a Preacher Man is produced by BrIan Berg, John Sachs, Andrew Berg & Kimberley Sachs for Eclipse Live, Michael Park for The Infinite Group, Paul Tyrer & Jamie Clark for TBO Productions, Churchill Theatre Bromley and executive producers Andrew Green and Ben White, all on behalf of Dusty Touring Ltd.
For more about the show, visit www.sonofapreachermanmusical.com.
UK TOUR DATES:
Cliffs Pavilion, Southend
16 January - 20 January 2018
Website: southendtheatres.org.uk
Box Office: 01702 351135
Theatre Royal, Plymouth
23 January - 27 January 2018
Website: theatreroyal.com
Box Office: 01752 267222
Theatre Royal, Nottingham
30 January - 3 February 2018
Website: trch.co.uk
Box Office: 0115 989 5555
Darlington Hippodrome, Darlington
6 February - 10 February 2018
Website: darlingtonhippodrome.co.uk
Box Office: 01325 486555
Belgrade Theatre, Coventry
13 February - 17 February 2018
Website: belgrade.co.uk
Box Office: 024 7655 3055
Festival Theatre, Malvern
20 February - 24 February 2018
Website: malvern-theatres.co.uk
Box Office: 01684 569256
Kings Theatre, Portsmouth
26 March - 3 March 2018
Website: kingsportsmouth.co.uk
Box Office: 023 9282 8282
Waterside Theatre, Aylesbury
6 March - 10 March 2018
Website: atgtickets.com/aylesbury
Box Office: 0844 871 7607
Theatre Severn, Shrewsbury
13 March - 17 March 2018
Website: theatresevern.co.uk
Box Office: 01743 281281
Grand Theatre, Blackpool
21 March - 24 March 2018
Website: blackpoolgrand.co.uk
Box Office: 01253 290190
Storyhouse, Chester
27 March - 31 March 2018
Website: www.storyhouse.com
Box Office: 01244 409113
Regents Theatre, Ipswich
3 April - 7 April 2018
Website: apps.ipswich.gov.uk
Box Office: 01473 433100
Princess Theatre, Torquay
10 April - 14 April 2018
Website: atgtickets.com/torquay
Box Office: 0844 871 3023
Theatre Royal, Brighton
17 April - 21 April 2018
Website: atgtickets.com/brighton
Box Office 0844 871 7650
New Victoria Theatre, Woking
24 April - 28 April 2018
Website: atgtickets.com/woking
Box office 0844 871 7645
The Pavilion Theatre, Bournemouth
1 May - 5 May 2018
Website: bournemouthpavilion.co.uk
Box Office 01202 055660
King's Theatre, Glasgow
8 May - 12 May 2018
Website: atgtickets.com/glasgow
Box Office 0844 871 7648
New Theatre, Cardiff
15 May - 19 May 2018
Website: newtheatrecardiff.co.uk
Box Office 029 2087 8889
Bord Ga?is Energy Theatre, Dublin
22 May - 26 May 2018
Website: bordgaisenergytheatre.ie
Box Office 00353 1 677 7999
Venue Cymru, Llandudno
29 May - 2 June 2018
Website: venuecymru.co.uk
Box Office 01492 872000
King's Lynn Corn Exchange, King's Lynn
5 June - 9 June 2018
Website: kingslynncornexchange.co.uk
Box Office 01553 764864
The Alhambra Theatre, Bradford
12 June - 16 June 2018
Website: bradford-theatres.co.uk
Box Office 01274 432000
His Majesty's Theatre, Aberdeen
19 June - 23 June 2018
Website: aberdeenperformingarts.com
Box office 01224 641122
The Orchard Theatre, Dartford
26 June - 30 June 2018
orchardtheatre.co.uk
Liverpool Empire Theatre, Liverpool
3 July - 7 July 2018
Website: atgtickets.com/Liverpool
Box Office: 0844 871 3017