Click Here for More Articles on REGIONAL - WASHINGTON, DC
BWW Review: THE EFFECT is an Intense, Riveting Experiment at Studio Theatre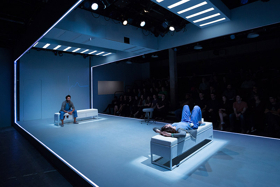 Test Group A or B? Upon entering the space of Studio Theatre's production of The Effect, one is immediately escorted into the world of clinical trials by ushers in lab coats. The Effect, by Lucy Prebble and directed by David Muse, is the love story of Connie Hall (Katie Kleiger) and Tristan Frey (Rafi Silver), which set in the confines of a clinical trial for anti-depressants. The lovers under the watchful eyes of Dr. Lorna James (Gina Daniels) are monitored closely. After a strange discovery during an examination of brain scans with Dr. James, Dr. Toby Sealey (Eric Hissom) declares that it might be possible that the anti-depressants might be fueling this lovefest. But would drugs really cause two strangers to fall in love? Studio Theatre's production of The Effect explores love and mental health with heart-racing, gut-wrenching gusto.
The production's stellar cast consists of only four actors. Each actor has an impressive range. However, the actors' ranges are displayed fully in the beginning. The first act's (or first part of the experiment) pacing is a bit off dialogue and plot-wise, however; the actors are able to work with what they got which is mostly banter and posturing with comedic undertones. The first part of the experiment is worth the experience though because it perfectly sets up the second part of the experiment (or the second act). The second act is a powerful dosage of drama and bite. It's harrowing to watch as Connie and Tristan are thrown from their maddening love tango into a violent tumble. In one particular scene, Kleiger's Connie and Silver's Tristan are thrown into a terse argument which is just as passionate as the love they aptly perform in the first act. It is almost hard to watch their characters fall apart just as fast as they fell in love. Kleiger and Silver's chemistry as Tristan and Connie is apparent in this scene as it is in all of their other scenes together. Daniels plays Dr. Lorna James with remarkable energy. In one particular scene, she has a Hamlet moment as she holds onto a brain and talks to herself to try to calm her anxieties. It is an emotional breakdown reflective of the production's undertones of the struggles of those who have mental illnesses such as depression. Hissom's Dr. Sealey is untrustworthy and villain-like at times as he is often trying to look out for his own interests and those of Raushen. A highlight of Hissom's performance as the swindler Sealey occurs as he is giving TED Talk-like pitch to what one would assume who be those interested in Raushen's products.
The set, designed by Luciana Stecconi, is minimal and sterile. There are hardly any colors - just gray and white. It solidly reflects the atmosphere of hospitals and clinics. The stage for this production is configured in an interesting way. It feels like one is looking through the window of a hospital room watching the action unfold on the outside. One can see the other half of the audience on the other side which doesn't distract from the performance, but it makes one want to occasionally do an experiment of one's own and look at the reaction of others on the opposite side. The projections, designed by Alex Basco Koch, are brilliantly done especially when they are used to show Tristian and Connie getting examined for their vitals. It is fascinating to see their medical charts expand as each test is done.
Studio Theatre's production of The Effect begins with pacing issues, but the momentum of the second act and a cast of brilliant actors make the experiment worth the watch.
Running Time: 2 hours with a 15-minute intermission
Photo caption and credit: Rafi Silver and Katie Kleiger in The Effect. Photo: Teresa Wood.
The regional premiere of The Effect runs at Studio Theatre until October 29, 2017.