Click Here for More Articles on REGIONAL - WASHINGTON, DC
BWW Review: MYSTERY SCHOOL at The Edge of the Universe Players 2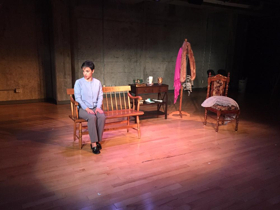 The pint size dynamo known as Nora Achrati is one of the area's most dynamic actresses so a show where it's just her and the audience should make for a great night of theatre. Achrati portrays five different characters in Paul Selig's ethereal and spiritual script Mystery School.
Unfortunately, more than half of the characters are not well-drawn in Selig's script. The two that work the best are Francie, a psychic with her own show, and a woman whose house is being opened up to the public for tours after the death of her husband.
What is well done are Achrati's five totally different characterizations for each of the women she portrays. There have been many cases over the years where the performer overcomes the obstacles of a less than well written script. Henry Fonda did it with Clarence Darrow and Julie Harris did the same with The Belle of Amherst; Achrati also does it in spades here. Yes, I just put Nora Achrati in the same sentence as two of Broadway's most legendary performers. That means something.
The biggest mystery in the show, however, is why Director Aly B. Ettman has her superb solo artist's feet and body nailed to the floor for each of her monologues. She is either seated on a bench or a chair, or standing with her feet planted. The only time Achrati ever moves is during the transitions to change costumes. That doesn't help the show. It just makes it stagnant.
I applaud The Edge of the Universe Players 2 for choosing a script that showcases a dynamic performer like Nora Achrati. Unfortunately, she is the only bright star in this otherwise black hole of a production.
Running Time: 70 minutes with no intermission.
Mystery School runs through November 19, 2017 at Woolly Mammoth's Melton's Rehearsal Hall, which is located at 641 D St. NW in
Washington, DC.
For tickets, click here.
Featured This Week on Stage Door
Shoutouts, Classes, and More from Your Favorite Broadway Stars
Related Articles
Elliot Lanes has been working in theatre for over 20 years as a PSM, Sound Designer, Board Op....you get the idea. He has had the (read more about this author...)