Click Here for More Articles on REGIONAL - DC Metro Area Maryland
BWW Review: JUDY MOODY & STINK: THE MAD, MAD, MAD, MAD TREASURE HUNT at Adventure Theatre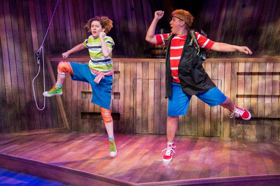 Adventure Theatre's visionary Artistic Director Michael J. Bobbitt has, for many years, pushed the boundaries of Theater for Young Audiences (TYA). For example, out of its location at Glen Echo Park, Adventure Theatre has created original productions of the popular comic strip Garfield, Big the Musical and Jumanji. Those are only a few examples of the company's vast repertoire.
Adventure's latest production pushes the boundaries of TYA theatre yet again. Judy Moody & Stink: The Mad, Mad, Mad, Mad Treasure Hunt is the first co-commission with seven different theatre companies. What does that mean you ask? Basically seven theatre companies helped in commissioning playwright Allison Gregory to adapt Megan McDonald's book for the stage. Each company will present their own production of the show and then give it's feedback to Gregory. This is the largest co-commission for a theatre piece to date and, of course, it was spearheaded by one of our own so that gives us bragging rights.
Judy Moody (Kelsey Painter) is your typical "everything is a big deal" third grader. Her brother Stink (Phillip da Costa) is a little less intense. Judy and Stink's parents (Karen Vincent and Frank Britton) have decided to take their kids on a family outing to Ocracoke Island. Stink is so psyched that he has his very own survival kit. As most islands are now commercialized, Ocracoke has a big treasure hunt run by that barnacle pitchman known as Scurvy Sam (Todd Scofield). The hunt starts with one cryptic clue. The first team to get all five clues and obtain sixteen gold pieces from island rangers wearing red sashes is the winner and receives what Judy has always wanted - a t-shirt...with words.
The hunt will take Judy, Stink and their competitors Smart Girl and Tall Boy (Heather A. Gibson and Philip Kershaw) to a variety of locations all over the island. They include a cemetery, and of all places, a crab shack. Along the way Smart and Tall try to trick Judy and Stink into giving them information about where the next clue may be. You'll have to see the show to find out if their devious behavior works in their favor.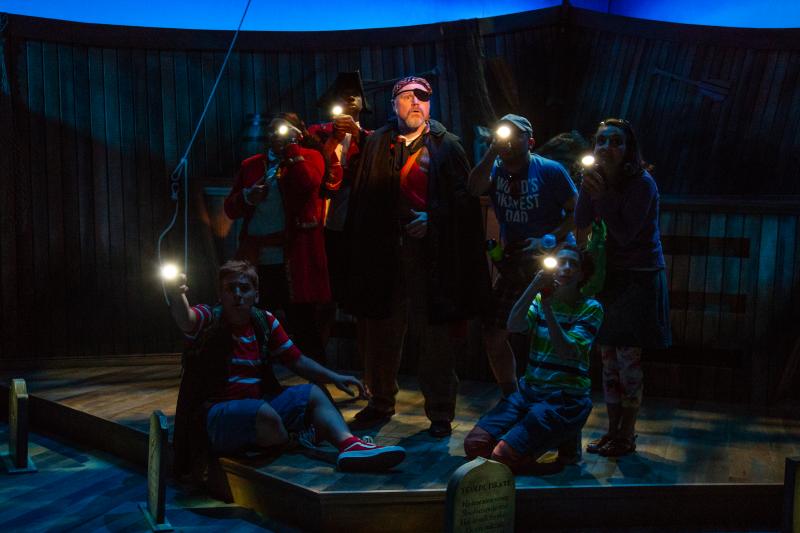 This kind of a show needs a strong hand at the top guiding it and there couldn't be a better choice than director Mitchell Hébert. His staging is full of energy and features enough laughs to keep the adults interested throughout. That is a delicate balance and Hébert has achieved it beautifully. Hébert cast the show pretty terrifically as well.
As Judy, Kelsey Painter epitomizes the "everything is a tragedy personality" of a typical third grader while not being too grating. Her performance very well could have gone in the other direction which would have made Judy more obnoxious than endearing. Thankfully Painter finds the right balance and leaves you rooting for her throughout.
The same can be said for Philip da Costa as Stink. While he is totally into the hunt, he is also totally willing to help the enemy...even though he doesn't realize he is doing it. Despite this, Judy still loves her brother. Da Costa's chemistry with Painter is everything a brother/sister relationship should be.
As the parents Karen Vincent and Frank Britton remind us that having dinner together as a family could ultimately be the best thing that ever happened to you (no spoiler).
Heather A. Gibson and Philip Kershaw are excellent in portraying Judy and Stink's very confident competitors. They also teach us that just because you think you're smarter than everyone else doesn't mean you actually are smarter than everyone else. Theater should educate as well as entertain and this show does exactly that.
Last, but certainly not least, is the rope swinging ringleader of the hunt Scurvy Sam, played by the larger than life distinguished DC performer Todd Scofield. His performance responsibilities run the gamut, including having to voice a parrot for one of the clues. If you don't think top talent works at Adventure Theatre, Scofield's performance will prove you wrong.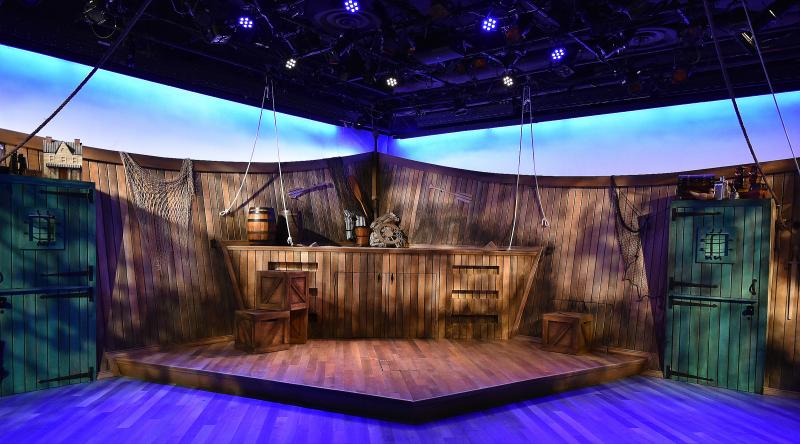 The production elements help round out this seaworthy spectacular.
Scenic designer Paige Hathaway has done it again with another immersive and freaking brilliant design. Her set includes gravestones that can just pull up from the floor, as well as places for actors to hide. I often wonder how designers keep up the quality when going from one show to the next with no time in between. In Hathaway's case, I am truly baffled as to how this happens. The work is always that good.
Kristen P Ahern's costumes are colorful and lots of fun. I particularly enjoyed Scofield's headpiece as a waiter at the crab shack. Some things you just have to see for full effect.
Sarah Tundermann's lighting has some nifty effects and Neil McFadden's sound design is full of pirate-like music.
Andrea "Dre" Moore props and puppets add the final touches. Her parrot is a particular standout.
Judy Moody & Stink: The Mad, Mad, Mad, Mad Treasure Hunt at Adventure Theatre is the kind of TYA show you dream of seeing, but don't always do. Do what you need to do to enjoy this thoroughly entertaining and well put together, from mast to brig, production. It reconfirms Michael J. Bobbitt's vision of what TYA can do and, in this case, it will make you feel really good.
Running Time: 60 minutes with no intermission.
Judy Moody & Stink: The Mad, Mad, Mad, Mad Treasure Hunt runs through June 3, 2018 at Adventure Theatre, which is located at 7300 MacArthur Blvd, Glen Echo, MD. For tickets, click here.
Related Articles