Click Here for More Articles on REGIONAL - WASHINGTON, DC
BWW Review: Creative Adaptation of Children's Book HOW TO CATCH A STAR Charms at the Kennedy Center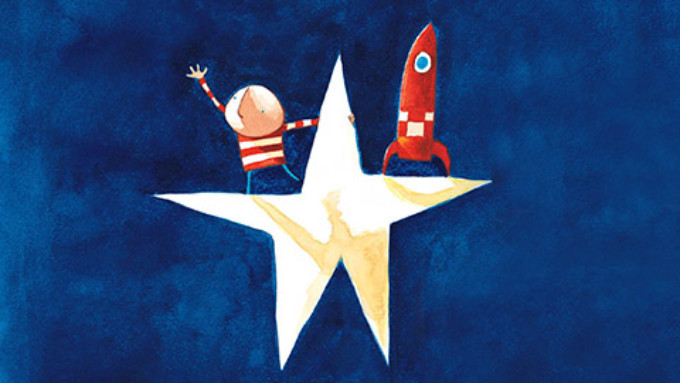 I had two main questions about the world premiere Kennedy Center commission of HOW TO CATCH A STAR: would it match the original children's book's ability to appeal to kids and adults alike, and would it be as visually charming as Oliver Jeffers's illustrations? I'm pleased to report that the answer to both is a resounding yes. Appropriate for ages three and up, HOW TO CATCH A STAR uses stunning projection design (Olivia Sebesky) and quirky choreography (Orange Grove Dance Company) to tell the story of how a boy's seemingly impossible dream of catching a star leads him to discover important lessons about life.
The boy (Dallas Tolentino) plots impatiently to catch that star despite his dad's (Jonathan Feuer) gentle reminders that sometimes things don't happen all at once. Along with his friend, a penguin (Raven Lorraine), the boy uses every tool at his disposal to plan a launch into space, but he keeps falling short. When the boy finally gets closer to the stars with the aid of a paper plane, he collides with the moon and encounters a friendly Martian (Jonathan Hsu) whose UFO has crashed. Ultimately, the boy, penguin, and Martian must work together -- communicating mainly through movement and visuals, as they all speak different languages -- to achieve the goal of rehabilitating their ships and reaching the stars. Of course, in this surreal tale, things turn out differently than the boy anticipates.
Although the youngest children won't comprehend some of the nuances of director Jared Mezzocchi's production, they'll undoubtedly appreciate the many silly moments. The cast does an excellent job of projecting to the young audience, exaggerating their comical movements, and dancing. The projections are crucial and easily the most magical part of the piece. They echo the handcrafted aesthetic of the book and transport us to fantastic atmospheres, including the deep sea and Antarctica.
Perhaps most importantly, the lessons in HOW TO CATCH A STAR are abundant and clear. We may differ in appearance, language, and place of origin, but we all want essentially the same things. We each have different strengths, and we can better solve problems when we work together. We can't always get what we want, exactly as we pictured it, but sometimes the reality is even better. And finally, stories are best when shared. These are all concepts that younger ones should enjoy learning and older ones should enjoy remembering.
Running time: approximately 45 minutes with no intermission.
HOW TO CATCH A STAR runs through December 16, 2018, at the Family Theater at The John F. Kennedy Center for the Performing Arts, 2700 F Street NW, Washington, DC 20566. Tickets can be purchased at www.kennedy-center.org, at the box office, or by calling (202) 467-4600.
Promotional image: HOW TO CATCH A STAR, courtesy of the Kennedy Center website.