Ukrainian National Opera Comes to Darlington Hippodrome
The company will perform Madama Butterfly and Carmen.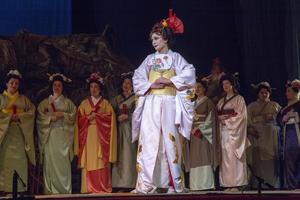 For the first time ever the Ukrainian National Opera is touring the UK and visiting Darlington Hippodrome in March with two of the most powerful operas of all time.
Coming all the way from Dnipro, Ukraine, this opera company, featuring an impressive cast and accompanied by a live orchestra comprising over thirty musicians, present Madama Butterfly and Carmen.
If you've never tried opera before you will love the full orchestra experience, amazing sets and fantastic costumes, along with exquisite singing and wonderful tunes that you'll be humming all the way home.
Madama Butterfly
Music by Giacomo Puccini. Sung in Italian with English surtitles
One of the most colourful and exotic yet tragic operas
Set in Japan at the turn of the last century, no opera can match the tragedy and sorrow of the doomed love affair between an American naval officer and his young Japanese bride, whose self-sacrifice and defiance of her family leads to tragedy. Though infinitely sad, the compelling tale of Madama Butterfly remained Puccini's favourite opera - his supreme theatrical achievement also gave the world its most sublime and beautiful arias in history - One Fine Day and Love Duet, as well as the Humming Chorus, which has been popular with opera-goers for over a century.
Carmen
Music by Georges Bizet. Sung in French with English surtitles
Love, treachery, obsession and betrayal make a most dramatic and passionate opera
Feel the thrill of love, jealousy and violence of 19th Century Seville in one of Bizet's most popular operas. Its mix of fierce passion, gorgeous melodies, nail-biting dramatic confrontation and musical wit has found favour all over the world almost since its first performance in 1875.
Producer, Alexej Ignatow of Amande Concerts Ltd. said: "We are really excited to be presenting this opera company to UK audiences in these difficult times. The journey has been extremely challenging, but I am glad we have overcome the many extraordinary obstacles and have now received all the necessary visas and clearances for the Ukrainian artists. The cast has been rehearsing vigorously over the last five weeks, and hope to see you very soon at Darlington Hippodrome."
Tickets for Madama Butterfly (Tuesday 14 March) and Carmen (Wednesday 15 March) are on sale now. To book call the Box Office on 01325 405405 or visit www.darlingtonhippodrome.co.uk