The North Wall Announce Full Programme For Alchymy Festival 2019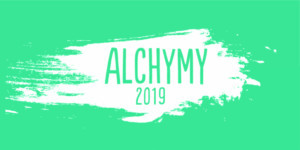 The North Wall today announce the full programme for Alchymy Festival 2019, running from 12-14 April at The North Wall Arts Centre. The programme includes performances, industry events, work-in-progress showings, and workshops, as well as performances from winners of the inaugural Alchymy Company Award and Alchymy Writing Residencies. The festival was programmed by The North Wall co-directors John Hoggarth and Ria Parry, and producer Ellie Keel, and is supported by Arts Council England.
Highlights from the full programme include the winners of the Alchymy Company Award, Out Of The Forest Theatre, with their show Call Me Fury; Catalyst 2019: an evening of performances of extracts from six new plays; two brand-new monologues, by Iman Qureshi and Sam Potter, in partnership with Atticist; readings of work by Nancy Netherwood and Patrick Russell, created on the inaugural Alchymy Writing Residencies; performances of touring shows created by graduates of Catalyst programmes, including Siofra Dromgoole's Walk Swiftly and With Purpose; work-in-progress readings of new work by North Wall Creative Associates, including Jack Bradfield's The Guest and Amser's Adventures, and Tom Brennan's The Pyramid; Hotter: a performance of the smash-hit Edinburgh show, ahead of its run at Soho Theatre this summer; previews of new work-in-progress including Boar: the sequel to Lewis Doherty's acclaimed show Wolf; producing and fundraising workshops with leading practitioners across the UK; and panel discussions on Brexit, comedy, and theatre criticism.
The North Wall co-director Ria Parry today said "We are delighted to present our annual Alchymy Festival, three days of showcasing exciting new work from across the UK. We're particularly proud to welcome the winners of the Alchymy Company Award: Out Of The Forest Theatre with Call Me Fury, as well as readings and performances from many of The North Wall's Creative Associates."
---
ALCHYMY FESTIVAL 2019 FULL PROGRAMME
Catalyst 2019
12 April, 7pm
Catalyst 2019 is the culmination of The North Wall's prestigious two-week training course for six talented young writers and three directors. Excerpts from six new plays are performed by members of the Catalyst acting company.
Knowledge Exchange
13 April, 10am
Companies and individuals working at Alchymy 2019 share their theatre practice and processes through presentations and informal networking.
Panel: Comedy and Politics
13 April, 11am
A panel discussion lead by Catalyst 2019 mentor and Wardrobe Ensemble co-director Tom Brennan.
The Guest, Work-in-Progress
Jack Bradfield
13 April, 12.30pm
Ben went on a journey to the land of the dead. On his way he passed a deep, endless chasm encircled by dark jutting crags. He spied an ice-cream van on a big hill that served dust in a cone, and accidentally walked into a room where a million ghosts were playing bridge. He had a cool time. However, he found there were a few problems getting home.
Ben (Emergency Chorus, Celebration) and Jack (Poltergeist, Lights Over Tesco Car Park) make plays. People keep telling them their plays are fun for the whole family. That's why they're making a show together. That's why they're going to invite 7 - 12 year-olds.
At the minute, they're learning how to make it.
It's all about dying.
They're heading to the land of the dead. Wanna come with?
Walk Swiftly and With Purpose
Siofra Dromgoole
13 April, 2pm; 13 April 6pm
Meet Eve, Lana, Robbie and Misha - four friends on the cusp of adulthood. Until now they've lived mostly in their imagination - suddenly, real life interrupts, and their loyalties are tested.
Provocative, pretentious and playful, the young women reflect upon themselves, their friendship, and what it is to grow up in the twenty-first century.
As a graduate of the Catalyst Programme, Siofra Dromgoole originally showcased Walk Swiftly and With Purpose at the 2018 Alchymy Festival, and returns to present the full production as part of Alchymy 2019.
Alchymy 2019 Monologues
13 April, 3.30pm; 14 April, 3pm
In partnership with Atticist, two new monologues by award-winning playwrights Sam Potter and Iman Qureshi.
Panel: Theatre Criticism Today
13 April, 4.15pm
A discussion focused on the priorities and ethics of theatre criticism in 2019. Contributors include Tim Bano and Hannah Greenstreet.
Call Me Fury
Out Of The Forest
13 April, 7.30pm; 14 April, 4.15pm
Call Me Fury is about The Witch Trials. Sort of. It's a ferocious exploration of womanhood in a world where the people around you, the legal system, the whole social order don't seem to give a damn. Sound familiar?
A group of women charged with witchcraft await trial and inevitable execution in a dungeon. There is no escape - except through their imagination, memory and humour, which in defiance are wild and boundless. The gallows loom just above them as a constant and physical reminder of the patriarchy, those that believe "when a woman thinks alone, she thinks evil."
Using folk songs and stories from witch trials across the world - from England, Colonial America, Scandinavia, Africa and beyond - their individual yet shared experiences are unified by the common thread of men silencing what they don't understand. But they will not be confined to this dungeon; they will not be confined to History.
Call Me Fury is a feral scream of rage, a commentary about sexual politics and feminism today.
For women then, now and always. (But also for you, gents.)
Hotter
Mary Higgins and Ell Potter
13 April, 9.15pm
What is the sweatiest you've ever been?
When was the hottest you've ever felt?
How would you describe your orgasm?
Hello, we're Ell and Mary.
We're best friends and ex-girlfriends and we're bored of playing it cool.
So this is a show about what gets you hot. We asked women and transpeople aged 11 to 97 what makes them sweat, flush, rub and gush. OK, we didn't ask the 11 year-old exactly the same questions.
We made a sweaty verbatim dance party out of their answers.
Following two sell-out runs at the Edinburgh Fringe Festival and ahead of a summer run at Soho Theatre, Hotter is launching arse-first in your direction. Blushing already?
Boar, Work-in-Progress
Lewis Doherty
13 April, 10.30pm
Welcome to the Kingdom of Skadi. A distant land over-run with barbarians, thieves, and creatures of an evil disposition.
Armed with just himself and a chair, Lewis Doherty presents Boar, a one-man fantasy adventure tale and sequel to Wolf. Prepare for arrows to roll and heads to fly in this action-packed hour of swords, sorcery, and swill!
Writing Workshop with Sam Potter
14 April, 10am
A writing workshop with playwright Sam Potter (Hanna, Mucky Kid, Someone, Somewhere).
Panel: Open Borders Theatre
14 April, 11.15am
A panel discussion considering the impact that the UK's departure from the EU will have on the theatrical landscape of the country.
Alchymy Writing Residencies
14 April, 12.30pm; 14 April, 1.45pm
Rehearsed readings of two plays developed during the inaugural Alchymy Writing Residencies, awarded this year to Patrick Russell and Nancy Netherwood. Performed by members of the Catalyst acting company.
Amser's Adventure, Rehearsed Reading
Jack Bradfield
14 April, 4.15pm
I told you the one thing I know how to say
Through the bright ringing drone of eight-bit choirs.
- Thank You Mario But Our Princess Is In Another Castle, The Mountain Goats & Kaki King (2008)
A clock ticks. Two spacecraft, the Needle and the Wedge, enter the orbit of a dying star. Amser sits cross-legged on the muddy-purple carpet of a small suburban semi.
She explains her new game.
It's about a girl who stumbles upon a gigantic clockwork city. It's about a girl who wants to jam a clocktower. Like most games, it's about trying to defeat a horrible monster. But Bowser and Doctor
Eggman ain't got nothing on this.
NOTES TO EDITORS
The Alchymy Festival
Alchymy Festival is a festival of new work produced by The North Wall Arts Centre in Oxford. The festival showcases work at all stages of development, from full shows to rehearsed readings, and has provided a platform to many artists, including the first performance of Monica Dolan's Olivier-nominated show The B*easts in 2017. The festival presents a series of talks, workshops and panels with leading theatre professionals. Previous guests have included Ella Hickson, April De Angelis, Stella Duffy, Laurie Sansom, Imogen Stubbs, Ellen McDougall, David Mumeni, Tobi Kyeremateng, Kirstin Shirling, Jo Crowley, Melanie Aram, Katherine Soper, and Zoe Cooper.
Alchymy Festival forms part of ArtsLab, The North Wall's flagship artist development programme. Since 2007, ArtsLab has invited early-career writers, directors, performers, technicians, designers and producers to take part in free residential training opportunities led by professional mentors. Alchymy Festival acts as a platform to showcase new work produced by artists in the ArtsLab network as their careers progress.
@TheNorthWall
#Alchymy19
Alchymy Company Award
The Alchymy Company Award gives an early-career theatre company the opportunity to spend a fortnight in residence at The North Wall creating the headline show for Alchymy Festival.
Alchymy Writing Residencies
The Alchymy Writing Residencies are awarded to two graduates of The North Wall's Catalyst programmes to enable them to spend two weeks in residence at The North Wall focusing on writing projects. This year they have been awarded to Nancy Netherwood and Patrick Russell.
The North Wall Arts Centre
The North Wall in Oxford exists to bring together artists, young people and audiences to make and experience work of the highest quality. With a deliberate emphasis on offering alternatives to the mainstream, the venue attracts over 20,000 visitors a year to more than 100 performances and exhibitions. The North Wall's ArtsLab programme offers artist development opportunities as well as free, residential training for early-career theatre-makers. St Edward's School is The North Wall's principal sponsor. Easter ArtsLab 2019 has been awarded a Projects Grant by Arts Council England.
Related Articles View More UK Regional

Stories

Shows
More Hot Stories For You