The Human League, ABC And Belinda Carlisle Announced For Heritage Live Show At Audley End House & Gardens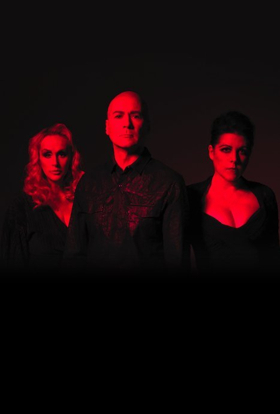 Giles Cooper Entertainment (GCE) have announced that Audley End House & Gardens in Saffron Walden, the decadent Jacobean mansion house in the gorgeous Essex countryside will host a stellar line-up of live music concerts in summer 2019.
The Heritage Live Concert Series will take place across the weekend of the 12th - 14th July, bringing the best in live music to the most beautiful of outdoor settings at one of England's finest country houses.
The first show announced at Audley End will be a sensational triple-bill of 80's icons, headlined by one of the quintessential groups of the era, The Human League.
Forming in Sheffield in 1977, the group, now consisting of founding member Philip Oakey, Joanne Catherall and Susan Ann Sulley, achieved both critical and commercial success in the 80's and 90's with an array of refined synth-pop hits.
The band have sold more than 25 million records worldwide with a remarkable four Top 10 UK albums, including their 1981 classic 'Dare', featuring hit singles 'Love Action (I Believe In Love)', and of course the timeless 'Don't You Want Me', which accomplished the rare feat of topping both the US and UK singles charts.
Fellow Sheffield synth-pop luminaries ABC will also take to the stage at Audley End. Featuring the unique voice of Martin Fry the group, best known for classics like 'Poison Arrow', 'The Look of Love', and 'When Smokey Sings', will perform hits from across their career back to their 1982 chart-topping debut album 'The Lexicon of Love' all the way up to 2016's critically acclaimed follow up 'The Lexicon of Love II'.
Completing this very special line-up will be none other than Belinda Carlisle. This iconic American singer originally found fame selling over 7 million records worldwide with all-female group The Go-Go's, before embarking on a solo career in the mid-80's that saw her achieve huge success on both sides of the Atlantic with singles such as 'Heaven Is A Place On Earth', 'Runaway Horses' and 'Leave A Light On'.
o2 Priority pre-sale tickets - Wednesday 31st October
Ticketmaster pre-sale tickets - Thursday 1st November
General on sale tickets - Friday 2nd November

Early Bird Tickets - £39 plus booking fee (General Admission)
Tickets available from ticketmaster.co.uk
The Human League, ABC, Belinda Carlisle at Audley End House & Gardens as part of the Heritage Live Concert Series 2019 - Friday 12th July 2019
Featured This Week on Stage Door
Shoutouts, Classes, and More from Your Favorite Broadway Stars

More Hot Stories For You