New Musical MOONFLEET to Lead Salisbury Playhouse' 2018 Season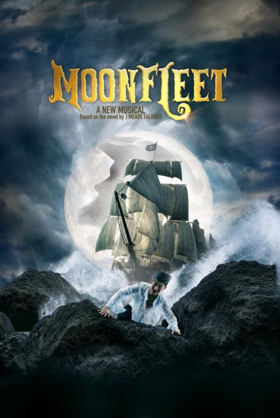 The premiere of a new musical based on the Dorset-set novel Moonfleet leads the Spring/Summer 2018 season at Salisbury Playhouse.
Moonfleet (19 April - 5 May) is set amongst the cliffs, caves and downs of 18th century Dorset and is the story of a young man's search for adventure and fulfilment. Based on the novel by J Meade Falkner, the book and lyrics are written by Salisbury Playhouse artistic director Gareth Machin and the music is B. Russell Hepplewhite. Moonfleet was made into a TV adaptation in 2013 starring Ray Winstone. Moonfleet is supported by Salisbury Playhouse's newly formed Commissioning Circle. Casting to be announced.
Also headlining the season is a new comedy Love On the Links (31 May - 23 June), adapted from the golfing stories of PG Wodehouse by Jon Glover and Edward Taylor. Set in deepest Surrey at the Wood Hills Golf Club, the play features stories of seduction, canoodling and thwarted love that set the scene for a corking evening of high-jinks and hilarity (plus-fours are optional).
Agatha Christie is the inspiration for Murder, Margaret and Me (1 - 24 February) by Philip Meeks, a co-production between Salisbury Playhouse and York Theatre Royal, telling the story of Christie's friendship with Margaret Rutherford, the actress who played Miss Marple in a series of 1960s films. A comedy thriller about a real life mystery, Murder, Margaret and Me unearths a shocking truth buried in Rutherford's past.
Salisbury Playhouse's commitment to Original Drama continues with new play Hansel (14 - 24 March), the winner of the 2017 Theatre Fest West writer's prize. Set in a west country forest, the story tells of elderly hoarder Edith's friendship with a teenage boy sleeping rough. Playwright Shiona Morton also wrote The Company of Wolves which was performed at Longleat as part of the 2015 Salisbury International Arts Festival. Hansel is supported by the Foyle Foundation.
Theatre Fest West (9 - 24 February) returns for a seventh year with Salisbury Playhouse again joining forces with Salisbury Arts Centre, the Pound Arts Centre, Corsham and Trowbridge Arts to celebrate theatre from across the South West.
As well as its own-produced work, Salisbury Playhouse will welcome a range of touring productions including the return of Kneehigh with The Flying Lovers of Vitebsk. Other touring productions include Of Mice and Men, Simple8's A Passage to India and The Importance of Being Earnest starring Gwen Taylor.
Salisbury Playhouse Artistic Director Gareth Machin said: "Salisbury Playhouse is proud to champion the voice of the South West through the reanimation of existing stories from the region such as Moonfleet and the celebration of new voices such as Shiona Morton's Hansel. This home-produced work is seen alongside some of the most diverse and talented regional theatre makers who will be visiting Salisbury throughout the season."
Tickets can be booked by calling Ticket Sales on 01722 320333 or by visiting www.salisburyplayhouse.com. Tickets go on sale to Members on 11 November and to the general public on 17 November.
Featured This Week on Stage Door
Shoutouts, Classes, and More from Your Favorite Broadway Stars

More Hot Stories For You